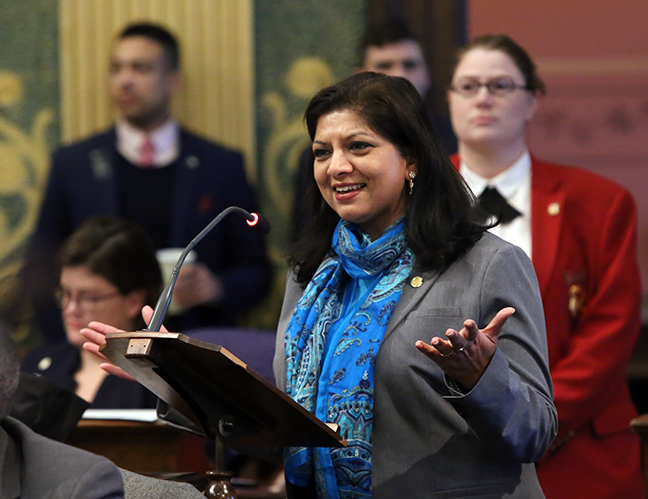 Committees
Local Government & Municipal Finance
Rules & Competitiveness
Tax Policy
State Rep. Padma Kuppa is serving her second term representing Michigan's 41st House District, which encompasses the cities of Troy and Clawson.
Throughout her life, Kuppa has sought to bring people together to solve problems both in the professional world and in the community. The first Indian immigrant and Hindu in the state legislature, and a Michigander for more than 20 years, she is focused on serving the people of Troy and Clawson in the Michigan House of Representatives.
Kuppa is a mechanical engineer and project manager with a career spanning the higher education, marketing, automotive, financial, and IT sectors. Kuppa has been a civic leader, volunteering with the PTA throughout her children's K-12 education, founding the Troy-area Interfaith Group to bring people of all faiths together, and serving on Troy's Planning Commission. She is currently President of the Troy Historical Society, a board member of the Michigan Roundtable for Diversity and Inclusion, and on the Advisory Councils for South Asian American Voices for Impact and the Great Lakes Political Academy.
She brings her small business, nonprofit, and civic experience to the committees she currently serves on in the House: the Local Government and Municipal Finance Committee, the Tax Policy Committee, and the Rules and Competitiveness Committee. Beyond her committee work, Rep. Kuppa has introduced and co-sponsored legislation and resolutions advocating for election reforms, earned paid sick leave, ensuring health care for those with preexisting conditions, lowering the cost of prescription drugs, protecting Michigan's water, promoting polluter accountability, and calling for the reauthorization of the Older Americans Act to support senior wellbeing. In her first term, Rep. Kuppa was appointed to the Prescription Drug Task Force and the MiSTEM Council. She continues to serve on the Council in her second term, encouraging a focus on STEAM in our public education, as it is a critical foundation for a strong economy.
Rep. Kuppa champions issues for several caucuses including the Progressive Women's Caucus (PWC), the Firearm Safety and Violence Prevention Caucus, the Poverty and Homelessness Caucus, and the Oakland County Caucus. She also serves as Historian of the Michigan Legislative Black Caucus (MLBC) and Co-Chairs both the Asian-Pacific American (APA) Caucus and the bipartisan House Breakfast Group.