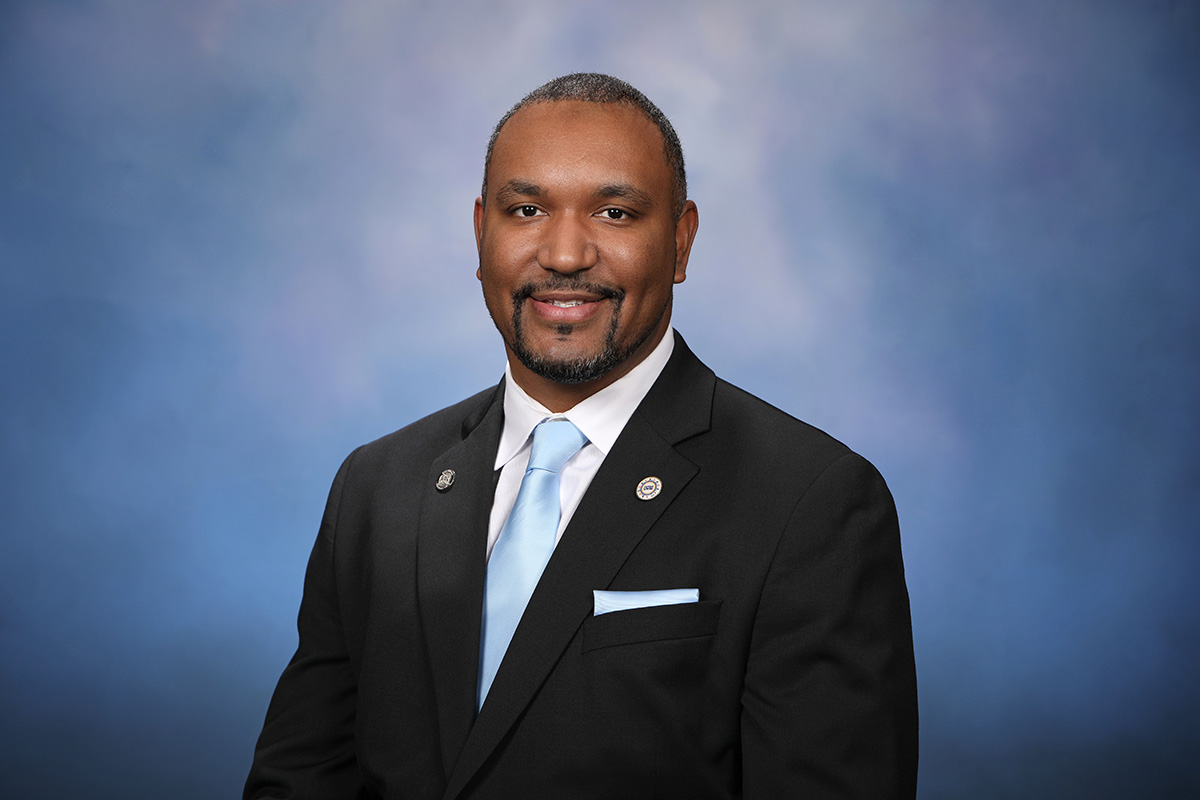 Committees
Regulatory Reform
Appropriations subcommittee on Joint Capital Outlay
Appropriations subcommittee on Judiciary (Chair)
Appropriations subcommittee on Military and Veterans Affairs and State Police
Appropriations subcommittee on School Aid and Education
State Rep. Jimmie Wilson Jr. is serving his first term in the House representing the 32nd District, which comprises Ypsilanti and Ypsilanti Township.
Rep. Wilson was born and raised in Ypsilanti. Both the paternal and maternal sides of his family are lifelong residents of the Southside and Appleridge neighborhoods. He and his wife, Kamilah, continue the family tradition by raising their four boys in the community. The connection to Ypsilanti is important to him as a representative and community member. Longevity in the community brings a deep understanding of the community's needs and places Rep. Wilson in a position to firmly advocate for the future and direction of Ypsilanti. Rep. Wilson works to empower his constituents and ensure their voices are heard.
Rep. Wilson attended the Michigan Institute of Aviation and Technology where he became a licensed aircraft mechanic. Due to concerns over climate change and the environment, he shifted his career and began to work at Siemens Energy, where he built wind turbines, advancing to technical field advisor for the company. After working in renewable energy around the country, he sought a career that provided more time with his family and in his community. Before taking office, he worked eleven years at Ford Motor Co. Rawsonville Plant as an electrician.
At Ford, he became active in UAW Local 898 in 2014 and was elected trustee. In 2016, he was elected to the Ypsilanti Township Board of Trustees and was re-elected for a second term. Rep. Wilson has been an active member in his community holding positions at Ypsilanti Township Zoning Board of Appeals, Habitat for Humanity of Huron Valley Board of Directors, Washtenaw County Community Action Board, Washtenaw County Jury Board, Washtenaw County Violence Prevention Task Force, Washtenaw County Equity Partnership, Youth Justice and Schools subcommittee, Executive Board Trustee of the 12th Congressional District Democrats, Michigan Democratic Party State Central Delegate, co-chair of the Outreach for the Eastern Washtenaw Democratic Club, chairman of the Washtenaw County Black Caucus, Coalition of Black Trade Unionist, UAW CAP Council, UAW young workers council and NAACP Ypsilanti.
With many years of diverse experience and dedication to the Ypsilanti community, Rep. Wilson shapes his legislation with priorities such as worker rights, union rights, criminal justice reform, access to housing and environmental protection. He knows what hard-working Michigan families need, and he knows how important state policies are for making change happen. Rep.Wilson always  advocates for and supports better government to reflect the needs of Ypsilanti, his family, his neighbors and the state.