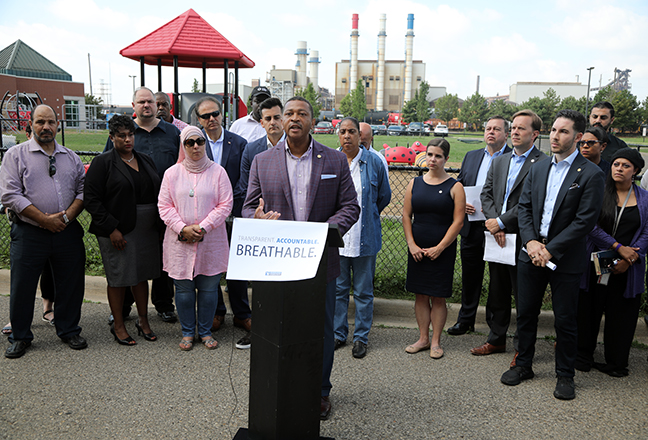 Committees
Criminal Justice
Judiciary
Military, Veterans, and Homeland Security
Regulatory Reform (Chair)
State Rep. Tyrone Carter is serving his third term representing the 1st House District, which covers a portion of the city of Detroit and River Rouge.
Carter was born, raised and educated in the district, and has continued that legacy by raising his own family in the area. He graduated from Southwestern High School and Central Michigan University and has dedicated his life and career to public service.  Carter graduated from the Wayne County Sheriff's Police Academy and spent 25 years with the Wayne County Sheriff's Office, attaining the rank of Executive Lieutenant before retiring in 2008.
Carter also graduated from the FBI National Academy and the Michigan Political Leadership Program. He has also served as Assistant Director of Campus Police at Wayne County Community College District and as a Community Involvement Specialist at Southwestern High School, his alma mater. Carter is also a small business owner.
For the past ten years, Carter has dedicated his spare his time to community service. He has served on several non-profit organizational boards dedicated to improving the quality of life for their targeted populations. He has served as president of his neighborhood organization and has mentored high school students through monthly presentations and an annual college tours. The annual college tours provides many of the students with their first opportunity to visit a college campus. Since 2015, Carter has worked with the AmeriCorps Urban Safety Summer Youth Program at Wayne State University Center for Urban Studies, ensuring that the youth in the City of Detroit have positive experiences while providing community service to Detroit communities.
Carter is married to Lisa Carter, Police Commissioner for District 6. They have two sons, Tyrone II (deceased), and Tyler.