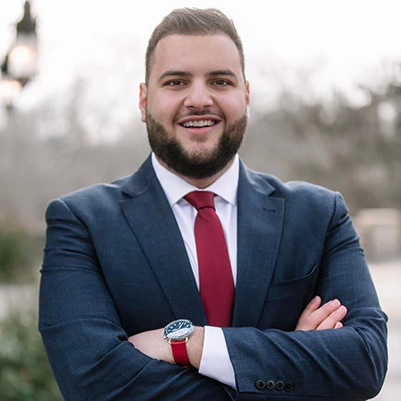 Committees
State Rep. Alabas Farhat is serving his first term representing the 3rd House District, which includes Dearborn and other Wayne County communities. He is from Southeast Michigan, a son of immigrants and has experience serving at all levels of government — local, county, state and federal. Rep. Farhat graduated from the University of Michigan Dearborn with a bachelor's degree in public health and went on to pursue a master of public policy at the University of Michigan's Ford School of Public Policy with a focus on social policy development.
Rep. Farhat discovered his passion for public service during his work as a legislative intern in the Michigan House of Representatives. Through his daily communication and work with constituents, he learned that real change starts with the people. That's why he immensely values listening to and working with residents in Wayne County and across Michigan — he believes this direct communication and close connection with constituents is the key to revitalizing the community, improving the standard of living for all and creating positive change for generations to come.
Rep. Farhat's central legislative priorities are education, infrastructure and public health. He has a strong focus on bringing resources back into Michigan schools to help students and staff lead healthier, happier lives, to keep schools open and thriving, and to reinvest in the teaching profession and retention. Rep. Farhat knows that as our environment continues to change, so too must our infrastructure. That's why he gives precedence to policy choices that make the necessary investments to advance Dearborn's infrastructure and employ sustainable practices in the process. Ensuring all Michiganders have clean air to breathe and water to drink will always be a principal priority for Rep. Farhat, because he understands the consequences of climate change are real and believes the state government's role is crucial in safeguarding Michigan's future.