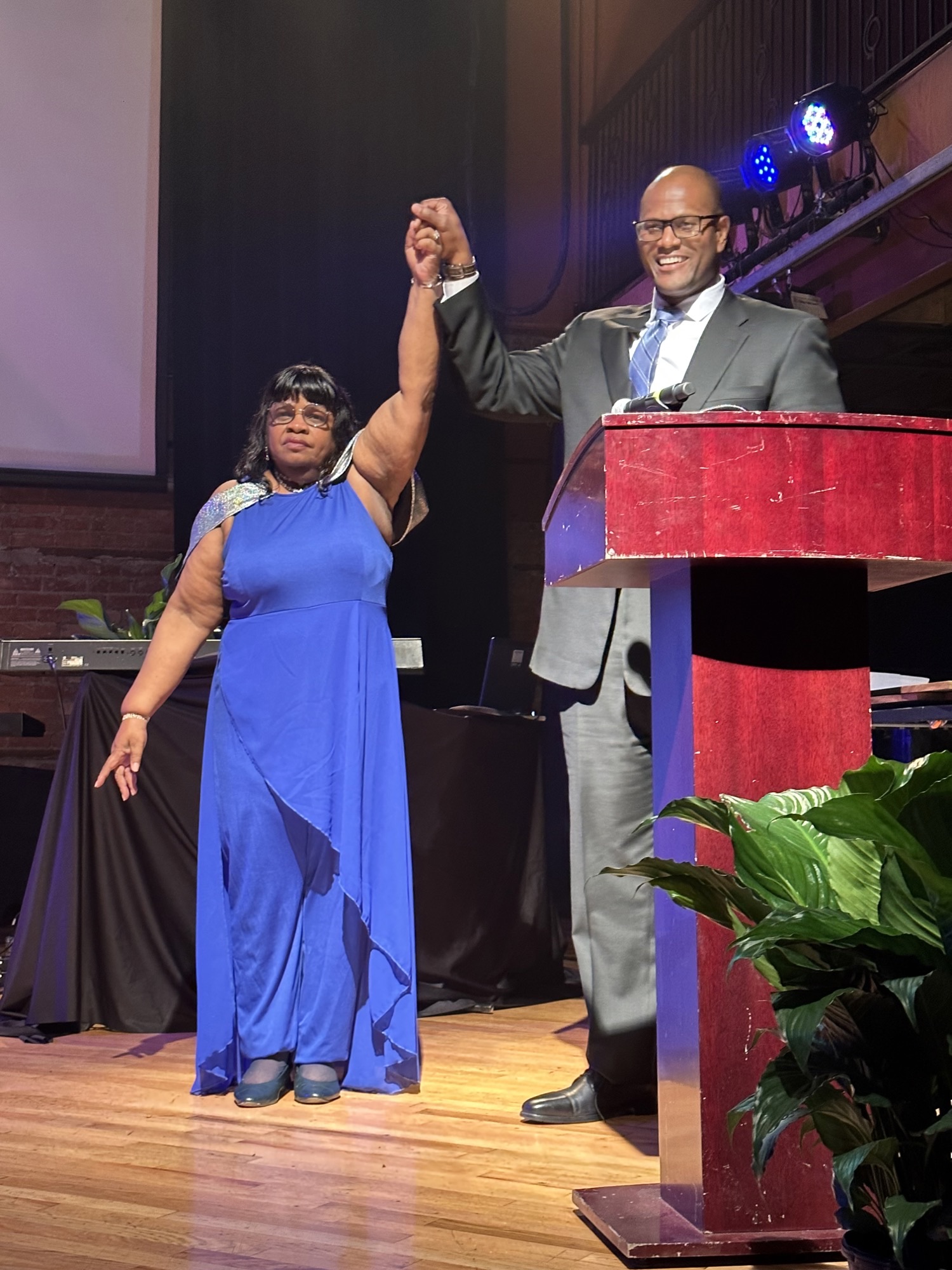 State Rep. Brenda Carter stands united with Speaker Joe Tate at Carter's in-district swearing in ceremony, Jan. 14, 2023.
PONTIAC, Mich. Jan. 20, 2023 — State Rep. Brenda Carter (D-Pontiac) hosted a swearing-in ceremony in Pontiac this weekend to mark her third term in office. Carter began her term as state representative serving the new 53rd House District, comprising all of Pontiac, Precinct 4 of Auburn Hills, and Precincts 14-21 of Waterford. She was also selected to serve as caucus vice chair on the leadership team of Speaker Joe Tate (D-Detroit).
"It has been an honor serving as your state representative for the 29th House District for the past four years, and I am proud to be a strong advocate for our community at the Capitol," Carter said. "I look forward to continuing to serve as state representative for House District 53."
Guests in attendance, in addition to Tate, were Pontiac Mayor Tim Greimel, Oakland County Executive David Coulter, state Sen. Jeremy Moss (D-Southfield) and Congresswoman Haley Stevens (MI-11).   
Quotes from guest speakers: 
"Rep. Carter is a champion for the residents of her district," Speaker Tate said. "It is my honor to celebrate the start of her third term in the Michigan House of Representatives, and I look forward to working with Rep. Carter to advance our shared priorities of supporting Michigan families, protecting the rights of all, ensuring workers know they are valued, protecting and investing in the future, and promoting safe and strong communities."
"It was an honor to join my friend, state Rep. Brenda Carter, for her swearing-in ceremony last week," Coulter said. "For the last 12 years, Rep. Carter has been a leader in both the education and legislative realms, making sure the needs of her constituents — the students, parents and families in Pontiac and other communities she represents — are heard, respected and valued. I know she's going to continue to effectively represent her constituents and Oakland County in Lansing and will be a leading voice for the disenfranchised for the next two years and beyond."
"We're fortunate to have Representative Brenda Carter working on behalf of our community and look forward to our continued partnership with her to advance the well being of Pontiac," Greimel said.
"It was an honor to take part in my dear friend state Rep. Brenda Carter's swearing in," Stevens said. "Brenda is a tireless champion for the people of Michigan's 53rd House District. From serving as co-founder and co-chair of the Poverty and Homelessness Caucus, to the impactful work she's doing on education and criminal justice reform, I am so proud to serve alongside her, and I look forward to continuing to work together to deliver for our shared communities."