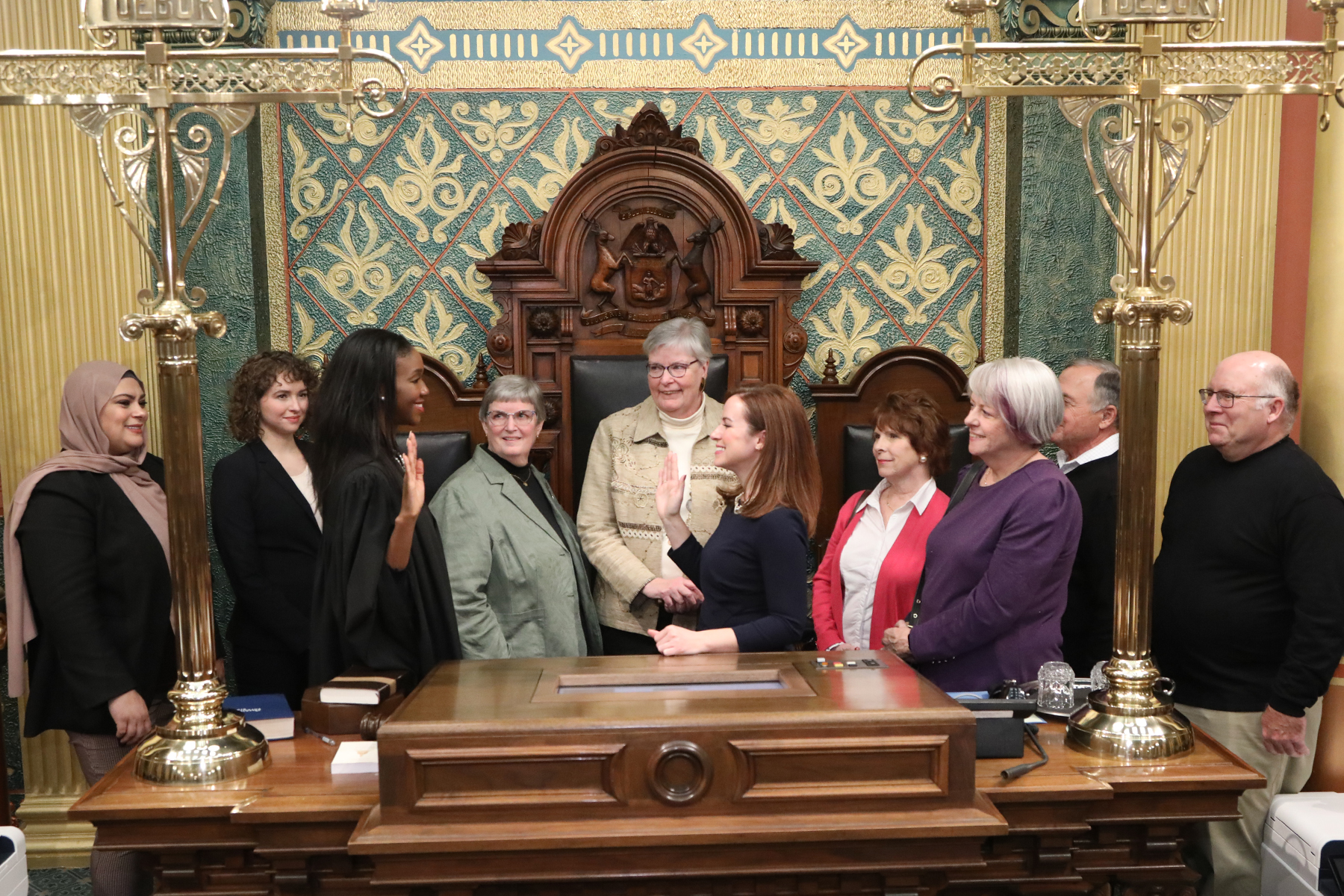 Michigan Supreme Court Justice Kyra Harris Bolden (third from left) swears in Rep. Erin Byrnes, joined by her guests at the Michigan Capitol on Wednesday, Jan. 11, 2023.
LANSING, Mich., Jan. 17, 2023 —  Speaker Joe Tate (D-Detroit) announced last week  the chairs and members for all committees and subcommittees for the 2023-24 legislative session. Tate appointed state Rep. Erin Byrnes (D-Dearborn) chair of the Ethics and Oversight Committee. As chair of this committee, Byrnes will oversee which bills are brought up in committee and make it to the House Floor. Byrnes will also serve as majority vice chair of Local Government and Municipal Finance and as a member of the committees on Elections; Energy, Communications, and Technology; and Higher Education.
"I am excited to serve on these committees in the new Democratic majority," Byrnes said. "As chair of the Ethics and Oversight committee, I look forward to making our state government more accessible and transparent. My additional committee assignments will give me the opportunity to support policies that will make higher education more attainable for all Michiganders, ensure that local governments have the resources necessary to provide vital services, and support local clerks in ensuring our elections remain free and fair."
Byrnes is serving her first term representing House District 15, which comprises the west end of Dearborn and Dearborn Heights. Her priorities include protecting the right to vote, defending reproductive rights, supporting education, enhancing infrastructure, increasing access to mental health care and passing common-sense gun regulations.
Go to Byrnes' website to learn more about her and House District 15 or contact her office at (517) 373-0847 or ErinByrnes@house.mi.gov.