Dear Friend,
Welcome to my latest e-newsletter! Read on for legislative updates and things to do this month, along with other community information.
Meet & Greet
Please join me for an opportunity to come sit down, have a chat, ask me questions, and share how I can best represent you in Lansing. I will be hosting coffee hours on
Aims to Reduce Substitute Teacher Shortage
Michigan public schools are experiencing a substitute teacher shortage. Those who are substitute teaching are often not certified teachers, and many have no previous background in teaching. Earlier this month, I introduced House Bill 5497 to reduce the growing substitute teacher shortage afflicting school districts throughout Michigan. The bipartisan bill would allow retired teachers to return to K-12 classrooms as long-term substitute teachers without negatively affecting their pensions or diminishing their retirement benefits. Currently, retired teachers who wish to return to the classroom to substitute teach have an earnings limit. My bill would remove the earnings cap and allow retirees to return to the classroom to substitute teach within 30 days.
If we want to ensure our children receive the world-class education they deserve, we should be doing all we can to encourage our most experienced educators to return to the classroom, not turn them away. While there is still much work to be done to address both the teacher shortage and the substitute teacher shortage, my bill will make it easier for retirees to return to classroom should they wish to. Michigan has already invested in these individuals, and we should be taking full advantage of their experience and expertise.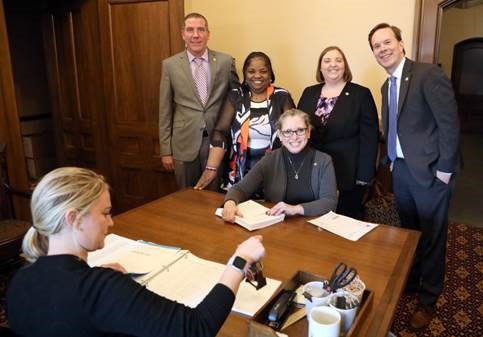 Notable Visits to the Capitol
On Feb. 5, I had the privilege of welcoming the Davison High School football team to the Michigan House of Representatives in honor of their incredible victory at the 2019 MHSAA Division 1 football final.
As a former Cardinal, it meant the world to give tribute to the players and coaching staff for bringing home Davison's first ever state title in football. It was not merely the talent of these young men that enabled them to bring home a state title. It was their hard work, dedication, and most of all, teamwork that facilitated their success. Each member of the 2019 team has proved they are capable of making a strong commitment, not only to themselves, but also to one another in order to succeed at such a high level of play. The humility and positive attitudes these young men exhibited during their visit to Lansing serves as a great reminder to us all of what it truly means to be a Cardinal.  I would like to acknowledge the hard work and devotion exercised by the team's coaching staff, as well as the invaluable support of their families and friends. Your contribution to their journey played an extremely important role in this team's success.
I commend the Davison community, specifically the football program, for providing its young men with an environment in which they could flourish. I look forward to watching next season's team progress as they embark on their journey to what will hopefully be another state championship! Go Cardinals!
March Business of the Month: Hilton Screeners
I am excited to announce that my office will be recognizing a business at the end of each month to highlight the great impact they are having on the community.
I would like to congratulate Hilton Screeners for being March's Business of the Month! For those of you who do not know, Hilton Screeners was established in 1982 by four friends that needed a t-shirt for a pig wrestling event. Since screen-printing was not easily accessible locally, they decided to give it a try on their own. While it was harder than they originally thought, through perseverance and hard work, they eventually succeeded. Although three of the friends went on to find other jobs, one remained printing t-shirts. Over the past 37 years, that young man's family has expanded the company to do embroidery, heat press, and direct to garment printing in addition to screen-printing.
Kim and Kent Elliot have devoted their energy to making this a family business for everyone in the community, not just the staff. Customers have noted their positive attitudes and excellent service in many ways. One customer's testament encompassed it all by saying, "Hilton Screeners' patient and courteous staff have made the experience of being an event coordinator pleasurable. Their timely service and quality products were a key to our events success. Thank you all at Hilton Screeners for your consistent dedication to the community."
I invite you and other community members to nominate a business that you feel deserve the recognition and honor of being known as the 48th district's "Business of the Month."
You may nominate your favorite businesses by clicking the link here.
Executive Budget Recommendation
Gov. Whitmer recently released her executive budget recommendations that outline her plans for the 2021 fiscal year. Gov. Whitmer is focused on making a difference for all Michiganders, and her budget recommendation is rightfully centered on the things that matter most to residents – including increasing education funding, protecting our environment, and repairing Michigan's most damaged roads.
Since coming to Lansing, I have been committed to supporting our children and the young people within our community. By dedicating record funding for education, expanding opportunities for preschool and early childhood education, increasing resources for at-risk and special education, cancelling school lunch debts and securing funds to create the MI Reconnect program I've championed since early last year, Gov. Whitmer's proposed executive budget makes it clear that she shares the same priorities.
The State Transportation Committee approved the governor's proposal for the issuance of a series of revenue bonds between 2020 and 2023, up to a total of $3.5 billion. This provides a necessary infusion of money to repair the most serious and dangerous crumbling state roads right now. The proposal will allow the Michigan Department of Transportation to jumpstart a significant number of road projects that are currently projected to start years from now. This means we can finally begin to address one of our state's most pressing issues.
I look forward to continuing discussions on the FY 21 budget with. Our state's future success depends on the actions we take today, and I believe this budget puts Michigan on the right path.
Tax resources
Taxpayers have until Wednesday, April 15, to file both their federal and state income tax return for 2019. Any taxpayer whose income is under $56,000 is eligible for free tax filing help through IRS-sponsored Volunteer Income Tax Assistance (VITA) or Tax Counseling for the Elderly (TCE) programs. Commercial tax preparers, who are NOT required to be trained or certified to prepare taxes, charge upwards of $159 on average to prepare basic federal and state return in Michigan. In order to educate yourself on how to choose a tax preparer that is right for you, please visit the state's website by clicking here. Additional information regarding tax service programs can be found at MichiganFreeTaxHelp.org or by dialing 2-1-1.
Genesee Health Plan Essay Contest
Genesee Health Plan has kicked off its fifth annual Health Heritage Essay and Scholarship Contests, sponsored by Sovita Credit Union. This is a countywide contest open to students in fifth and sixth grader, middle school, as well as high school. Students are encouraged to interview one or more of their family members regarding their health histories. They will then write an essay about their findings, as well as any plans for their personal and future health.
Elementary and middle school students may either type or legibly hand-write 200-350 words on their discoveries. The first place winner will receive a $200 gift card, and the second place winner will receive a $100 gift card. High school students are required to type 500-750 words regarding their findings. The first place winner will receive a $400 gift card, and the second place winner will receive a $200 gift card. High school seniors who plan to pursue a career in the health care field may enter an essay for the opportunity to win a scholarship. This must include the health career they intend to pursue and why, the importance of good health, their goals and the impact they hope to make in their chosen field. The essay must be typed and has to be 750 words or more. Two $1,500 scholarships will be awarded to the winners.
All essay submissions are due on or before Friday, March 27. The middle school teacher with the most participants will receive a $300 gift card, and the high school teacher with the most participants will receive a $500 gift card. For more information, please visit their website by clicking here.
I hope you found this information useful. Please feel free to contact my office if we can be of any assistance.
Sincerely,
State Rep. Sheryl Y. Kennedy, Ph.D.
48th House District