Dear Friends and Neighbors,
Welcome to my e-newsletter! As always, I am honored by the opportunity to represent you in Lansing and encourage you to stay up to date on what's going on in Lansing and continue to let me know of the issues you care about most.
In this Edition
Legislative Update
Expungement Press Conference
Michigan 2-1-1 Resource
Community Spotlight
Legislative Update
This September, we hit the ground running. The first two weeks of the month I introduced the following bills:
HB 4908– Seeks to move Michigan State Housing Development Authority's (MSHDA) limit on corporate bonds and notes cap from $3.4 billion to $5 billion. MSHDA primarily uses these funds to purchase assets which are pledged to investors. The revenue created allows MSHDA to operate with no General Funds from the State; also, the debt issued by MSHDA is not a general obligation of the State of Michigan.
HB 4930– Acts as a clean-up bill allowing municipalities an extension on identifying and remedying commercial and industrial personal property taxable value errors made during the years 2013-2015.
HB 4987– Would prohibit employers from discrimination against an individual because the individual has not received or declines to receive the TDAP (tetanus, diphtheria, and pertussis) vaccinations.
Expungement Press Conference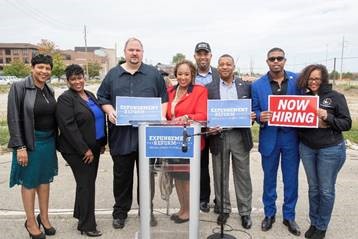 From left to right: state Sen. Sylvia Santana, state Reps. Tenisha Yancey, Isaac Robinson, Sherry Gay-Dagnogo, state Sen. Marshall Bullock, state Reps. Tyrone Carter, Jewell Jones, and Karen Whitsett at an expungement press conference in Detroit.
I teamed up with legislators on both sides of the aisle to support an expungement bill package. This package aims to expand eligibility for petitioning for expungement by increasing limits to two felonies and four misdemeanors. The current law allows for a combination of one felony and two misdemeanors or only two misdemeanors. This change will provide a path for more felony and unlimited misdemeanor expungements of non-violent offenses. This bill package is expected to drop late September.
Michigan 2-1-1: Get Connected. Get Answers
Michigan 2-1-1 is a free service that connects Michigan residents with help and answers from thousands of health and human services agencies and resources right in their communities —quickly, easily, and confidentially.
When Michigan residents need help with child care, mounting bills, shelter for the night, and more, 2-1-1 offers a one-stop connection to thousands of local agencies and resources that can help—24 hours a day, seven days a week.
The service is available by dialing 2-1-1 from any phone or by dialing the universal toll-free number at 1-844-875-9211. You can also search for services using our guided search option on this site or conduct your own custom search.
You can also use 2-1-1 resources by visiting them online at the following website, https://www.mi211.org/.
Community Spotlight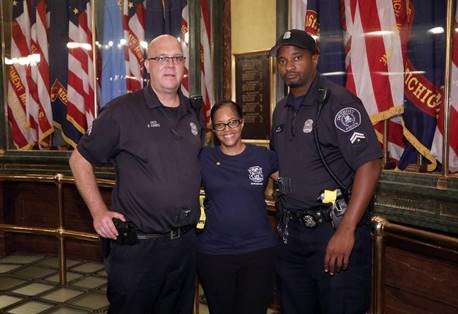 State Rep. Karen Whitsett was joined by Officer Donny Harris (right) and Corporal Errol Franklin (left), Detroit Police Department for the state House of Representatives' annual Sept. 11 ceremony on Wednesday, Sept. 11, 2019, at the state Capitol in Lansing.
September 11, 2001, is forever in our hearts as a day where we honor those who gave their lives to service and admire those who continue to do so. Today, I had the privilege of sharing the floor with Officer Donny Harris and Corporal Errol Franklin. Detroit, thanks you for your dedication to safety.
Respectfully,
State Representative Karen Whitsett
9th House District