Dear Neighbor,
As my first year in the Michigan House of Representatives comes to an end, I have so many memories to look back on. Apart from my bereavement period, I attended all meetings and all sessions. I learned a lot about legislative procedures and strategies. However, the most important lesson I learned is how to continue serving others with courage, even when dealt a crippling blow.
I am proud to serve on the Education and Insurance committees and be a part of the process. Every day, we made sure our voices were heard. I am most proud to have served on the Family, Children and Seniors committee. I learned how our system stifles growth in targeted demographics. The good news is that there is room for improvement.
I look forward to my second year utilizing the skills and experience I garnered over the years. I am proud to have my first bill signed into law. I am also proud of the four community task forces that I partnered with and started this year. Thank you, Maria Bermudez, for chairing the Education Task Force; Holbert Maxey, for chairing the Military and Veterans Task Force; Kimber Bishop-Yanke for chairing the Oakland County Poverty and Homelessness Task Force, and Kenny Anderson and Jermaine (Max Maine) Branner for chairing the Minority Health Task Force.
Thank you to my Legislative Director Tori F. Kletke and my Constituent Director Johnathon Wertheimer. Thank you to Yohannes Bolds, Veronica Taylor, Patricia Carter, and all the volunteers that helped. Too many to list! Of course, a very special thank you (with a lot of love) goes out to my husband, Randy Carter. He has weathered the good times and the bad times, and he still stands beside me! Wow am I blessed!
Finally, I am grateful for the opportunity to serve the communities of Auburn Hills, Keego Harbor, Pontiac, Orchard Lake Village, and Sylvan Lake in the 29th House District. Next year, I will be more determined than ever to ensure the voice of our residents is heard in Lansing. #AtTheTable
In this issue:
Upcoming Community Events
What's Happening in Your Government
Capitol and Community Recap
Upcoming Community Events
Sushi and Sappora with State Rep. Brenda Carter
Friday, Dec. 20, from 6:30 – 7:30 p.m.
Sushi Samurai, 4143 Orchard Lake Road in Orchard Lake
I hope to see you but if not, if we can help you in any way, please don't hesitate to reach out to me at my office via email or by calling toll-free (855) 473-4635.
What's Happening in Your Government
Budget Updates
After the initial budget is implemented, the Legislature has the authority to pass supplemental budget bills to provide additional funding where potential shortfalls are identified. Gov. Whitmer signed our state's budget into law Oct. 1—the first day of the fiscal year. As you may remember, she then utilized her executive powers (the line-item veto and administrative board transfer) to cut and reappropriate funding as she deemed necessary. Back in October, we knew the budget was not done—it was a stopgap measure to prevent a government shutdown and ensure our departments and schools were able to move forward. Since then, I have continued to use my role on the Appropriations Committee to negotiate and fight for our shared priorities.
Our hard work paid off last week when legislative leaders reached an agreement with Gov. Whitmer to restore $573.5 million in critical investments in infrastructure, education and clean water protection. The Legislature passed two supplemental budget bills (Senate Bills 152 and 154) and a Legislative Transfer Package to restore funding that Gov. Whitmer vetoed or transferred through the State Administrative Board. Passed along with the supplementals were House Bills 4336 and 4574—legislation to grant the state Auditor General additional access to certain executive documents.
Also presented to the governor were House Bills 5176 and 5177—the final language of the bill would require the House and Senate Appropriations Committees to approve a legislative transfer request from the State Budget Director within a set time period and to compel the Legislature to present a budget plan to the governor by July 1. The House and the Senate are not scheduled to vote on any more supplementals between now and the end of the 2019 calendar year.
Capitol and Community Recap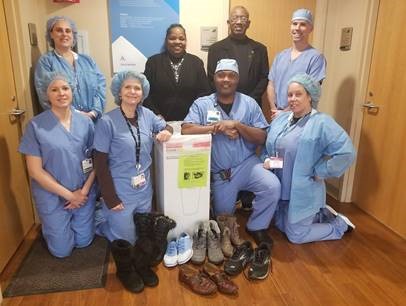 On Nov. 12, the Ascension Rochester Providence Surgical Unit Practice Council began collecting donated shoes in partnership with Oakland County Poverty and Homelessness Task Force, my husband and I, and Denise Harris. The shoes were delivered Monday, Dec. 16, in time for needy families to enjoy for Christmas! 
 Visited Japan Nov. 15 – Nov. 25, 2019 
Kusatsu City Council
From left to right: Me, Misato Awano – interpreter, Gov. Taizo Mikazuki 
Meeting with Shiga Prefecture
My husband and I presented a personal gift to Governor Taizo Mikazuki in Shiga, Prefecture.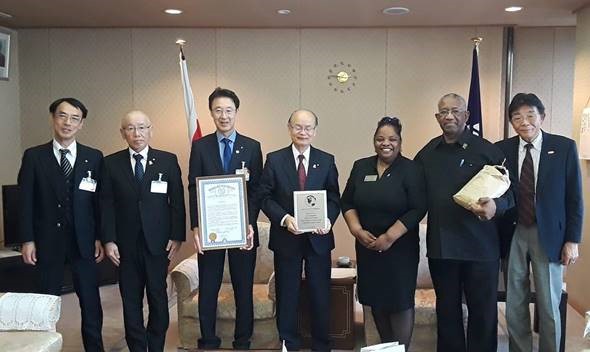 From left to right: Motokazu Osa, Director, Community Division; Tatemichi Kitanaka, Deputy Mayor; Yoshikazu Yamamoto, Deputy Mayor; Waturu Hashikawa, Mayor; me and my husband; Masanori Aoji, President of Kusatsu Pontiac Club.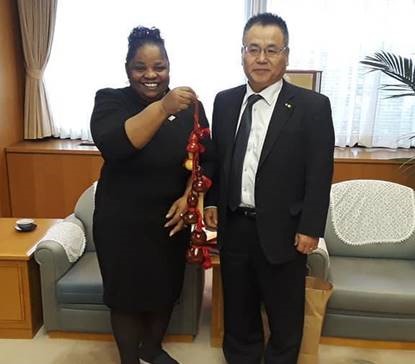 Kusatsu City Council Chairman Hiromi Segwa and me
Meeting with Mayor of Kusatsu
Kusatsu Board of Education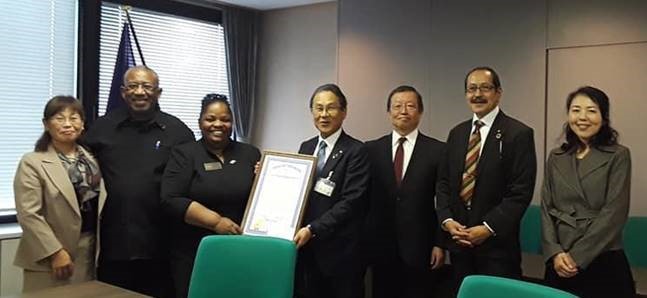 From Left to Right: Naomi Suo, Board Member; my husband and me, Tadashi Kawanabe, Superintendent; Nagao Nakanishi, Board Member; Izumi Danbara, Board Member; Akemi Inagaki, Board Member.
Takaho Middle School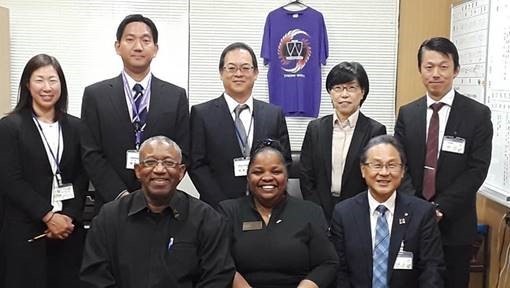 1st row from left to right: My husband and I, Tadashi Kawanabe, Superintendent Kusatsu Board of Education.
2nd row from left to right: Misato Awano – Interpreter, Community Division, Kusatsu City; Kenzo Yano – Teacher at Takaho Middle School; Atsushi Sumiyoshi – Deputy Principal at Takaho Middle School; Masako Hata – Director, School Education Division, Kusatsu City; Daiou Ozeki – Staff, School Education Section, Kusatsu City
I had the opportunity to see the beautiful city of Kusatsu from a unique view – on the top ladder of the Nishi Fire Station's fire engine. Thank you to former Fire Chief Ikuo Nakajma and firefighter Takuma Okuda, for this wonderful experience!
Back to Work!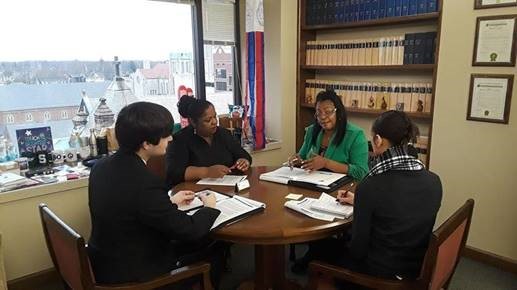 Pontiac community leader Debra Slater-Black came to Lansing to discuss a bill request to help returning citizens.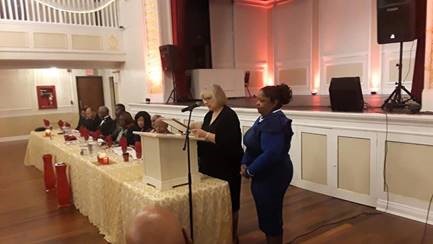 I attended a meeting with Senator Rosemary Bayer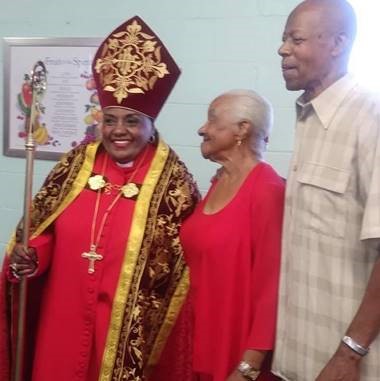 I attended an inaugural party for  Bishop Theresa Lee.  Bishop Lee is the first African American female Bishop from Pontiac.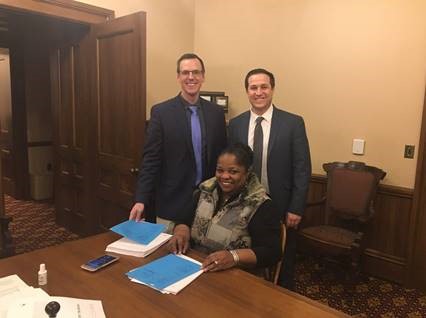 I was proud to join Reps. Jon Hoadley and Robert Wittenberg along with Sens. Rosemary Bayer, Stephanie Chang and Jeremy Moss as we introduce legislation for universal background checks.
Our December Coffee Hours continue to be a big success! This month we were at Bravos!
Motown Visits the Capitol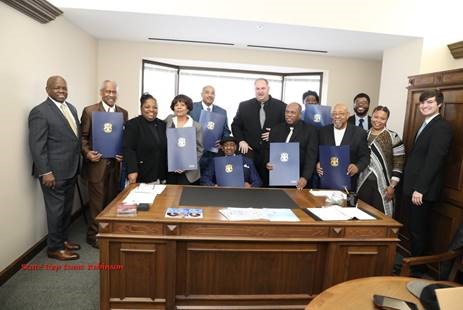 In conjunction with the 60th Anniversary of Motown, My colleagues and I are welcoming Honored at the Michigan State Capitol.  The Contours, The Marvelettes, and my special guest, Carolyn Crawford!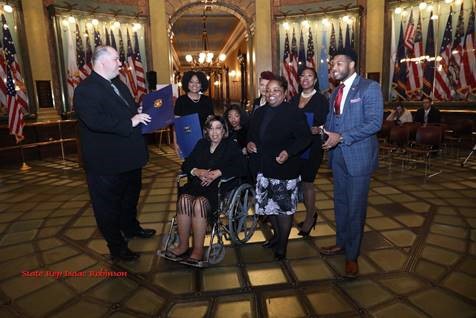 The Contours, one of the first groups signed to Motown Records, including original member Joe Billingslea, Jr., Odell Jones, Al Chisom, Dwjuan Brock, and Gary Grier, Their chart-topping hits include "Do You Love Me," "This Old Heart of Mine," and "Just A Little Misunderstanding." Their multi-platinum hit was featured in 1987's Dirty Dancing soundtrack.
I had the honor of introducing Carolyn Crawford to the House floor:
Click here to watch.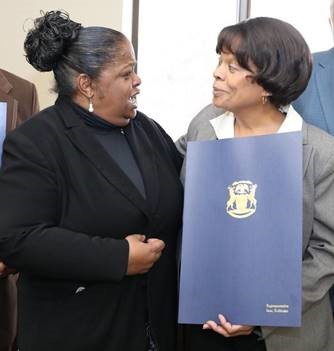 In 1963, at the age of about 13, she won a talent contest held by Detroit radio station WCHB, the prize for which was a contract with Motown Records. She recorded three singles for the label, an unsuccessful first release of "Forget About Me" being followed by "My Smile Is Just a Frown (Turned Upside Down)," written by Smokey Robinson. The record reached # 39 on the Billboard rhythm and blues chart.
Coast Guard Auxiliary Holiday Party
Joe Marris (second from left) recognized as Flotilla volunteer of the year at the U.S. Department of Homeland Security Oakland County Coast Guard Auxiliary  20-18 Volunteer Party in Keego Harbor.
Congressional Democratic Christmas Party
Democratic Leader Greig, Rep. Robert Wittenberg, and I had a great time at the 14th Congressional Democratic Christmas Party.
Discussing Funding Inequality
I met with the Department of Treasury and the Department of Education. We discussed possible solutions to Michigan's inequitable funding system. #AtTheTable
Early Childcare Roundtable
Legislative Panel Discussion at Wayne County Community College Northwestern Campus. I was honored to be joined by so many of my Democratic colleagues, including: Reps. Sherry Gay-Dagnogo Tenisha Yancey, Latanya Garret, and Tyrone Carter. We heard from early childcare providers to identify funding roadblocks.
Michigan Building and Construction Trades Council Annual Holiday Party
I was pleased to attend this event along with Rep. Robert Wittenberg, Angela Powell, Oakland County Commissioner; Eric McPherson, and Chuck Taormina.
Poverty and Homelessness Caucus Update
On Dec. 2, I met with many local leaders and advocates to talk about how we could alleviate homelessness in Oakland County. Those in attendance included:  David Coulter, County Executive; Rudy Hobbs, Deputy Executive; Dave Woodward, Commissioner Chair; Katie Bayer, Sen. Rosemary Bayer Chief of Staff; Kimber Bishop-Yanke, and Elizabeth Kelly.
Feeding the Needy
My husband and I joined the legion of volunteers, including Pastors Buddy Franz and Eric Anglea of Auburn Hills. This year we partnered with Liberty Big Top Food Pantry to take care of those who are less fortunate. Our late son Bryan was an integral part of taking care of needy families in Lansing. The number of families increased since we began volunteering. This year, we estimate we will feed over 1,400 families in both cities and surrounding areas. Taking the time to care for our neighbors and continue our son's work helps us through this holiday season.
Oakland University December Graduation
My staffer Johnathon recently graduated from Oakland University. I am so proud of his accomplishments and honored to have him working and serving all of you. When I attended the graduation, I met a mechanical engineering professor named Michael Latcha. We were about the same age, so we talked about our childhood dreams. When I was young, I dreamed of being a civil engineer. I wanted to be a civil engineer because I was fascinated with bridges. I dreamed of designing bridges. That was before I realized I was socio-economically challenged. I did not know the impact of Brown v Board of Education. I did not know I was "different." I knew I wanted to be a civil engineer because I wanted to build bridges and my passion was helping people. Prof. Latcha wanted to be an undertaker, but his passion was mechanics. I have always felt I missed my calling until this man I just met pointed out that I was indeed building bridges in the lives of people.
Later as I listed to Johnathon's speech about his successes and how he credited it to his hard work in my office was I reminded of the words of Professor Latcha and the SIX conference where they identified my leadership style as a bridge-builder. It turned out I achieved my dream to build bridges after all. I felt good about the bridges my work as provided for Johnathon, the children who were to Japan, and so many others who have touched my life over the years. I can only hope that I helped them as much they impacted me. Never forget they you can achieve your dreams, even when they don't look like you always imaged them.
Thank you for taking the time to read this e-newsletter, and I hope you found the information helpful. If you have any questions regarding legislation or state government in general, please feel free to reach out to me at my office via email or by calling toll-free (855) 473-4635.
Sincerely,
State Representative Brenda Carter
29th House District