Dear Neighbor,
I am honored to serve as state representative for the 29th House District and am proud to be a strong advocate in Lansing for the residents and families of our community. Please encourage your friends and family to stay connected and subscribe to this e-newsletter. It will keep you up-to-date on legislation and policies coming from the Capitol, as well as my coffee hours and other community events I will host so we can get together face-to-face.
In this issue:
State of the State
Poverty and Homelessness Caucus Meeting
Upcoming Community Events
Capitol and Community Recap
State of the State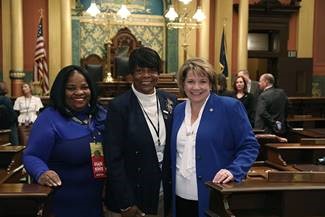 During her state of the state address, Gov. Whitmer came out as a strong advocate for mothers of color. As you know, I introduced HR 123, which passed unanimously in the House, to ask Congress to allocate resources to address this issue. It is deeply unfortunate that racial bias exists even within the medical community. Women of color consistently receive substandard postpartum care and perish at much higher rates than their white counterparts. These biases transcend social and economic status, so we must deal with the root.  Hopefully, with the governor's partnership, we can put an end to these biases and keep more of our mothers alive and with their families.
Poverty and Homelessness Caucus
We are making a lot of progress in our efforts to end poverty and homelessness in Michigan. I recently met with my colleagues in the Legislative Poverty and Homelessness Caucus to talk about how to improve existing programs and what we can do to fill the gaps. Gov. Whitmer also signaled her support for our efforts with EO 2019-19 and establishing a Michigan Poverty Task Force. I continue to work with Kimber Bishop-Yanke and the Oakland County Poverty and Homelessness Task Force. Together we can accomplish this goal, I am humbled and honored to be working with so many dedicated people at every level.
If you have ideas or questions about how we can address the poverty in our communities please don't hesitate to reach out to me. I want to hear your thoughts and I look forward to working together.
Upcoming Community Events
Coffee with Carter
Monday, Feb. 3, from 8 to 9 a.m.
Avon Doughnuts, 45324 Woodward Ave. in Pontiac
Monday, Feb. 3, from noon to 1 p.m.
Your Emerging Space (Y.E.S.), 3rd Floor, 7 N. Saginaw in Pontiac
Friday, Feb. 7, from 9 to10 a.m.
Bravo Coney Island, 621 Auburn Ave. in Pontiac
Friday, Feb. 7, from 2 3 p.m.
Presbyterian Village North, 420 S. Opdyke Ave. in Pontiac
Saturday, Feb. 8 from 10 a.m. until 11 a.m.
American Legion Cook-Nelson Post 20,206 Auburn Rd. in Pontiac
Friday, Feb. 14, from 10 a.m. until 11 a.m.
Auburn Hill Community Center, 1827 N Squirrel Rd., Auburn Hills, MI 48326
Town Hall Meetings
Property Tax Foreclosure Town Hall
Monday, Feb. 3, from 6 p.m. to 8 p.m.
Your Emerging Space (Y.E.S.), 3rd Floor, 7 N. Saginaw in Pontiac
Education and Insurance Community Meeting
Saturday, Feb. 8, from 1 p.m. to 3 p.m.
Pontiac Kappa House, 200 Earlmoor Street in Pontiac
Congress on your Corner with Congresswoman Brenda Lawrence
Wednesday, Feb. 12, from 4 to 6 p.m.
Sylvan Lake Community Center, 2456 Pontiac Dr. in Sylvan Lake
Senior Resource Town Hall with Senator Rosemary Bayer
Friday, Feb. 28, from noon to 2 p.m.
Bowen Center, 52 Bagley Street in Pontiac
Please note that meeting times may change. For the most up-to-date information please check my calendar, contact my office via email or call toll-free (855) 473-4635.
Capitol and Community Recap
 Below are highlights of a few events and people who came to the capitol over the last month. I am always happy to see members of my community.hank you to everyone who came out!
Jan. 13, Delta Sigma Theta Sorority, Inc. Founders Day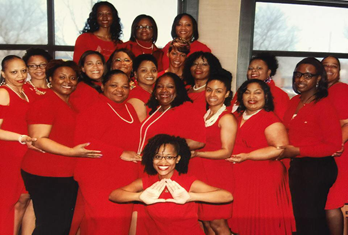 Jan. 20, MLK Celebration in Auburn Hills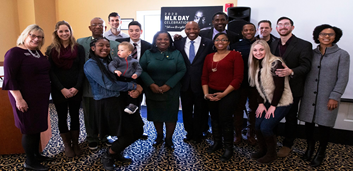 Jan. 20, Greater Pontiac Community Coalition Annual Luncheon. MLK Celebration in Pontiac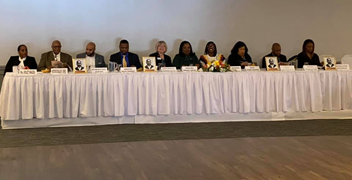 Jan. 27, Clarence E. Phillips Ascend Foundation – T.R.U.T.H. Youth Coalition 2020 Capitol Day
Jan 26, Welcome Party for Shiga Prefecture delegation in Pontiac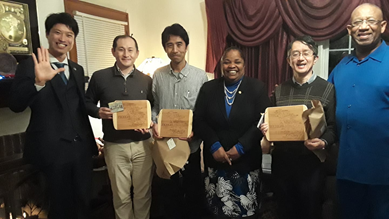 Thank you for taking the time to read this e-newsletter, and I hope you found the information helpful. If you have any questions regarding legislation or state government in general, please feel free to reach out to me at my office via email or by calling toll-free (855) 473-4635.
In Service,
State Representative Brenda Carter
29th House District