Dear Friend,
Welcome to my latest e-newsletter! As a reminder, the Michigan House of Representatives, along with many other federal, state and local offices, will be closed on Thursday, Nov. 23, and Friday, Nov. 24, in observance of Thanksgiving.
This update will provide you with information about recent attempts in Lansing to reform our state's no-fault system, a review of why no-fault is so important, and information about a better plan being offered to reform our no-fault system, which I support. If you'd like to see a PDF of this information, click here.
Recent Efforts to Reform No-Fault
Michigan drivers pay the highest auto insurance rates in the nation and House Democrats believe that families should be able to see a rate reduction without a loss in coverage — something that a recently rejected no-fault reform plan would have required. House Bill 5013, which I voted against, would have provided reductions only if drivers agreed to put their families in jeopardy. For many hardworking men and women across the state, their financial situation would have dictated taking the lowest possible coverage offered in exchange for a rate reduction, yet if tragedy struck, they would have been bankrupted by insurance costs. Worse yet, whatever they were unable to cover would have been a tab picked up by Michigan taxpayers. House Democrats knew that wasn't right.
That's why we're fighting for a plan that will provide guaranteed rate reductions while still protecting Michigan's world-class coverage. The people of Michigan need tangible relief, so we've developed the bipartisan Fair and Affordable No-Fault Reform package. Our plan would fix our no-fault system by reducing costs for seniors, bringing fairness to insurance rates, increasing transparency, cracking down on fraud and reducing lawsuits. In particular, we're leading the charge to lower costs immediately for seniors, and calling on our colleagues on both sides of the aisle to support a bill that would bring guaranteed savings to those 62 and older without gutting their benefits. The conversation on auto insurance has only just begun — and that's why we're going to keep fighting for real reform.
A Real Solution for No-Fault Reform
Now that House Bill 5013 has failed, it's time to focus on a plan that will provide tangible rate relief without sacrificing the coverage we all depend on when we find ourselves in need of care after an auto accident. A bipartisan group of legislators has come together to create the Fair and Affordable No-Fault Reform plan, which will provide real reform that Michigan drivers want and deserve. This bill package would fix our no-fault system, maintain benefits and lower rates by:
Reducing costs for seniors by allowing those who are 62 and older to waive coverage for personal protection insurance benefits if they choose to instead rely on Medicare and lifetime retirement health care.
Cracking down on fraud by creating a Fraud Authority board, with most of its members representing consumers.
Increasing the amount of time an auto accident survivor has to file a claim from one year to three years.
Prohibiting the use of discriminatory rating factors — including ZIP codes, gender, education, marital status and credit score — because we all know that these factors have nothing to do with a person's ability to drive safely.
Increasing transparency in how rates are set so that drivers know why they are paying certain amounts for insurance.
Promoting coordinated coverage by offering a discount for those who coordinate their auto insurance with their health insurance.
Our Fair and Affordable plan will offer ratepayers the relief they want and need. I am hopeful that my colleagues will agree this is a common-sense solution to our no-fault system, and give our bills a hearing in committee soon.
No-Fault: What it Is and Why it Matters
Under Michigan law, every vehicle owner must buy auto no-fault coverage to drive legally. What makes no-fault so critical is that it covers all family members living in the same house, including children, and provides maximum protection if you're in an accident. No-fault's personal injury protection — PIP — covers you for any injuries, including a catastrophic injury that changes your quality of life. Because of this coverage, some accident victims have been able to live at home with the help of family members or other caregivers. For all accident victims, Michigan's no-fault benefits have made all the difference.
Why I Voted No
I voted no on House Bill 5013 because Michigan drivers need real rate relief, and this bill would not have provided it. This plan pretended to offer a cheaper option, but only if drivers agreed to significant reductions in coverage, even for their children, who would have had capped lifetime benefits and no legal recourse under the plan. Even more troubling, the cheaper plans would not have guaranteed long-term rate relief, only a 5-year reduction of PIP rates after which time insurance companies could once again charge outrageous fees for this capped coverage. I could not support a plan that would so short-change Michigan drivers. I also voted against HB 5013 not only because it would have been a failure, but because there's a better option, the Fair and Affordable No-Fault Reform Plan, that has not been fully considered by the House which would reduce costs for all drivers without sacrificing coverage for accident victims.
HB 5013/Fair and Affordable Comparison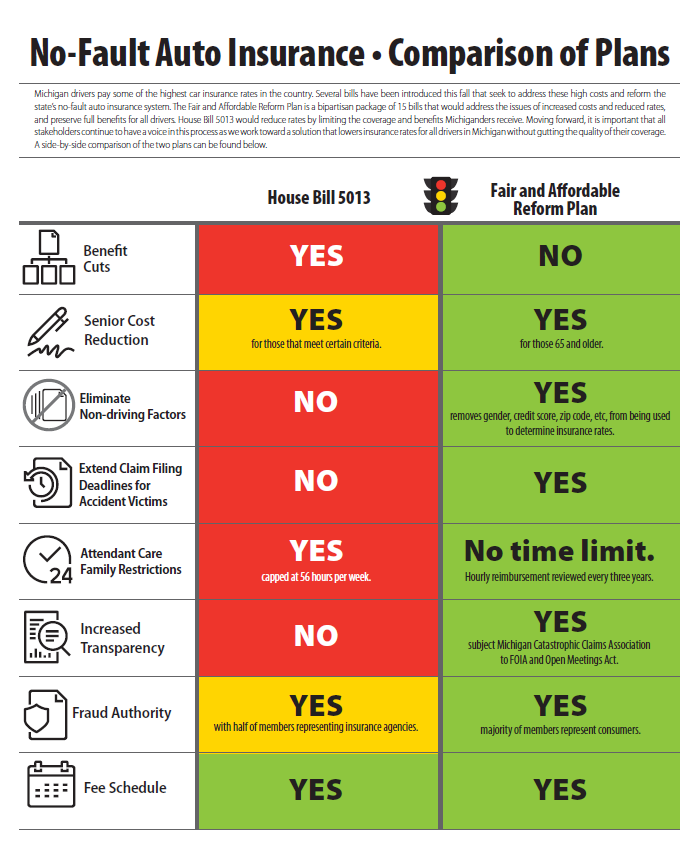 It is no secret that our auto insurance rates are simply too high for drivers to afford, but the bill that came before us today would not have actually helped lower these high costs for Michigan drivers. Instead, it would give insurance companies greater power to manipulate the system and avoid reducing costs for drivers at all, while at the same time cutting the benefits drivers could receive. Michigan drivers don't deserve that.