Hello Friends,
As fall continues, I hope you have settled back into your routine,  and I wish both educators and students the best of luck! As the school year continues, the safety of our students, educators and their families must remain a top priority. Education has always been a top priority of mine, and I believe investing in our education system is a direct investment in our children and the future of our state.
As always, if our office can ever be of assistance to you, please do not hesitate to reach out.
Sincerely,
Ranjeev Puri
State Representative, 21st District 
Proudly serving Belleville, Canton and Van Buren Township
In this Edition:
Upcoming Time with Ranjeev

Legislative Update

Federal Update

MI Voter Information Center

Community News
UPCOMING TIME WITH RANJEEV
After a summer on paternity leave, I am excited to be back with you all for a few events in the coming weeks. I hope you will join me for my next coffee hour, as well as our office's first official town hall. See info below.
Reproductive Freedom Town Hall
Oct. 12, at 6 p.m
Canton Township Administration Building, Township Board Room (1150 S. Canton Center Road in Canton)
Join me on Oct. 12 for our community town hall focused on reproductive freedom. The town hall will be hosted by our office and moderated by Asian and Pacific Islander American Vote (APIA Vote-MI). We will discuss reproductive justice, legislation pending in the Michigan Legislature surrounding reproductive freedom (including the right to an abortion) and how reproductive freedom is connected to racial justice.
We are thrilled to announce that we will be joined by the American Civil Liberties Union of Michigan. Additional panelists will be announced soon via email, on our website here and on social media.
Community Coffee Hour
Our next coffee hour is Oct. 17 in Canton at the Canton Township Administration Building in the Meeting Room "Freedom," located on the lower level.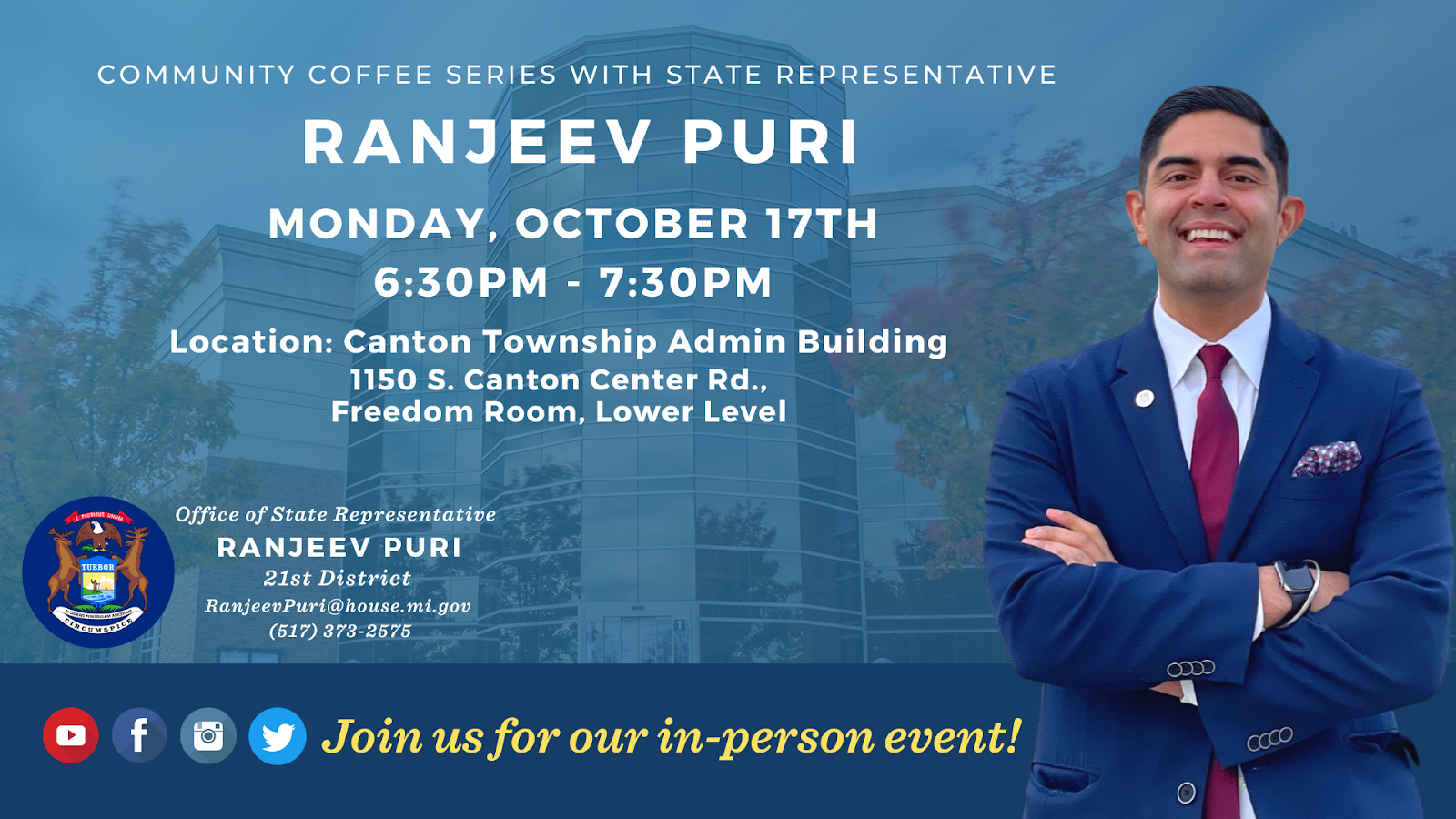 Oct. 17 at 6:30 p.m.
Canton Township Administration Building, Meeting Room Freedom (1150 S. Canton Center Road in Canton)
LEGISLATIVE UPDATE
Puri Bill Increasing School Bus Safety Passes House
On Sept. 28, the House passed my bill (House Bill 5509) as part of a package aimed at improving school bus safety.
The package allows for schools to report violations for failing to stop behind a stopped school bus to law enforcement and provide evidence from stop arm cameras. Additionally, the bills increase the fine for violations and allow the fine to go to the school that operates the school bus.  
As a father, I'm proud to work on legislation that helps increase our kids' safety traveling to and from school.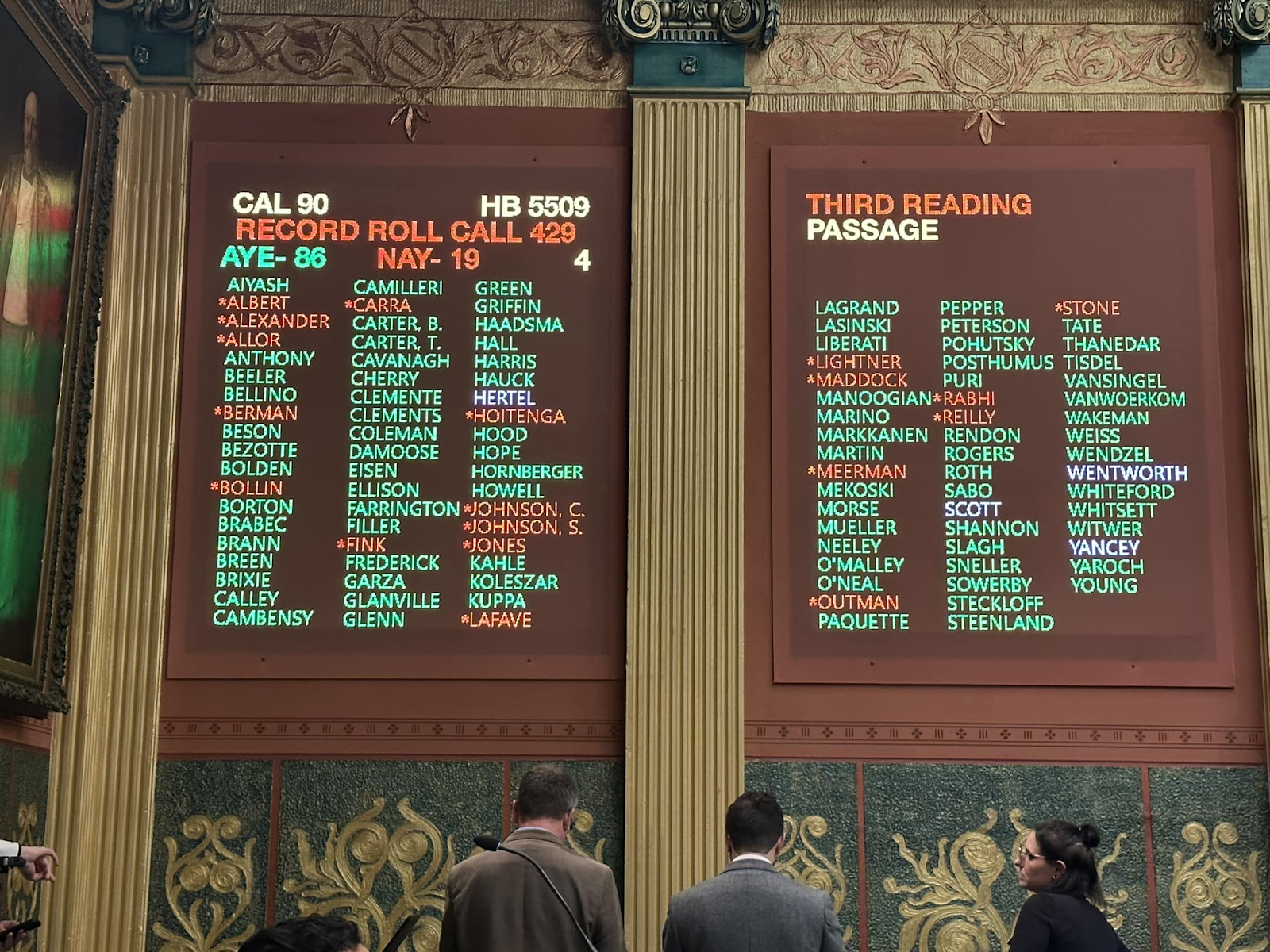 FEDERAL UPDATE
Biden Administration Announces Up To $20,000 in Student Loan Debt for Most Borrowers
On Aug. 24, President Joe Biden announced a three-part plan to provide relief to working families in the US as they continue to recover from the strains of COVID-19 pandemic. The plan offers targeted debt relief as part of a comprehensive effort to address the burden of growing college costs and make the student loan system more manageable for working families. Current students would only be eligible for relief if their loans originated before June 30, 2022.  
Included in the three-part plan are the following actions: up to $20,000 in debt cancellation for Pell Grant recipients and $10,000 for non-Pell Grant recipients (all of whom must have an individual income of less than $125,000 [$250,000 for married couples] within 2020 and 2021), making the student loan system more manageable for current and future borrowers, and protecting future students and taxpayers by reducing the cost of college and holding schools accountable when they hike up prices.
Here in Michigan, Gov. Gretchen Whitmer praised President Joe Biden's student debt forgiveness plan,  saying "1.4 million residents will see some effect, and 700,000 will have their debt cut in half or eliminated completely".
Biden is also extending a pause on federal student loan payments for what he called the "final time" through the end of 2022. The Biden administration says about 8 million people in the US will see automatic debt relief. For the remaining borrowers, an application will open before the pause on repayments ends on Dec. 31. You can be notified when the application is open by subscribing for updates with the U.S. Department of Education here.
To learn more about how the Administration specifically aims to achieve these goals, visit the White House page here.
To determine whether you qualify for the student loan forgiveness program, visit the Federal Student Aid website here.  
MI Voter Information Center
By visiting the Michigan Voter Information Center at michigan.gov/vote, you can:
Register to vote online.

Request an absentee ballot online.

Check your registration status and find your polling place.

Preview your ballot.
Midterm elections hold tremendous importance, and the results will impact every American. That's why it's essential to vote. Voters will also elect representatives at the state, county and city levels.
Additionally, there are three ballot proposals voters will be asked to vote on.
COMMUNITY NEWS
Canton Resident Appointed to Michigan 3rd Circuit Court
I would like to send my sincerest congratulations to Canton resident, Bradley Cobb, who was recently appointed to the Michigan's 3rd Circuit Court in Wayne County by Gov. Whitmer. 
Cobb currently serves as an assistant prosecutor for Wayne County. He has been an assistant prosecutor since 1997 and currently serves as a docket supervisor in the General Trials Division and chaplain. During his time with the prosecutor's office, he has served as lead attorney for the Violent Crime Unit, Community Prosecution Unit and Diversion Unit. Following his graduation from law school, Cobb worked as a pre-hearing attorney for the Michigan Court of Appeals reviewing criminal and civil appeals and writing legal memorandum.
Cobb earned his law degree from Wayne State University Law School. He also holds a bachelor of science in accounting from Wright State University in Ohio. Outside the courtroom, Cobb is a pastor with the Mount Beulah Baptist Church in Detroit. He is a member of the Canton Democratic Club, Coalition of Black Trade Unionists-Detroit Chapter and NAACP. Cobb lives in Canton with his wife, Bernadine, and their two daughters.
This appointment was made to fill a partial term, which will commence on Oct. 10 and expire at noon on Jan. 1, 2025, following the resignation of Judge Lawrence Talon effective April 15, 2022. If Mr. Cobb wishes to serve the remainder of Judge Talon's term, expiring Jan. 1, 2027, he would be required to run for election in November 2024.
WE WANT TO HEAR FROM YOU!
Our office is always here to answer any questions, concerns, or listen to any thoughts you have on any particular issue. The best way to reach us is by email at RanjeevPuri@house.mi.gov. Our team is working hard to respond to every email and voicemail left with our office in a timely manner. We appreciate your patience as we experience increased communications!
We also hope you will join us for upcoming coffee hours so that we can meet and I can hear what is on your mind.