Hello Friend,
Hard to believe that February is almost here. I can't wait for spring and warmer temperatures. It's been a busy week up in Lansing, with the State of the State address and adding some new staff to my office so I can better serve you! I look forward to seeing many of you at my district events.
As always, you can always contact my staff and me at (517) 373-0828, by email at DonnaLasinski@house.mi.gov, or by visiting my website at RepLasinski.com with any questions, thoughts or suggestions.
State of the State
It was an honor for me to be involved in the great institutional event that is the State of the State, and to be joined by Tim Hutchins, business manager for Local 252 of the International Brotherhood of Electrical Workers. However, as we look back on the tradition and the pomp of this speech, it is also important to consider where we need to go in the future. Too many families in my district are still struggling to make ends meet. Too many families suffer from the faults in Michigan's infrastructure, whether they're making their way home on unsafe roads or lack broadband access. I will continue to fight in Lansing for the rights of all Michiganders, especially those in House District 52.
Legislative Update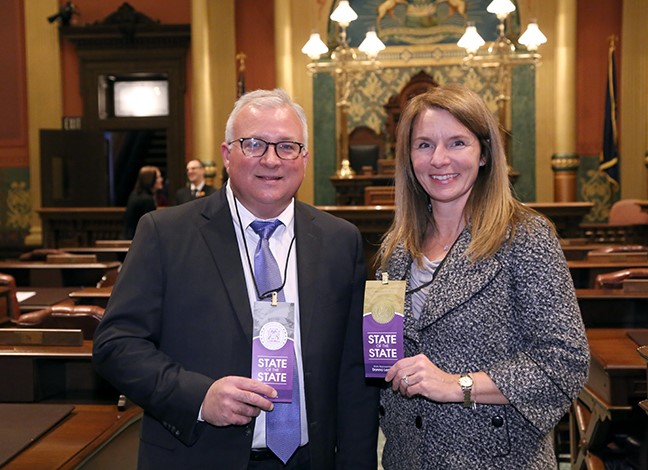 Senate Bill 574
This week in session, I spoke out about Senate Bill 574*, which would send a portion of our regional enhancement millages to charter and cyber schools, more than 80 percent of which are run by for-profit education management organizations, constituting the highest percentage in the country.
Too many of our public schools are already strapped for cash, having to cut corners in order to keep their doors open and the lights on. Senate Bill 574 would do nothing to improve the transparency or accountability of charter schools. It simply improves their EMOs' bottom line, and I could not vote in favor of legislation that would put a company's bottom line over the education of public school students, and in doing so, take away their freedom to shape their own future for themselves.
This is not a debate about whether parents should send their children to charter schools versus public schools — that is a uniquely personal decision and must be made based on what is best for children. However, I would think we can agree that providing Michigan students with a quality education should be the primary function of these schools, not making a profit. I hope you support me in my decision to speak out against and vote no on Senate Bill 574.
House Bill 4430
This week in session, I voted yes on House Bill 4430. It would require that state or local government have consent, a warrant or exception to a warrant before assisting federal agencies in accessing an individual's electronic information. I voted yes because this legislation provides extra protections for individual privacy by extending the Fourth Amendment to electronic devices. This bill passed 107-1 on Jan. 17. While it is important to have cooperation across all levels of government, individual privacy should still be respected and considered.
Upcoming Time with Donna
Saline Coffee Hour with State Rep. Donna Lasinski
Come out and join me at my next coffee hour at the Saline Senior Center. We'll talk about up and coming legislation and I'll have time for questions on other topics important to you.
When: Monday, Jan. 29, 9-10 a.m.
Where: Saline Senior Center, 7190 N. Maple Road in Saline
Scio Township Coffee Hour with State Rep. Donna Lasinski
Can't make it to my Saline Coffee Hour? No worries! I have another in district coffee hour in February.  I'll take the time to talk legislation, and take any questions you all may have about what concerns you.
When: Thursday, Feb. 15, 6-7 p.m.
Where: Classic Cup Café- 4389 Jackson Road in Ann Arbor
What To Do In HD 52
Pinochle at the Northfield Township Community Center
If you've ever wanted to learn how to play pinochle, here's your chance! Whether you're an experienced player or just interested in learning to play, the Northfield Township Community Center has an event for you!
When: Thursday, Feb. 1, 2-4 p.m.
Where: Northfield Township Community Center, 9101 Main St. in Whitmore Lake
Drop-In Family Story Time at the Dexter Library
Family Story Times are held on Thursday mornings in the lower level meeting room of the library.  Geared for ages 6 and under, but everyone is welcome to attend.
When: Thursday, Feb. 1, 10:30-11 a.m.
Where: Dexter District Library, 3255 Alpine St. in Dexter
Helpful Resources
Learn how to spot utility imposters
Phone scams are on the rise from utility imposters demanding you make false utility bill payments immediately by prepaid credit cards. Here are a few tips that will help you be prepared:
Utility companies never call customers requesting immediate payment to keep services from being shut off.
Always ask for a utility worker ID, whether you're contacted in person or on the phone, even if the caller ID says it is from the utility.
Never give out your account number or personal information such as your name, address, date of birth or Social Security number.
If you suspect a call to be fraudulent, hang up and immediately call your utility at the telephone number on your bill and ask to speak with a customer service representative.
If you've mistakenly provided bank account information, call your bank and local police department. They'll be able to give you the next steps to take care of this situation.
This isn't meant to scare anyone, but I want to make sure that all my residents and their families are safe. As always, if you have questions, please reach out, and I will do my best to connect you with appropriate resources.
I hope you've found this information useful. As I've said before, please feel free to reach out to my office with any comments or concerns. I look forward to hearing from you!
Sincerely,
State Representative Donna Lasinski
52nd House District