Dear Neighbor,
Welcome to my Capitol & Community Update e-newsletter! The next mass communications blackout begins this Saturday, Oct. 8. Starting on this date, House rules prohibit any stateside mass communication — including, but not limited to, e-news, mass mailings and official social media. The next e-news update will be sent after the blackout period ends on Nov. 8. In the meantime, please reach out directly to my office with any questions!
As always, please encourage neighbors and friends in House District 41 — Troy and Clawson — to also sign up for these updates at kuppa.housedems.com and let us know if you have any thoughts on any state-level issues or requests for scheduling. My office can be reached by phone at (517) 373-1783 or by email at PadmaKuppa@house.mi.gov. Be sure to also check out the latest on my social media platforms — @PadmaKuppaMI41 (Twitter) and @MIRepPadmaKuppa (Facebook)!
In Service,
Padma Kuppa
State Representative
House District 41
Upcoming Events
Monthly Community Conversations
Please join me for my in-person office hours, where I will be giving legislative updates and taking your questions about the issues facing our state and our community! These events are a great way to find out what policies I'm working on and for you to share your ideas and concerns with me. Please refer to the policy of the venue regarding masks and physical distancing. Our October meeting information is as follows:
When: Friday, Oct. 28, from 4:30-6 p.m.
Where: Troy Community Center (3179 Livernois Road in Troy)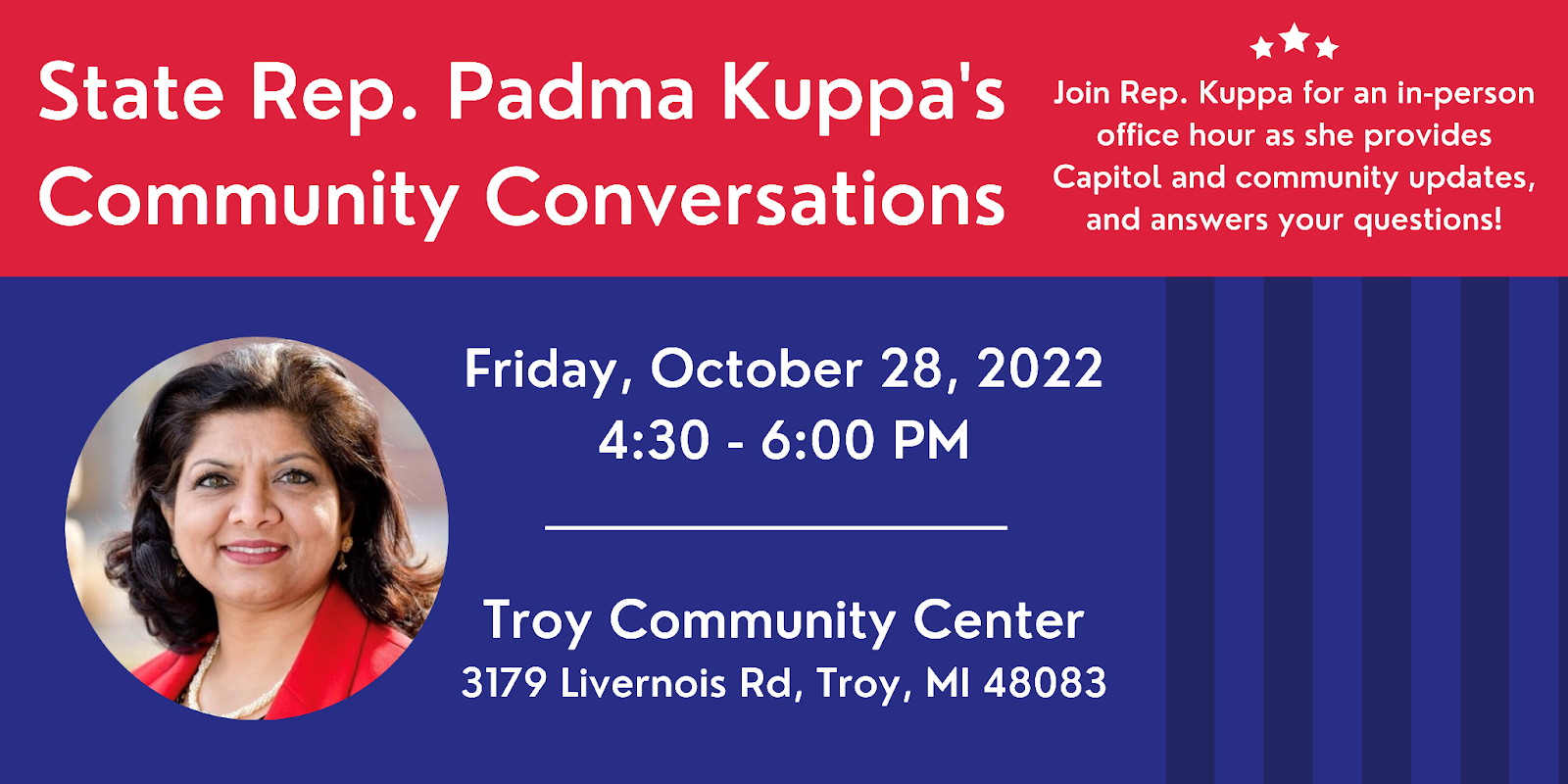 Legislative Update
Legislative Review
To see all of the legislation I have sponsored or co-sponsored this term, please follow the provided hyperlink, choose "primary sponsorship" or "primary and secondary sponsorship," then select my name and press "Show Sponsored Items." So far, I have co-sponsored 298 pieces of bipartisan legislation that have since been signed into law or adopted during my time in office, and I voted in favor of numerous other pieces of legislation that support the needs of Michiganders and help them thrive. At the same time, many pieces of legislation unrelated to helping Michiganders have been rushed through the legislative process recently. Please reach out to my office or stop by my office hours for more details. You can also see my press releases page for additional updates and information.
During this past legislative session, and by working with community partners, I have been working tirelessly to better the lives of my constituents and all Michiganders through legislation. Together, we have also delivered significant relief for Michigan families and our communities – including record K-12 education and per-pupil funding. I've successfully cut taxes like the tampon tax and brought home funding for our local governments and water infrastructure, as well as for roads and related noise mitigation efforts to protect community mental health and wellbeing. Additionally, I've organized a variety of community events such as office hours, town halls, mental health listening tours, small business round tables, and senior lunch and learns, and I attended even more. Engaging with all of you is the reason I am eager to go to Lansing each day and work for our shared priorities.
By the Numbers:
Introduced 39 Pieces of Legislation

Co-sponsored 700+ Pieces of Legislation

Had 5 Resolutions Adopted

Held 31 Office Hours

Hosted 17 Town Halls and Roundtables

Answered 4,000+ Constituent Contacts

Knocked 15,000+ Constituent Doors

Received Michigan United Cerebral Palsy (MI-UCP) Public Policy Award
Notable Sponsored Bills:
HB 4159 – Protects vulnerable adults from online sexual exploitation.
HB 4177 – Restores Michiganders' voter-approved right to earn paid sick leave.
HB 4271 – Repeals the Tampon Tax in Michigan.
HB 4362 – Updates election law to support clerks and protect voting rights.
HB 4802 – Part of a bipartisan package to expand EV infrastructure in Michigan.
HB 4895 – Protects Michigan's pollinators, food supply, and economy.
HB 5496 – Provides added privacy rights to victims of domestic violence.
HB 5514 – Expands voting rights to overseas military personnel and spouses.
HB 5845 – Establishes a Prescription Drug Affordability Board that would provide a level of transparency and oversight should medication prices increase. 
HB 6002 – Prevents conflicts of interest by prohibiting insurance companies or third-party companies from reviewing administrative appeals.
HB 6059 – Strengthens Polluter Pay laws by ending a conflict of interest in related policymaking.
HB 6265 – Targeted student loan forgiveness to strengthen Michigan's workforce and economy.
Notable Sponsored Resolutions:
HR 57/HR 256 – World Water Day (Adopted in 2021 & 2022).
HR 102 – APA Heritage Month (Adopted).
HR 148 – Women's Equality Day (Adopted).
HR 248 – Calls on Congress to address the federal backlog of employment-based green cards, alleviate worker shortage.
HR 298 – In support of direct care professionals.
HR 339 – International Day of Peace (Adopted).
Community Recognitions and Resources
Small Business of the Month
Each month, I recognize two small businesses in the community, one in Troy and one in Clawson, as our small businesses of the month. To nominate a business for this recognition, please fill out this form on my website.
Tributes, Letters and Certificates
Do you know someone in the district who is retiring and would like a legislative tribute to celebrate their years of service? Has a local team or group reached a milestone that they would like to be acknowledged with an official certificate for each member? Our office can provide legislative tributes, letters and certificates on a wide range of recognitions for constituents. If you would like to request any of these materials for yourself or others, please email my office at PadmaKuppa@house.mi.gov with as much information as possible on the requested recognition, and we will work with you to arrange delivery or presentation of the recognition!
E-News Archives and Constituent Downloads
My e-news archive is available on my website here. Constituent downloads are also available on my website here.