Dear Neighbor,
Happy Holidays! I am honored to serve as the state representative for the 29th House District and proud to be a strong advocate in Lansing for our community. Please encourage your friends and family to stay connected and subscribe to this e-newsletter. The e-news keeps everyone up-to-date on legislation and policies coming from the Capitol, coffee hours, and other virtual and in-person community events.
In service,
State Rep. Brenda Carter, 29th House District
In this Issue:
Thank You!

Tributes.

Take One Community Program Toy Giveaway.

Holiday Give Back.
Thank You!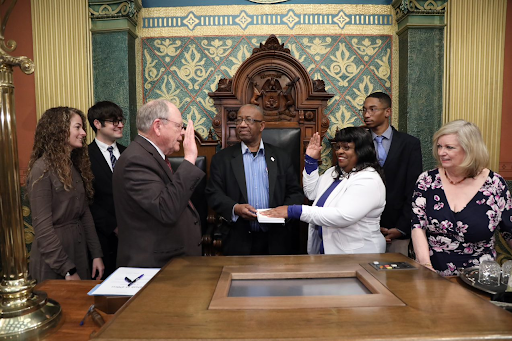 *Here, I am being sworn in as state representative for House District 53. Pictured left to right: my constituent services aide Damjana Gjetaj, policy aide Johnathon Wertheimer, Clerk Gary Randall, my husband Randy Carter, myself, former intern Devin Woodruff and my mentor Roberta Stanley. 
I want to thank everyone in the 29th House District for the past four years. It has been an honor to represent you in Lansing; it has been an experience I will never forget. I want all of those in Keego Harbor, Sylvan Lake, Orchard Lake Village, and Precincts 1-3 and 5-9 of Auburn Hills to know that you will always have a special place in my heart. In the 102nd Legislature, I will continue representing Pontiac and Auburn Hills Precinct 4. I will also have the opportunity to get to know our new friends in Waterford Precincts 14-21 (which is where my aide Johnathon Wertheimer lives!). 
Again, thank you for an incredible four years. Today, we are not saying, nor will we ever say, goodbye. I will always be here when you need me. 
Tributes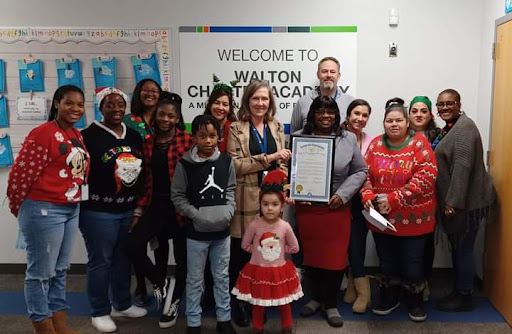 *Here, I am presenting a tribute to Walton Charter Academy. 
One of the perks of being a state representative is recognizing organizations and community members who are making a difference. In December, I was able to recognize the 80th birthdays of Pastor James Keys and his wife, Dorothy Keys, the retirements of Pontiac School Board Member Carol Y. Turpin, Suzanne Davenport (Jay Shop Inc.), Vincent DeLeonardis (AUCH Construction) and Walton Charter Academy for being a recipient of the 2022 Building the Hope Schools award. These wonderful people and organizations really make our community shine. Thank you all for your years of dedication and hard work! 
Take One Community Program Toy Giveaway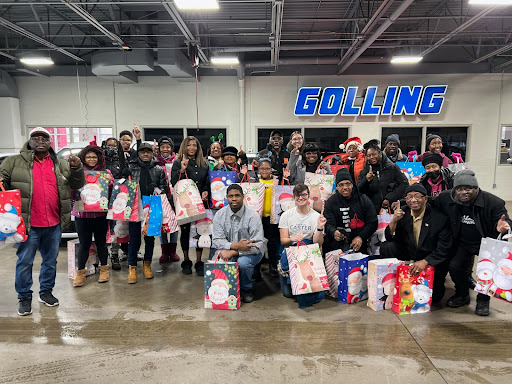 *Pictured is the team that made the Take One Community Program a success! 
On Dec. 18, I was proud to partner with my friend Yohannes Bolds and his organization, Take One Community Program, to give toys to children in need in the Pontiac-Metro Detroit Area. I would also like to send a special thank you to Golling Chrysler and Jeep for hosting the event. Together, we were able to help hundreds of families have toys for the holidays. It is events like this where I can get in and do that work that reminds me of the real reason I am in Lansing — to help those in need. 
Holiday Give back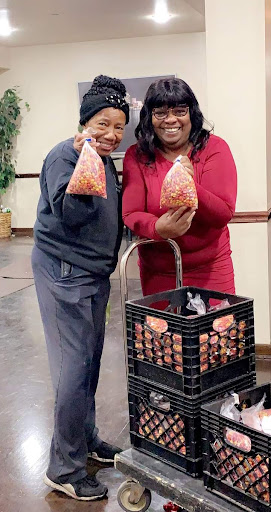 *Pictured here is Rosa Randolph and myself at the Holiday Give Back 
Three days after I helped give toys to children, on Dec. 21, I partnered with another friend of mine, Rosa Randolph of Unique Food Management, to throw a holiday party for our seniors and veterans. Over the years, I have noticed how far too often our seniors are forgotten during the holidays. Rosa and I wanted to do what we could to give back to those who have given our community so much. That is why we started our yearly Holiday Give Back. We can't wait to see you all next year when we do it again!