Dear Neighbor,
As we begin the 2023 legislative session, I am thankful for the opportunity to serve each of you and eager to bring productive change to our community. It is truly an honor to be able to represent you in the 32nd District of the State House of Representatives. I am committed to working to ensure the needs of our community are addressed with thoughtful consideration. My staff is here to collect your feedback, provide support and develop legislation that will strengthen our community's voice in the state.
As always, you can reach my office at (517) 373-8931 or follow me through my website RepJimmieWilson.com.
In Solidarity,
Jimmie Wilson, Jr.
State Representative – 32nd District
(City of Ypsilanti, Ypsilanti Township, and parts of Superior and Pittsfield townships)
In this Edition:
Inauguration Events of the 102nd Legislature
Upcoming Coffee Hours
Celebrating Black History Month
Legislative Update
Inauguration Events of the 102nd Legislature: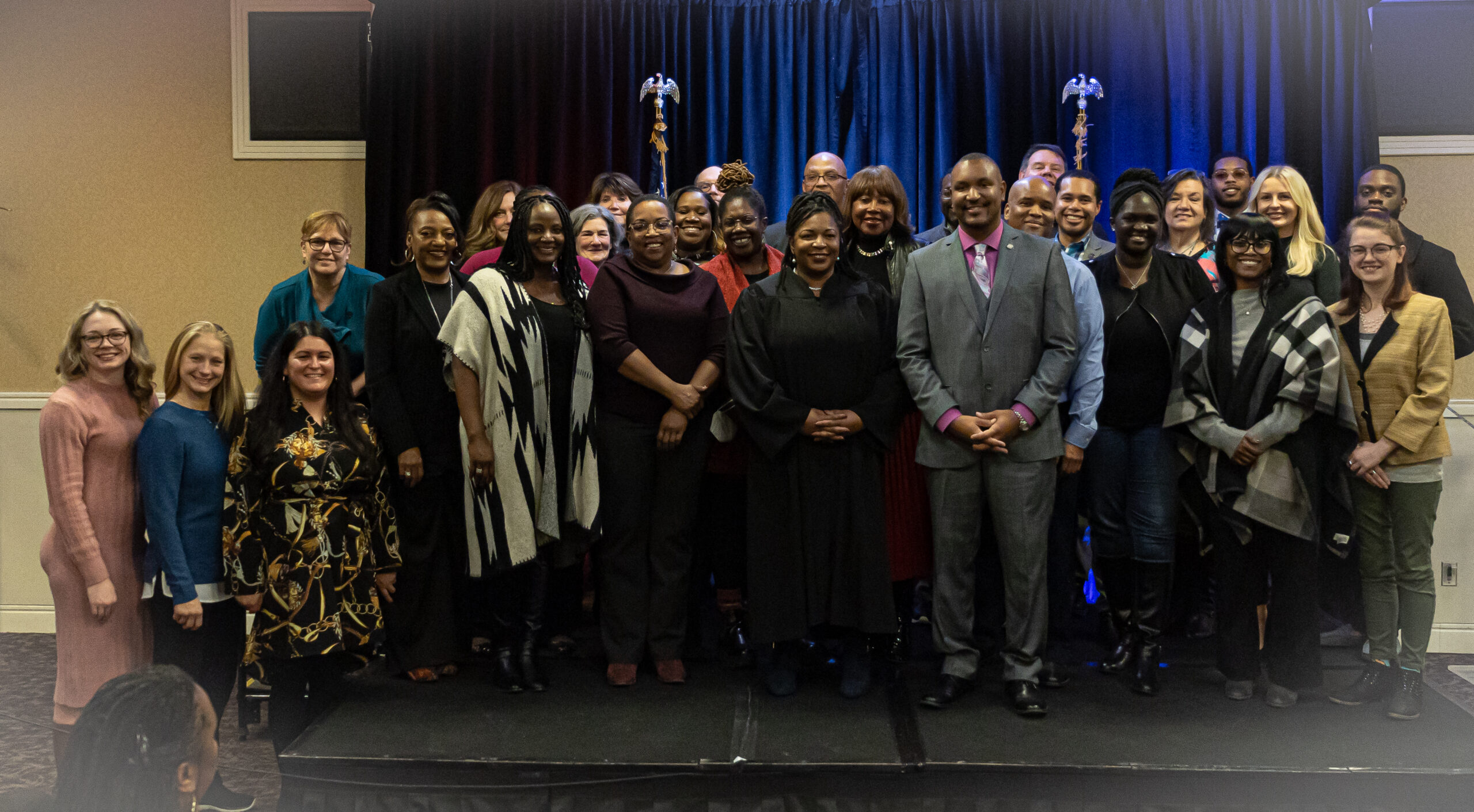 On Dec. 15, 2022, the Honorable Erane Washington, chief judge of 14-B District Court, presided over my swearing-in as representative of House District 32 in the 102nd Michigan Legislature. Bishop Harvey Beavers Jr. of The Spiritual Israel Church & Its Army led the opening prayer. Loretta Newman performed "Lift Every Voice and Sing," and Sharlene Paige performed the national anthem. Honored guests included notable community leaders, elected officials and community members joined us for the event at the Ypsilanti Eagle Crest Marriott.
Opening Ceremony, House Chamber
Jan. 11 marked the first day of the 102nd Legislature of the state of Michigan. My wife, Kamilah, godson Tamarus Darby, legislative director Leaha Dotson and constituency director Rebecca Mackey joined me to commemorate this day. Tamarus Darby is the president of the Boys Nation organization. Boys Nation is an organization within the American Legion that provides students an opportunity to become part of the operation of local, county and state government. Participants learn the rights, privileges and responsibilities of franchised citizens. Operated by students elected to various offices, Boys State activities include legislative sessions, court proceedings, law-enforcement presentations, assemblies, bands, choruses and recreational programs.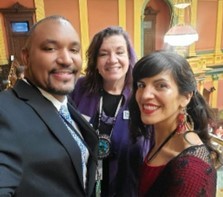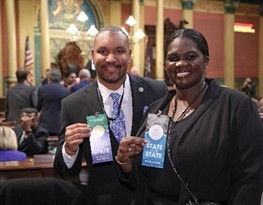 The State of the State address took place on Jan. 25. I invited Ypsilanti Community Schools Superintendent Alena Zachery-Ross and Dr. Nichole Biber, Ph.D., a member of the Anishinaabek Caucus and community advocate, to be my guests. During the event, I was able to grab photos with Dr. Biber, and chair of the Anishinaabek Caucus, Andrea Pierce. I was also happy to meet with Ypsilanti Mayor Nicole Brown for a photo.
Upcoming Coffee Hours:
Coffee hours are typically held on the fourth Saturday of each month. Locations vary, so please make sure to read these e-newsletters regularly to stay up to date.
Upcoming dates include:
February 25 at 11 a.m. — Virtual meeting. Sign up here.
March 25 at 11 a.m. — Ypsilanti District Library, 229 W. Michigan Ave. in Ypsilanti. Please complete this form to attend in person or receive the Zoom link
Celebrating Black History Month
In honor of Black History Month, I would like to share some important facts:
Black History Month began in 1915 during the celebration of the 50th anniversary of emancipation and later became Negro History Week in 1926. It became widely recognized in the 1960s during the Civil Rights Movement and federally recognized by Michigan's own President Ford in 1976.
Black History Month serves as a celebration of the Black community and an important reminder that systemic oppression continues still today. We must continue to fight for an equitable future for all and stop hate from prevailing.
Michigan made history this year when Speaker Joe Tate was elected the first Black speaker of the Michigan House of Representatives. 
Legislative Update
Bills in Development
Based on the general vibe in our community, our constituents believe law enforcement has too much leeway. At the same time, community members, especially those in disadvantaged areas, face many barriers to overcoming adverse legal situations. For these reasons, my initial focus is to strengthen laws that hold our law enforcement accountable and those that reduce undue burdens on our community. Law Enforcement Accountability and Expungement Fee Elimination are two pieces of legislation I am developing.
Co-Sponsorships
In addition to the legislation that I am developing and leading, I am also co-sponsoring many other pieces of legislation that help to fulfill my campaign promises to improve the lives and opportunities for all those in District 32.  Working Families Tax Credit (HB 4002), Pension Tax Reduction (HB 4001), Elliott-Larsen Anti-Discrimination (HB 4003), Right to Work Repeal (HB 4004), 1931 Abortion Ban Repeal (HB 4006), Prevailing Wage (HB 4007), The Fair Scheduling Act (HB 4035) and the Temporary Worker's Bill of Rights (HB 4034). These measures help to put money back into the pockets of hard-working families and protect equal freedoms for everyone in our community.
Appointments and Committee Assignments
I am honored to have been appointed assistant majority floor leader. Through this role, I will help determine legislation that will come to the floor, as well as all the floor procedures that come with those pieces of legislation.
In addition, I look forward to serving on the Regulatory Reform Committee for policy development; and on the Appropriations Committee.  In addition to these two main committees, I am also chair of the Judiciary Appropriations Subcommittee, vice chair of the Military, Veterans, and State Police Appropriations Subcommittee; and member of the School Aid and Department of Education Appropriations and Joint Capital Outlay Appropriations Subcommittees.

District Resources
Habitat for Humanity: (734) 677-1558

Home Ownership Program & Home Improvement Assistance

Barrier Busters (Group matches people with entities that can help fulfill unmet needs)
Housing Access of Washtenaw County: (734) 961-1999
Legal Aid Services of Washtenaw County: (734) 665-6181
United Way: Dial 211 (Provides services related to Senior crisis intervention, networking services to aid with maintaining independence, and social integration programs)