Hello Friends,
Now that the primary election e-news blackout has been lifted, I am glad to be able to resume our bi-weekly communications. It has been a busy summer out in the district, listening to you and working with community leaders.
Session returns next week, so you'll be hearing more news from Lansing as my time transitions back to the Capitol. I am ready to keep working for you, and as always, you can contact me at (517) 373-0828, by email at DonnaLasinski@house.mi.gov, or by visiting my website at RepLasinski.com, with any questions, thoughts, or suggestions. You can also follow my Facebook page for more frequent legislative updates and events around the district.
Take a look at some of what I've done over my first term: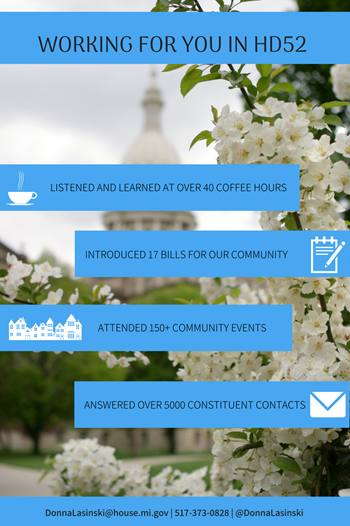 Legislative Update
Michigan's Water Worries
Every family should be confident that their water is safe to drink, cook with and bathe in. However, Per-and Polyfluoroalkyl Substances (PFAS) contamination has been found in a number of Michigan communities, with other communities suspected as being at risk. PFAS are a group of man-made chemicals that do not break down in the environment and move easily into water. Studies show that long-term exposure to PFAS can lead to adverse human health effects.
On Aug. 4, two lakes near us, Portage and Baseline, were issued an emergency "Do Not Eat" advisory for fish issued by state health officials. The order has been extended today to include several more bodies of water in Washtenaw County. The complete list now includes:
• Base Line and Portage Lakes
• Barton Pond
• Geddes Pond
• Argo Pond
• Ford Lake
In the legislature, I co-sponsored House Bill 5375 last year to address these contaminants once and for all and set safe drinking water standards. In over 250 days, no action has been taken by the committee chair to give a hearing to the bill.
The Michigan Department of Environmental Quality (MDEQ) has begun a statewide initiative to test drinking water for PFAS from all schools that use well water (schools using community water supplies are tested at the treatment facility). As of Aug. 16, the PFAS response team had collected samples from 892 of the state's 1,841 public water systems. The MDEQ has been testing community water supplies throughout the state, and there are currently 34 confirmed PFAS sites.
We already know of the troubles caused by lead in Flint's water supply, by the dioxane plume right here in the 52nd House District, and other worrisome events around the state, including the recent news of water shutoffs in Detroit public schools.
We know that now is a time to call for more transparency among those who regulate our water supplies, and for more accountability from those who impact our water supplies. No one should have to fear that their water will make them ill or lower their standard of living.
From passing my bill out of the House of Representatives to ensure government transparency and accountability, to fighting for clean water, and winning the battle for a stronger clean-up standard for dioxane, I have shown that I will not back down on this issue. Everyone deserves safe water.
Upcoming Time with Donna
Saline Coffee Hour
Join me for a Saline coffee hour where we will have the opportunity to discuss legislative updates and what's happening in Lansing and in Washtenaw County.
When: Friday, Sept. 7, from 10-11 a.m.
Where: Carrigan Café, 101 S. Ann Arbor St. #107 in Saline
Dexter Drafts with Donna
Join me for Drafts with Donna where I'll have time to answer your questions and discuss policy coming up in Lansing.
When: September 20th, 6:00-7:00 pm
Where: Dexter Beer Grotto, 8059 Main St, Dexter, MI 48130
Elections Town Hall
When: Monday, October 1st, 6:00-7:30 pm.
Where: Scio Township Hall, 827 N Zeeb Rd, Ann Arbor, MI 48103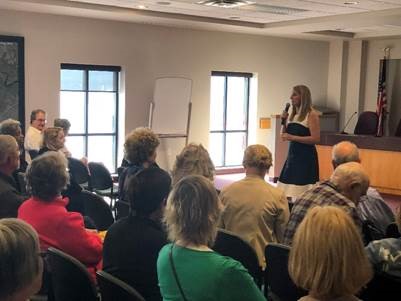 What To Do In HD 52
Saline County Fair
The Saline Community Fair includes all the old time classics of any fair, a cement slab tractor pull, the USA demolition derby, and a tractor pull.
When: Monday, Sept. 3
Where: Washtenaw Farm Council Grounds, 5055 Ann Arbor Saline Road in Ann Arbor
Antique Car Rally at Dexter District Library
Stop by the Library around lunchtime and see a variety of pre-1915 working automobiles.
When: Thursday, Sept. 6, from 11:30 a.m. to 12:30 p.m.
Where: Dexter Library, 3255 Alpine St. in Dexter
Mindfulness Meditation
Join staff for guided mindfulness meditation in a safe, positive, friendly group setting.  These drop-in sessions are open to all and have no religious affiliation.  Sessions will include short presentations by the instructor, technique coaching, silent meditation and time for discussion and questions.  No registration is necessary. No experience is necessary. Meetings are free!
When: Saturday, Sept. 8, from 9:30-10:30 a.m.
Where: Dexter Wellness Center, 2810 Baker Road in Dexter
Manchester Farmers Market
Come out and support local farmers and crafters at the Manchester Farmers Market. More information here: https://www.facebook.com/Manchester-Michigan-Farmers-Market-1609580615922629/
When: Thursday evenings, from 3:30-7 p.m., May through October 2018
Where: Chi-Bro Park, 209 Ann Arbor St. in Manchester
Helpful Resources
Need Answers?
United Way for Southeast Michigan can offer help 24 hours a day by calling 211 or by visiting their website at www.211.UnitedWaySEM.org. They have information and resources on a variety of topics such as utility and rent payment assistance, job search and placement, food, health and child care, housing and temporary shelters, prescription expense assistance, school-related programs, free tax preparation, and more. This is a great resource available to the residents of Southeast Michigan.
The Natural River District
Did you know that in Southeast Michigan, the Huron River is the only river with the designation of a Natural River District? As such, people residing within this designation in Scio Township get to live in one of the most beautiful places in Southeast Michigan, but developments within this designation often require permits and have strict development standard. Please see your local planning code.  For residents of Scio Township, those can be found here: http://sciotownship.org/ or call (734) 369-9400.
Cold Weather is Coming
As the chillier fall and winter months approach and concerns about utility bills rise, the Heat and Warmth Fund is here to help customers of DTE and SEMCO by offering assistance to those are struggling to pay their energy bills. As the Democratic vice-chair of the House Energy Policy Committee, this is a particular concern for me. If you need assistance, the application process can be started at www.thawfund.org/programs. If you have any questions, feel free to contact them at (800) 866-8429 to speak with a Utility Assistant Specialist.
I hope that this information has been helpful to you. As always, please feel free to reach out to me at DonnaLasinski@house.mi.gov or by phone at (517) 373-0828.
Sincerely,
State Representative Donna Lasinski
52nd House District