Hello Friends,
It has been a privilege to spend my summer in the district. With the return of fall, I am glad to be back in Lansing working on legislation during our scheduled session days.
As always, you can contact me at (517) 373-0828, by email at DonnaLasinski@house.mi.gov, or by visiting my website at RepLasinski.com, with any questions, thoughts, or suggestions. You can also follow my Facebook page for more frequent legislative updates and events around the district.
Legislative Update
Michigan's Water Worries – 'Do Not Eat' Advisory Expanded
The Michigan Department of Health and Human Services expanded a 'Do Not Eat' fish advisory for the Huron River from North Wixom Road in Oakland County all the way to the mouth of the river at Lake Erie in Wayne County.
Recently, I stood with my Democratic colleagues and called for immediate action to strengthen water quality standards, starting with passing legislation to address the PFAS problem in our communities. https://www.youtube.com/watch?v=8zBKepcYSEI
Ballot Initiatives: One Fair Wage & Earned Paid Sick Leave Pass The House & Senate
Also certified and sent to the Legislature was the MI One Fair Wage ballot proposal which would gradually raise the minimum wage to $12 an hour by 2022 and raise the tipped wage to $12 an hour by 2024. This proposal would enact the "Improved Workforce Opportunity Wage Act" to increase the state minimum wage from $9.25 in 2018 to $10 in 2019; $10.65 in 2020; $11.25 in 2021; and $12 in 2022. The proposal would also increase the minimum wage for tipped employees.
I voted yes on both of these initiatives and urge my colleagues to stay true to the goals of these initiatives.
Upcoming Time with Donna
Dexter Drafts with Donna
When: Thursday, Sept. 20, 6-7 p.m.
When: Monday, Oct. 1, 6-7:30 p.m.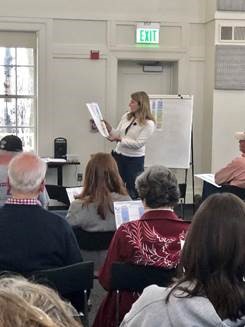 with Mayor Marl
When: Saturday, Oct. 6, 6-7 p.m.
Where: Saline Senior Center, 7190 N. Maple Road in Saline
Northfield Coffee Hour
When: Saturday, Oct. 13, 10-11 a.m.
Be Green in Scio Township
When: Saturday, Sept. 15, 8 a.m. to noon
Wes Fritzemeier, Jason Dennie, and Tommy Reifel take the stage to deliver down-home bluegrass sound.
Where: Chelsea Alehouse Brewery, 420 N. Main St., Suite 100 in Chelsea
Autumnal Equinox Celebration
When: Saturday, Sept. 22, 6-9 p.m.
Come out and support local farmers and crafters at the Manchester Farmers Market. More information here: https://www.facebook.com/Manchester-Michigan-Farmers-Market-1609580615922629/*
Where: Chi-Bro Park, 209 Ann Arbor St. in Manchester
Winter might seem far enough away, but the Michigan Agency for Energy would like to remind you to apply by Sept. 30 to receive the state's Home Heating Credit.
The Home Heating Credit helps Michigan residents who are low-income; deaf, disabled or blind; senior citizens; or disabled veterans to pay their energy bills. Applicants do not need to file a Michigan tax return to get the Home Heating Credit. The Home Heating Credit form may be obtained from the Department of Treasury's website – michigan.gov/taxes – or by calling 517-636-4486. This will help to determine if you qualify for funding.
The Western Washtenaw Recycling Authority provides drop-off recycling stations for township residents. The bins are located next to the Bridgewater Depot in the hamlet of Bridgewater, at the corner of Austin and Boettner Roads, and in Manchester at the Manchester Market, 455 W. Main Street. For more information about recycling in the township, call the Western Washtenaw Recycling Authority at (734) 475-6160. I encourage everyone to do their part in making Michigan a cleaner, greener state!
What's the attraction?
I hope that this information has been helpful to you. As always, please feel free to reach out to me at DonnaLasinski@house.mi.gov or by phone at (517) 373-0828.
Sincerely,
52nd House District