Hello Friends,
Fall is beginning to show its colors and our House District 52 has lots of great opportunities to get outside and enjoy the fall season. Make sure to check out the resources included in this e-newsletter and enjoy all that Washtenaw County has to offer this season!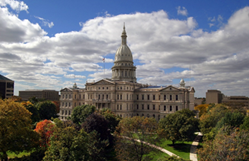 Happy Fall from the Capitol!
As always, you can contact me at (517) 373-0828, by email at DonnaLasinski@house.mi.gov, or by visiting my website at RepLasinski.com, with any questions, thoughts, or suggestions. You can also follow my Facebook page for more frequent legislative updates and events around the district.
Legislative Update
Michigan Water Woes Continue on the Huron River-Expanded Warnings
As the list of sites with PFAS contamination in Michigan continues to grow, the contamination in Norton Creek, which feeds into the Huron River, has reached a record-high at 5,500 parts per trillion (ppt), more than 78 times greater than the current acceptable standard.
Every day, the number of our communities affected by PFAS continues to rise, and every day without action another family is put at risk. This is unacceptable. No one should have to fear that their water is harming them. No one in Michigan should be afraid to enjoy the beautiful lakes and rivers that make Michigan such a wonderful place to live. Yesterday, I joined my Washtenaw colleagues to request Gov. Snyder to act immediately and demand Tribar Manufacturing immediately stop discharging dangerous levels of PFOS/PFAS into our water. We cannot continue to allow a known polluter to poison our waters without requiring immediate improvements and prevention. It is time to get our waters clean and safe again — we must not accept less for our families.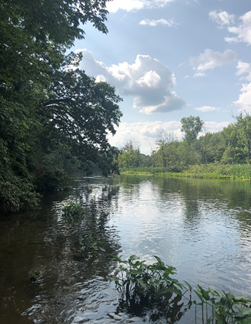 A view of the Huron River-Currently under multiple contamination warnings.
Repairing our Roads – Labor Lockout
The decision by the Michigan Infrastructure and Transportation Association to lock out workers from the Operating Engineers Local 324 was responsible for construction delays on more than 150 construction sites. I am pleased to see that it has finally come to an end and that our skilled workers have agreed to continue to work throughout the construction season, as they had been doing since June.
Upcoming Time with Donna
Elections Town Hall
When: Monday, October 1, 6-7:30 p.m.
Where: Scio Township Hall, 827 N. Zeeb Road in Ann Arbor
Senior Coffee with Mayor Marl
Stop in for coffee with Mayor Marl at the Saline Senior Center. I hope to see you there!
When: Saturday, October 6, 6-7 p.m.
Where: Saline Senior Center, 7190 N. Maple Road in Saline
Northfield Coffee Hour
Join me for a coffee hour where we will have the opportunity to discuss legislative updates and what's happening in Lansing and in Washtenaw County.
When: Saturday, October 13, 10-11 a.m.
Where: Northfield Senior Center, 9101 Main St. in Whitmore Lake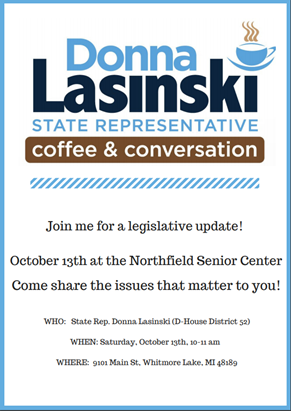 Chelsea Coffee Hour
I will be hosting a coffee hour later in October to discuss important legislative updates both in Lansing and in HD 52.
When: Sunday, October 21, 2:30-3:30 p.m.
Where: Zou Zou's Cafe Chelsea, 101 N. Main St. in Chelsea
What To Do In HD 52
Run Tough For Chad Tough – 5K Run/Walk & 1 Mile Fun Run
The 5th annual RunTough for ChadTough will be extra special as we celebrate this year's theme of Forever Five! With reduced pricing and extra celebrities at the Saline event, we hope we can spread our story further and deeper than ever before! There are two ways to participate:
All proceeds will go to The ChadTough Foundation, whose mission is to fund research and raise awareness for pediatric brain cancer with an emphasis on Diffuse Intrinsic Pontine Glioma (DIPG). All participants registered by September 7 are guaranteed a race shirt. Awards will be given for the 5K top male and female racers overall, and to the top three 5K finishers in each age group, per gender.
When:
Friday, September 28:
– 4-7:00 p.m. – Race Packet Pick-Up at Saline High School football stadium concession stand
Saturday, September 29:
– 7:30 a.m. – Registration & Race Packet Pick-Up
– 8:30 a.m. – Opening Ceremony
– 9:00 a.m. – 5K & 1M Fun Run begin
Where: Saline High School, 1300 Campus Parkway in Saline
Washtenaw County Clean Up Day
Bring your recyclables and do your part to keep HD52 green. Call 734-222-3810 or visit www.washtenaw.org/cleanup for more info!
When: Saturday, September 29, 9 a.m.-2 p.m.
Where: Thomson Reuters office complex, 6300 Interfirst Drive in Ann Arbor
Apple Daze
This annual event celebrates Michigan's most famous products. Expect to find: a hayride to the Historic Dexter Cider Mill, an apple pie eating contest, a classic car show, craft & vendor booths, kid's games with prizes, and live entertainment. Plus, cider, doughnuts and candy apples for sale. All at Monument Park in downtown Dexter.
When: Saturday, October 6, 10 a.m.-5 p.m.
Where: Downtown Dexter, Inverness St. in Dexter
Dexter Farmers Market
The Dexter Farmers Market runs twice a week through the first week of October. Both SNAP/Bridge Cards and Market FRESH are accepted.
When: Tuesdays, 2-6 p.m. and Saturdays, 8 a.m.-1 p.m., through October 7
Where: 3233 Alpine St. in Dexter
Helpful Resources
Stay Warm With Home Heating Credits!
Winter might seem far enough away, but the Michigan Agency for Energy would like to remind you to apply by Sept. 30 to receive the state's Home Heating Credit.
The Home Heating Credit helps Michigan residents who are low-income; deaf, disabled or blind; senior citizens; or disabled veterans to pay their energy bills. Applicants do not need to file a Michigan tax return to get the Home Heating Credit. The Home Heating Credit form may be obtained from the Department of Treasury's website – michigan.gov/taxes – or by calling (517) 636-4486. This Home Heating Credit checklist will help to determine if you qualify for funding.
Besides the Home Heating Credit, eligible Michiganders may also qualify for home heating assistance through the Michigan Energy Assistance Program which offers funding to help pay heating bills and guide recipients toward energy self-sufficiency. Learn more about the program here.
Helpful Services for Those and Families of Those with Autism
Whether you already have a diagnosis for your child, have noticed early signs and are not sure what to do next, or need help connecting with the right providers, others on the journey, or autism-friendly businesses in your area, the Autism Alliance of Michigan may be able to help you.
Visit the MiNavigator to get started looking for adult services, insurance providers, medical providers and more!
Want to Stay Up to Date on What's Going On in Washtenaw County?
Visit the Washtenaw County website in order to: get updates about construction, the environment, online services, and more in Washtenaw County!
Looking to Get Outside?
Autumn is beautiful in Michigan. If you want to get outside this fall and hike, go for a run, or go for a walk, take a look at the amazing parks and nature trails Washtenaw County has to offer. Links to park websites can be found at ewashtenaw.org.
Discounted Phone Service for Those in Need
Telecommunications provide a vital link for low-income Michiganders to access emergency help, jobs, family, and health care.
Lifeline is offered by dozens of carriers throughout Michigan and helps make telephone or broadband service more affordable for qualified customers. Under the Lifeline program, those under age 65 get a minimum discount of $9.25 per month on telephone service, while those 65 or older get a minimum discount of $12.35 per month. To qualify, a Michigan customer must have an income that is at or below 150 percent of the federal poverty level or participate in a qualifying governmental assistance program. Veterans may qualify for Lifeline if they receive any of the benefits listed above or through the Veterans and Survivors Pension Benefits Program.
For more information about Lifeline, see this tip sheet or contact the MPSC at (800) 292-9555.
I hope that this information has been helpful to you. As always, please feel free to reach out to me at DonnaLasinski@house.mi.gov or by phone at (517) 373-0828.
Sincerely,
State Representative Donna Lasinski