Hello Friends,
It's Harvest Season! October is finally here, and the leaves are changing. House District 52 has lots of great resources to offer, including opportunities to get outside and enjoy the fall season. This will be the last e-news you will receive from me until after the election. Due to the policies of the House of Representatives' Business office, I am not allowed to send any more electronic mailings until November. Not to worry – I am still available by phone or email at my office. Plus, I've made sure that this newsletter is jam-packed with news from the capitol, in-district events, and resources for you to utilize.
You can also follow my Facebook page for more legislative updates, and information on resources and events around the district. Want faster and more frequent updates? Follow me on Twitter or Instagram-@DonnaLasinski.
As always, you can contact me at (517) 373-0828, by email at DonnaLasinski@house.mi.gov, or by visiting my website at RepLasinski.com, with any questions, thoughts, or suggestions.  I look forward to hearing from you, or to seeing you out and about in the wonderful House District 52.
Legislative Update
Michigan Water Woes Continue
Our state and our families are struggling under the burdens of excess pollution that could have been prevented —contamination from PFAS; 1,4 dioxane; and lead — if our legislation had been seriously considered and acted upon. Raising my three sons only a stone's throw from the deepest part of the Pall Gelman Dioxane Plume has given me perspective on what it means to protect those we care about. Preventable pollution burdens both our environment and our communities, costing far too many of our taxpayer dollars to remedy.
This has also been a devastatingly common theme among oil spill catastrophes in particular. From the Kalamazoo River to the Great Plains of South Dakota, corporations in Michigan and around the country have failed to adequately account for the real risks that come with oil transportation. The 2010 Enbridge oil spill into the Kalamazoo River was the worst oil spill in Michigan's history, leaking more than one million gallons of oil and costing over one billion dollars to clean up.
One of my most importantfirst priorities has always been to protect our beautiful environment and unique natural resources here in Michigan. That is why on Tuesday I introduced an amendment to House Bill 6201 to establish a per-barrel fine of $100 for any oil spills that occur here in the Straits of Mackinac.  At a time when lax regulations allow the prioritization of polluters over people, this amendment would provide accountability for harmful actions, particularly in the straits of Mackinac. Unfortunately, my amendment was not taken up bythe House leadership.
It's time for meaningful and long-term solutions, not stop-gap proposals. For more than six years, a report on the dangers of PFAS was hidden from the public. I've joined with my colleagues to send a letter to the Auditor General requesting an audit of DEQ's response to the PFAS crisis. This is about ensuring that every person living in the Great Lakes State has access to fresh, clean water and proving that "Pure Michigan" is more than a marketing slogan.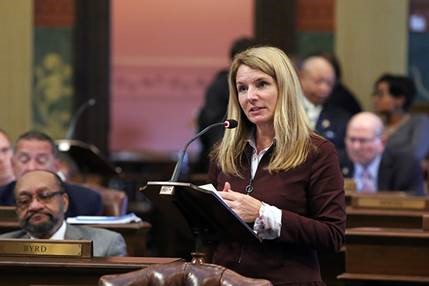 Click here to hear me speak to my amendment for House Bill 6201 on the House Floor
Retirement Tax Problems
When Michigan Republicans made sweeping changes to taxes for working families in 2012, they also increased taxes on retirement income for seniors. Now, seniors are struggling to make ends meet. Where they had previously planned for their retirement, safe in the knowledge that they had retirement income that would allow them to live comfortably, they now face uncertainty and are forced to either cut back on necessities or go back into the workforce. House Democrats have worked for years to repeal this tax on senior citizens living on fixed incomes. This includes House Bill 4132 from this session, which I am proud to support; however, it has sat untouched in the House Committee on Tax Policy since being introduced in January of 2017. Michigan's senior citizens spent their lives working hard and supporting their communities. They expected to retire with dignity and in comfort until the rules were rigged against them unexpectedly. Now, they are forced to choose between buying groceries and paying for life-saving medication. I am committed to doing all I can to provide relief for Michigan's senior citizens.
Upcoming Time with Donna
Senior Coffee with Mayor Marl
I'll be stopping in for coffee with Mayor Marl at the Saline Senior Center.
Please note the change in date! Drop by and see us!
When: Wednesday, Oct. 10, 6-7 p.m.
Where: Saline Senior Center, 7190 N Maple Rd in Saline
Northfield Coffee Hour
Join me for a coffee hour where we will have the opportunity to discuss legislative updates and what's happening in Lansing and in Washtenaw County.
When: Saturday, Oct. 13, 10-11 a.m.
Where: Northfield Senior Center, 9101 Main St in Whitmore Lake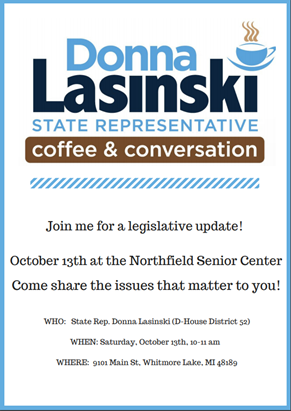 Chelsea Coffee Hour
I will be hosting a coffee hour later in October to discuss important legislative updates both in Lansing and in HD 52.
When: Sunday, Oct. 21, 2:30-3:30 p.m.
Where: Zou Zou's Cafe Chelsea, 101 N Main St in Chelsea
Salem Coffee Hour
Time for a legislative update before we head into the November holidays. Please stop by!
When: Monday, Nov. 12, 6-7:00 p.m.
Where: Salem Township Hall, 9600 Six Mile Rd, Northville, MI 48168
Manchester Coffee Hour
Stop in and join me for coffee and conversation about the issues that matter to you!
When: Saturday, Dec. 8, 10-11:00 a.m.
Where: Manchester Village Room, 912 City Road in Manchester
Helpful Resources
Helpful services for those and families of those with autism:
Whether you already have a diagnosis for your child, have noticed early signs and are not sure what to do next, or need help connecting with the right providers, others on the journey, or autism-friendly businesses in your area, the Autism Alliance of Michigan may be able to help you.
Visit the MiNavigator to get started looking for adult services, insurance providers, medical providers and more!
No one should go hungry:
The Washtenaw County Health Department and Food Gatherers are pleased to offer a free monthly food distribution to individuals and families with lower incomes. If you or someone you know struggles to put food on the table, please let them know about this free option.
Monthly on the 3rd Wednesday of the month, from 2 to 3:30 p.m. — or while supplies last, you'll find the Washtenaw County food distribution at the Washtenaw County Human Services Building atrium, located at 555 Towner Street in Ypsilanti. No proof of income is required, but you will be asked to sign in! Foods include fruit, vegetables, dairy products and bread. Choices may be different each month. For other food distribution locations and food pantries see Food Gatherers' web page.
Are you expecting, or have children under five in your household? Women, Infants & Children (WIC) provides healthy foods for kids up to five years old and pregnant women. WIC also offers nutrition education and breastfeeding support. Over half of all babies born in Washtenaw County participate in WIC! WIC is for families with low or moderate incomes, and you can call 734-544-6800 to schedule an appointment.
Discounted Phone Service for Those in Need
Telecommunications provide a vital link for low-income Michiganders to access emergency help, jobs, family and healthcare.
Lifeline is offered by dozens of carriers throughout Michigan and helps make telephone or broadband service more affordable for qualified customers. Under the Lifeline program, those under age 65 get a minimum discount of $9.25 per month on telephone service, while those 65 or older get a minimum discount of $12.35 per month. To qualify, a Michigan customer must have an income that is at or below 150 percent of the federal poverty level or participate in a qualifying governmental assistance program. Veterans may qualify for Lifeline if they receive any of the benefits listed above or through the Veterans and Survivors Pension Benefits Program.
For more information about Lifeline, see this tip sheet or contact the MPSC at 800-292-9555.
Stay Healthy This Flu Season
It can be hard when the weather changes to keep ourselves healthy. Luckily, there are many ways you keep germs at bay.
Vaccines are one of our best tools for preventing and controlling many serious diseases. They are safe and effective, and the Washtenaw County Health Department offers reduced fee vaccines for all ages. To schedule an immunization appointment, please call 734-544-6700.
In Danger of Losing Your Home?
All it takes is an unexpected expense or a few months of unemployment to get behind on your mortgage or tax payments. I understand that this can be frightening and I'm here to connect you with the help you need. If you're in danger of losing your home to foreclosure, there are resources available to you. Step Forward Michigan is a federally funded loan program designed to help eligible homeowners who are struggling with their mortgage, condo association fees, and/or property taxes retain ownership of their primary residence.  You can also contact a MSHDA approved agency for other free assistance. Find a Housing Education Counselor here.
What To Do In HD 52
Apple Daze
This annual event celebrates Michigan's most famous products. Expect to find: a hayride to the Historic Dexter Cider Mill, an apple pie eating contest, a classic car show, craft & vendor booths, kid's games with prizes, and live entertainment. Plus, cider, doughnuts and candy apples for sale. All at Monument Park in downtown Dexter.
When: Saturday, October 6th 10:00am – 5:00pm
Where: Downtown Dexter, Inverness Street, Dexter, MI 48130
Dexter Farmers Market
The Dexter Farmers Market runs twice a week through the first week of October. Both SNAP/Bridge Cards and Market FRESH are accepted.
When: Tuesday 2 p.m. – 6 p.m. and Sat 8 a.m. – 1 p.m., through Oct. 7
Where: 3233 Alpine Street in Dexter
Chelsea and Dexter CROP Hunger Walk
Chelsea and Dexter have come together in collaborating their 31st Chelsea/Dexter CROP Hunger Walk! With a mission to help individuals overcome impoverished circumstances, last year 165 walkers and their supports raised $27,000! Replacing a 5-mile route from the previous year, Chelsea has created two possible routes walkers can choose from –  a 1-mile and a 5-kilometer course are in full set up for the 2018 Chelsea and Dexter CROP Hunger Walk. If you would like to participate, please contact Kathie at (313) 268-6537.
When: Sunday, Oct. 7 1:30 p.m.
Where: Starting at St. Paul United Church of Christ in Chelsea
Saline Outdoor Farmers Market
Every Saturday, you will be able to find all your annuals, herbs and vegetable plants for your gardens while still supporting your local farmers. There will also be live music, Master Gardeners your gardening questions and kid's activities.
When: October 13, 2018, 8:00 a.m. – 12:00 p.m.
Where: Saline parking lot 1/2 block south of Michigan Av x S. Ann Arbor St
Dexter Halloween Downtown Trick or Treat
Come downtown to trick or treat all day at downtown shops, from 1-4 Monument Park will be set up with tables of treats from area vendors and businesses that want to join in the fun but don't have a downtown business.
When: October 31, 1-4 p.m.
Where: Main Street, Monument Park in Dexter
Building Business Relationships Breakfast
Are you looking to build your business relationships? The Saline Chamber's BBRs are a great opportunity for members to share their activities and network with others all while enjoying a delicious breakfast. Come meet members of the Board of Directors as they serve as the Emcees for the breakfasts. Each breakfast has featured speakers who are Chamber Members who are excited to share their upcoming work. RSVPs are not required, but are encouraged.
Go to https://www.salinechamber.org/bbr to learn more.
Where: Linden Square at 650 Woodland Dr E, Saline
When: Oct. 23, 7:30-9 a.m.
Harvest Time at Rentschler Farm
Come out and join the members of Saline for a Harvest Time at Rentschler Farm! Events include wagon rides, pumpkin painting, food trucks, live farm animals, farmhouse tours, and much more!
Admission is one dollar.
When: Sunday, Oct. 7 noon-4:00 p.m.
Where: Rentschler Farm Museum- 1265 E. Michigan Avenue in Saline
Preschool Pumpkin Hunt
Preschoolers will have a chance to go on their very own mini pumpkin hunt! Following the pumpkin hunt will be pumpkin decorating, and storytelling by Saline's District Library. The event caters to children 2-5 years old, and a snack will be provided!
Admission is $10 in advance or $12 day of if not sold out.
When: Tuesday, October 16th, 10:00 a.m.-12:00 p.m.
Where: Saline Rec Center-1866 Woodland Dr in Saline
Boo Bash at Saline Rec Center
In celebrating Halloween this year, the Saline Rec Center will be hosting their annual Boo Bash. There will be games, dancing, treats, a balloon drop and more. Costumes are encouraged!
All adults and children under the age of three are required to pre-register. Children two and under are free, but must register.
Admission is $11 in advance or $15 day of the event.
When: Friday, Oct. 19, 6-8:00 p.m.
Where: Saline Rec Center-1866 Woodland Dr in Saline
Downtown Saline Trunk-or-Treat
It's finally here! Saline Main Street will be hosting their premier downtown Trunk-or-Treat fest. Come out and celebrate with Saline and the community. All ghost and goblins are welcome!
When: Wednesday Oct. 24, 6-8:00 p.m.
Where: Downtown Saline
The Great Pumpkin Roll
The Great Pumpkin Roll invites you to come out and celebrate their 13th annual competition.  When you bring your own pumpkin you have a chance to race your pumpkin against others and win a fun prize! Hot cider and donuts will be served to all that attend.
Admission is Free.
When: Saturday, Nov. 3, 9-10:00 a.m.
Where: Mill Pond Park- 565 West Bennett St. in Saline
Old Fashioned Halloween Party
Throw on your costumes and join us for some Halloween fun! There will be games, activities, and refreshments.
When: Saturday, Oct. 27, 6-8:30 p.m.
Where: Northfield Township Community Center- 9101 Main St. in Whitmore Lake
Trunk-or-Treat at the North Village
North Village will be organizing their 3rd annual Trunk-or-Treat. Bring your best costumes!
When: Sunday, Oct. 28, 3-5:00 p.m.
Where: North Village (next to the Whitmore Lake Post Office)
Dexter Community Education Craft and Vendor Show
Over 80 Crafters and Direct sales vendor will showcase their products. Come out and shop where you will be able to find everyone a gift for the holidays. Food will be available to purchase.
Admission is $2, children and students are free
When: Saturday, Nov. 3, 10:00 a.m.-4:00 p.m.
Where: Creekside Intermediate School – 2615 Baker Rd in Dexter
Pumpkin Painting Party
Family and Friends are welcome to join us for some exciting pumpkin painting. All will have a chance to pick pumpkins from our pumpkin patch and paint using supplies provided. This event will be $20 for a one large pumpkin, one mini pumpkin, paint, brushes, and all other supplies!
When: Wednesday, Oct. 10, 6-8:00 p.m.
Where: Wines On Main- 110 North Main Street in Chelsea
MOO-nster Mash Fall Celebration at Barn Sanctuary
MOO-nster Mash is the perfect opportunity to celebrate the fall season outdoors with friends, family, and over 45 rescued animals at the sanctuary. This is a Halloween-themed event, so bring your costumes and appetite because there will be a costume contest, trick or treating, food vendors, and more!
When: Sunday, Oct. 21, 11:00 a.m.-6:00 p.m.
Where: Barn Sanctuary- 20179 McKernan Drive, Chelsea in
I hope that this information has been helpful to you. As always, please feel free to reach out to me at DonnaLasinski@house.mi.gov or by phone at 517-373-0828.
Sincerely,
State Representative Donna Lasinski