Hello Friends,
I am honored to announce that I will be serving you as your state legislator for another term. To everyone in the 52nd House District — thank you for creating the community I am so proud to represent.
If you want to follow my activities in Lansing and around the district, please look on my Facebook page for more legislative updates and information on resources and events around the district. Want faster and more frequent updates? Follow me on Twitter or Instagram @DonnaLasinski.*
As always, you can contact me at (517) 373-0828, by email at DonnaLasinski@house.mi.gov, or by visiting my website at RepLasinski.com, with any questions, thoughts, or suggestions. I am here to help and serve you. I look forward to hearing from you, or to seeing you out and about in the wonderful House District 52.
Best,
Donna Lasinski
Legislative Update
The Passage of 2018 Ballot Proposals
By now, you've probably have seen that voters overwhelmingly approved all three of the statewide ballot proposals. They won't take effect immediately, but here's a short summary of what each proposal will do. As always, if you have questions, you can find more information on the Secretary of State's webpage, or contact my office.
The passage of Proposal 1 has made our state the first in the Midwest to legalize the use of recreational marijuana. Proposal 1 allows adults over 21-years-old to possess up to 2.5 ounces of marijuana for personal use and allows households to have up to 10 ounces and 12 plants. The revenue raised by marijuana sales will go to fund schools, roads and local governments. The implementation for Proposal 1 is ten days after the results from last Tuesday are officially certified.
Proposal 2 establishes an independent commission to draw political district lines, taking the job of redistricting from the Legislature and giving it directly to Michigan residents. The commission will be composed of four members that identify as Republicans, four that consider themselves Democrats, and an additional five people who identify with neither party. Proposal 2 will be implemented 45 days after the results from last Tuesday are officially certified.
Lastly, Proposal 3 passed as well. Residents will now have the chance to register to vote when renewing their driver's license, as well as receive an absentee ballot without specifying a reason. This proposal will also reinstate the option of a straight-ticket vote for all candidates of a political party. Like Proposal 2, this proposal will be implemented 45 days after the results from last Tuesday are officially certified.
Michigan Water Woes
You've heard me talk about our statewide water issues since I began my first term. Unfortunately, more problems keep cropping up. We may live in the Great Lakes State, but our water continues to be contaminated. From the lead found in Flint's water and dioxins in the Tittabawassee River to PFAS in the Huron River and across the state, this problem continues to grow.
Recently, I've attended community meetings in Northfield Township, listening to residents who are worried about the water quality in their neighborhood. We need stronger statewide protections that will keep our water clean, clear and accessible to everyone — and I'm fighting for them.
.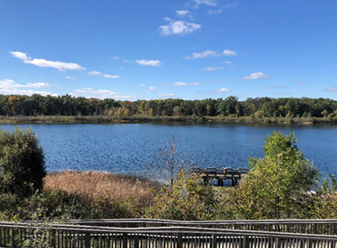 Upcoming Time with Donna
I only have one more legislative in-district meeting before the end of the year, but please keep an eye out around the district — I'll be participating in holiday celebrations, and supporting our small businesses as I plan my celebrations with family and friends.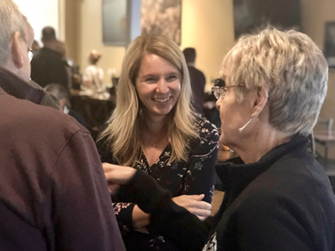 Manchester Coffee Hour
Stop in and join me for coffee and conversation about the issues that matter to you!
When: Saturday, Dec. 8, 10-11 a.m.
Where: Manchester Village Room, 912 City Road in Manchester
Helpful Resources
In Danger of Losing Your Home?
All it takes is an unexpected expense or a few months of unemployment to get behind on your mortgage or tax payments. I understand that this can be frightening and I'm here to connect you with the help you need. If you're in danger of losing your home to foreclosure, there are resources available to assist you. Step Forward Michigan is a federally funded loan program designed to help eligible homeowners who are struggling with their mortgage, condo association fees, or property taxes retain ownership of their primary residence. You can also contact a MSHDA approved agency for other free assistance. Find a Housing Education Counselor here.
On the Hunt for a Good Job?
The Talent Investment Agency (TIA) is responsible for programs related to job preparedness, career-based education, skilled trades training, incumbent worker training, employment assistance, STEM programs and more! TIA has two sub-agencies that deal specifically with Unemployment Insurance and Workforce Development. If you would like to participate in these programs or need help with unemployment insurance, TIA can be reached at (517) 373-1186 or through their website www.michigan.gov/tia.
Get Help with Your Utility Bill at THAW
It is scary to be facing another Michigan winter without knowing if your budget will make it through. There are many ways that you can receive assistance, whether from the state or from a non-profit group. Look below to see how The Heat and Warmth (THAW) Fund can help you, or give my office a call at (517) 373-0828. We're here to help, and that means finding a solution that works best for you.
As of Oct. 1, THAW can assist you in applying for the State Emergency Relief (SER) program through our partnership with the Michigan Department of Health and Human Services (MDHHS) MiBridges SER Application.
Also beginning Oct. 1, THAW enrolls eligible DTE Energy, Consumers Energy and SEMCO Energy customers in an affordable rate plan program which can lower the amount of your monthly bill and relieve a portion of your arrears over a two-year period. You must meet eligibility requirements.
Need Answers?
Life can be confusing, and sometimes it's difficult to find what you need. The United Way for Southeast Michigan can offer help 24 hours a day by calling 211 or by visiting their website at www.211.UnitedWaySEM.org. They have information and resources on a variety of topics such as utility and rent payment assistance, job search and placement, food, health and child care, housing and temporary shelters, prescription expense assistance, school-related programs, free tax preparation, and more. This is a great resource available to the residents of Southeast Michigan.
Need Something to Lean On in Northfield Township?
The Northfield Community Center has a loan closet where they have a supply of handicap items for residents to use on a short-term basis. Please contact (734) 449-2880 to find out if they have the item that you need, such as walkers, wheelchairs, crutches, or canes. You simply check the item out and when you are finished using it, you return it in good condition for someone else to use.
What To Do In HD 52
Drop in Knitting and Crochet
Join the folks at the Saline Library every third Monday evening for a drop-in knitting and crochet group. All skill levels welcome — if you want to learn how to knit or crochet, or if you are experienced and want some company while you create, this is the group for you. This is an informal and welcoming group and a chance to meet others that share an interest in fiber arts. No registration required but you must bring your own supplies.
When: Monday, Nov. 19, 6:30-8:30 p.m.
Where: Saline District Library, 555 N. Maple Road in Saline
One-on-One Technology Help
Do you have questions on how to use an electronic device? Stop by the Dexter District Library and get some one-on-one technology help. Other potential topics include (but are not limited to): Downloadable Library Content, Microsoft Office, Microsoft Windows, photo editing, social media, and basic computer usage.
When: Tuesday, Nov. 20, 6-8 p.m.
Where: Dexter District Library, 3255 Alpine St. in Dexter
Makerspace: Craft & Exploration Time
Make, try, create and explore at the Dexter Library.  Each month features different craft materials and building challenges for kids grade K-8.
When: Thursday, Nov. 29, 4-5 p.m.
Where: Dexter District Library, 3255 Alpine St. in Dexter
Senior Meals at Northfield Township Senior Center
People over the age of 60 are invited for a hot meal, nutrition education, and opportunity for socialization on Mondays, Wednesdays and Fridays. Participants are encouraged to share in the cost of the meal; however, no one will be turned away because of inability to pay. Under 60? No problem. You're welcome to come. Reservations may be made or questions answered by calling (734) 449-2295.
When: Weekly on Monday, Wednesday and Friday at 12:15 p.m.
Where: Northfield Township Community Center, 9101 Main St. in Whitmore Lake
Christmas in the Village
Fun events, food, and decorations for all ages and family members. Come out to Christmas in the Village of Manchester and enjoy the winter holiday. Sign up for contests, follow event updates, and find more information here: https://www.facebook.com/manchestermichristmas/*
When:  Nov. 30-Dec. 1
Where: Village of Manchester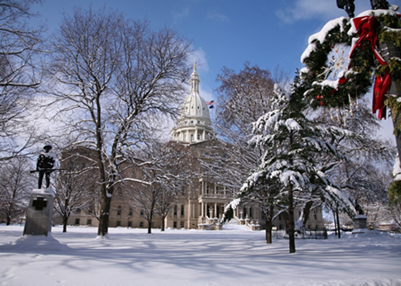 I hope that this information has been helpful to you. As always, please feel free to reach out to me at DonnaLasinski@house.mi.gov or by phone at (517) 373-0828.
Sincerely,
State Representative Donna Lasinski