Dear Neighbor,
Welcome to my Capitol & Community Update e-newsletter! Students have returned to their classrooms for the year, and the weather is changing in tandem. I hope that you've had a great, memorable Michigan summer! For me, I always appreciate getting to spend more time exploring our community and getting to know more of our neighbors.
As always, please encourage neighbors and friends in House District 41, Troy and Clawson,  to also sign up for these updates at kuppa.housedems.com, and let us know if you have any thoughts on any state-level issues or requests for scheduling. My office can be reached by phone at (517) 373-1783 or by email at PadmaKuppa@house.mi.gov. Be sure to also check out the latest on my social media platforms — @PadmaKuppaMI41 (Twitter) and @MIRepPadmaKuppa (Facebook)!
In Service,
Padma Kuppa
State Representative
House District 41
Upcoming Events
Monthly Community Conversations
Please join me for my in-person office hours where I will be giving legislative updates and taking your questions about the issues facing our state and our community! Coffee hours  are a great way to find out what policies I'm working on and share your ideas and concerns with me. Please refer to the policy of the venue regarding masks and physical distancing. Our September meeting information is as follows:
When: Monday, Sept. 26 from 4:30-6 p.m. 
Where: Troy Community Center (3179 Livernois Road in Troy)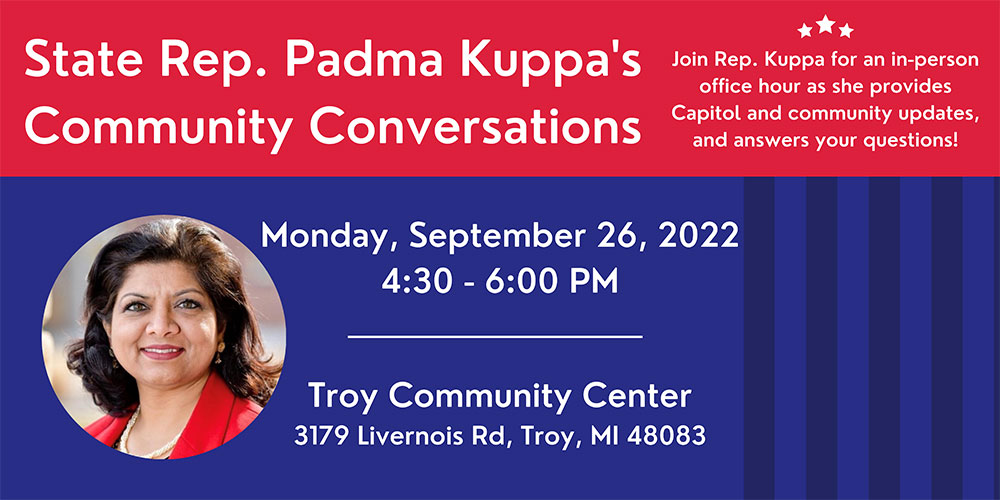 Legislative Update
Legislative Review
All of my sponsored legislation and co-sponsored legislation from this term are available at the provided hyperlinks. So far, I have co-sponsored 251 pieces of bipartisan legislation that have been signed into law during my time in office, and I voted in favor of numerous other pieces of legislation that support the needs of Michiganders and help them thrive. Please reach out to my office or stop by my office hours for more details. You can also see my press releases page for additional updates and information.
Upcoming Session Days
The Michigan House has still not met since June 30. As your state representative, I believe we've had sufficient time in-district this summer and that it's time for the majority party to call us back to Lansing for legislative session and get back to work on your behalf. We still have plenty of federal funds to allocate to schools, small businesses and local community support programs. However, we are only scheduled to meet again for two days before we reach November. As a taxpayer and a legislator, I want to see more legislative work accomplished — let's pass House Bills 4159-60 or "Justice for Allie" and protect vulnerable adults from online sexual predators, for starters! Please contact my office if you would like to know how to advocate and get more involved.
The Work Continues
While the session calendar has been quite bare this summer, my legislative work continues! I've spent these last few months speaking with constituents about everything from protecting reproductive rights to holding utility companies accountable for services undelivered. I've also hosted and participated in informational town halls on expanding Secretary of State services and supporting direct care worker and patient needs, in addition to joining events around the community like the Clawson 4th of July Parade and the grand opening of a new language school in Troy. We've worked on legislation that was spurred by constituents — from ensuring victims are protected to stopping disinformation about the integrity of our election processes. I even wrote an op-ed promoting Michigan's green economy that was recently punished! I appreciate these experiences and interactions in the district and am waiting to take this information back to Lansing to better serve you. 
Local Investments from State Budget
I am happy to share with you that we were able to secure the following local investments in the 2022-23 state budget:
$2 million for Economic Development Site Validation in Oakland County

$250,000 for the Oakland County Sheriff's office

$2.48 million for the Oakland County child welfare day treatment pilot program

$225,000 for the Memorial Grove All Abilities Park in Oakland County (Rochester)

$100, 000 for the Clara Miller Park Playground in Oakland County (Wolverine Lake)

$68,000 for the Martin Road Park Walkways and Pavilion in Oakland County (Ferndale)

$750 million for local retirement system grants

$500,000 for the Ascend Foundation
These investments will lend tremendous support to our community development and will help uplift local residents of all ages.
Unemployment Update
The Michigan Unemployment Insurance Agency (UIA) has been awarded a nearly $7 million grant from the U.S. Department of Labor to make it easier for workers in underserved communities to access unemployment relief. This includes workers who have historically had difficulties applying for benefits, rural and urban areas where residents have limited internet access, and those with language barriers. The grant will support UIA initiatives to improve customer service, a current goal of the agency, along with chasing down bad actors who steal taxpayer money, reducing the case backlog and upgrading the agency's computer system. View the full press release here.
The UIA has also revamped its webpage with details on common mistakes claimants should avoid. Oftentimes, those filing for state unemployment benefits will inadvertently make a mistake when they are applying for aid or certifying that they are out of work. The mistakes can delay or interrupt receiving benefits at a time when workers need help the most. Before claimants file or certify, they should carefully read the UIA's updated Common Mistakes and Helpful Hints webpage.
Trained staff at local UIA offices can often address a claimant's issue more quickly and conveniently than a legislative office, as the latter does not have access to confidential unemployment account information. However, my office is always available to you as a liaison to any state department or agency!
Small Business Support
Michigan is deploying the first round of the State Small Business Credit Initiative 2.0 (SSBCI 2.0) funding from the U.S. Department of Treasury. Through this initial round of funding, up to $72 million will be available to support loans to small businesses through the Michigan Economic Development Corporation's Access to Capital Programs. SSBCI 2.0 is designed to increase the availability of capital to small businesses through loans and equity investments. The programs are designed to allow private sector lenders to provide loans to small businesses that would otherwise not be available under conventional terms. The program requires partnership with private sector lenders, which in turn provide the new lending including through SSBCI 2.0 support.
Within the next 60 days, funding also will be available for loans of $250,000 or less for small businesses, with a focus on businesses owned by socially and economically disadvantaged individuals, or businesses with fewer than ten  employees, to apply for through specified lenders.
The Michigan Small Business Venture Capital Program (SBVCP) will utilize $75 million in SSBCI 2.0 funds to increase the availability of capital to early-stage, technology-based businesses aligned with the MEDC Strategic Plan. The program will invest as a limited partner in venture capital funds operating in the state who, in turn, fund qualified for-profit early-stage, technology-based businesses helping to support those businesses and continue to grow Michigan's entrepreneurial ecosystem overall.
Venture funds seeking to apply for investment through SBVCP should visit here or may direct any questions to SBVCP@Michigan.org.
Community Recognitions and Resources
Small Business of the Month
Each month, I recognize two small businesses in the community, one in Troy and one in Clawson, as our small businesses of the month. To nominate a business for this recognition, please fill out this form on my website.
Tributes, Letters, and Certificates
Do you know someone in the district who is retiring and would like a legislative tribute to celebrate their years of service? Has a local team or group reached a milestone that they would like to be acknowledged with an official certificate for each member? Our office can provide legislative tributes, letters and certificates on a wide range of recognitions for constituents. If you would like to request any of these materials for yourself or others, please email my office at PadmaKuppa@house.mi.gov with as much information as possible on the requested recognition and we will work with you to arrange delivery or presentation of the recognition!
E-News Archives and Constituent Downloads
My e-news archive is available on my website here. Constituent downloads are also available on my website here.