Dear Neighbor,
Welcome to my Capitol & Community Update e-newsletter! Thank you to those who joined me at my monthly office hour earlier this week. We had great questions and wonderful, productive conversations with neighbors. Please see below for information on my next office hour, legislative and budget updates, and other updates on the Oakland Meals on Wheels program, grant opportunities, unemployment resources, small business support and more! 
As always, please encourage neighbors and friends in House District 41 — Troy and Clawson — to also sign up for these updates at kuppa.housedems.com and let us know if you have any thoughts on any state-level issues or requests for scheduling. My office can be reached by phone at (517) 373-1783 or by email at PadmaKuppa@house.mi.gov. Be sure to also check out the latest on my social media platforms — @PadmaKuppaMI41 (Twitter) and @MIRepPadmaKuppa (Facebook)!
In Service,
Padma Kuppa
State Representative
House District 41
Upcoming Events
Monthly Community Conversations
Please join me for my in-person office hours where I will be giving legislative updates and taking your questions about the issues facing our state and our community! These events are a great way to find out what policies I'm working on and share your ideas and concerns with me. Please refer to the policy of the venue regarding masks and physical distancing. Our October meeting information is as follows:
When: Friday, Oct. 28, from 4:30-6 p.m.
Where: Troy Community Center (3179 Livernois Road in Troy)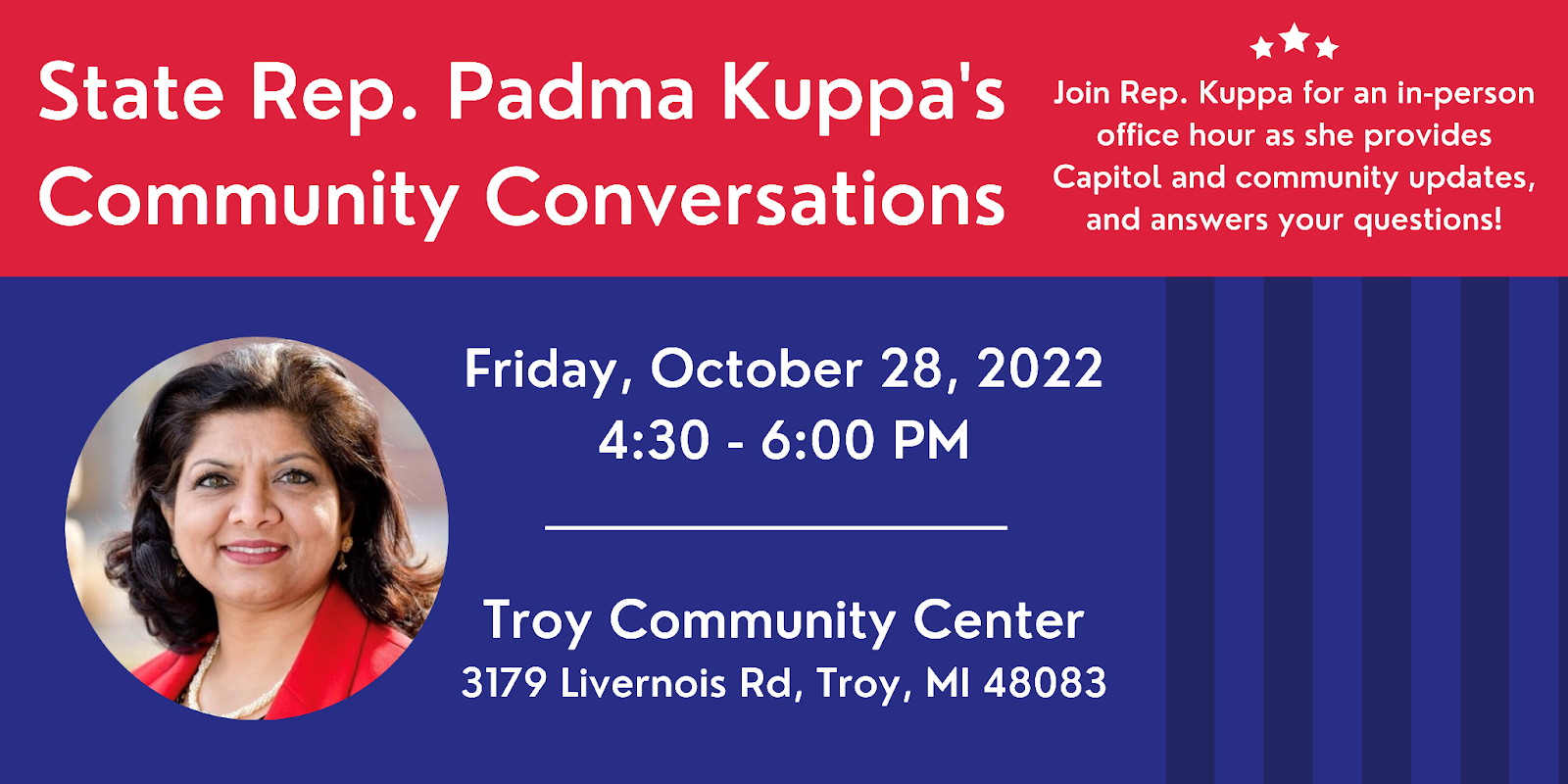 Legislative Update
Legislative Review
To see all of the legislation I have sponsored or co-sponsored this term, please follow the provided hyperlink, choose "primary sponsorship" or "primary and secondary sponsorship," then select my name and press "Show Sponsored Items." So far, I have co-sponsored 298 pieces of bipartisan legislation that have since been signed into law during my time in office, and I voted in favor of numerous other pieces of legislation that support the needs of Michiganders and help them thrive. At the same time, many pieces of legislation unrelated to helping Michiganders have been rushed through the legislative process recently. Please reach out to my office or stop by my office hours for more details. You can also see my press releases page for additional updates and information.
Addressing Disinformation
This week, I introduced a resolution calling on Congress to address the issue of online disinformation. Since online matters like these cross state lines, the federal government has jurisdiction and bears the responsibility of ensuring that our neighbors do not fall victim to malicious falsehoods that can impact them personally, as well as threaten our democratic institutions. As a state legislator, I am committed to using the tools at my disposal to press this issue with our federal partners and take action to create secure places to share information without dangerous disinformation efforts muddying the waters of fact vs. fiction, especially for our children and seniors.
Supporting Maternal & Infant Health
This week, my colleagues and I introduced a bicameral package of bills to support the health of Michigan mothers and infants. My bill in the package would create a scholarship grant program to provide loan forgiveness for doula certification. Doulas provide guidance and support during and after labor, and are often a more affordable option for families as opposed to a hospital delivery. This bill and the others in this package affirm our commitment to reducing maternal mortality and morbidity by providing added support during labor while addressing inequalities in health care.
Budget Supplemental
A bipartisan supplemental package was passed by the House this week to fund economic development, deliver scholarships for higher education students, and secure additional resources to support public safety officials. Previously, the fiscal year 2022-23 budget included the largest investment in education in our state's history, and provided critical funding for our local governments, police, fire departments and emergency medical services.
Once Gov. Whitmer signs the supplemental package into law, as she has expressed that she will do, these efforts will help attract transformational projects and bring billions in investment while creating thousands of Michigan jobs. Additionally, the package will help lower the cost of higher education for the vast majority of Michiganders and increase funding for law enforcement officer mental health.
These investments will uplift our communities while preserving a balanced state budget, as is constitutionally required. For additional information on the supplemental, view Senate Bills 842 and 844.
Oakland Meals on Wheels
There have recently been concerns raised by seniors and senior advocate organizations about the home-delivered meal program serving several municipalities in Oakland County including Troy and Clawson. These areas are currently receiving services from Oakland Meals on Wheels, which will end on Sept. 30.
The Area Agency on Aging 1-B (AAA 1-B) is aware of misinformation that is circulating regarding the home-delivered meal program and has provided up-to-date information below on the status of the service for those municipalities impacted by the decision of Oakland Meals on Wheels to not accept the new three-year contract with AAA 1-B.
Please know:
There will be no interruption in home delivered meals. AAA 1-B is working with Western Oakland Meals on Wheels to provide meals starting on Monday Oct. 3 for all current meal recipients in this service area. 

Letters have been mailed to seniors receiving meals to give them more information and assure them that their meal service will continue.

Western Oakland Meals on Wheels will include information about their organization with the first meal delivery to seniors.

Western Oakland Meals on Wheels is an established provider and has been working with AAA 1-B for more than 15 years.

Providing continuity of services for homebound seniors is the immediate priority for this transition. Western Oakland Meals on Wheels will work with AAA 1-B and community partners to re-establish congregate meal sites over the next few months.
AAA 1-B would also like to clarify misinformation about funding that is circulating through the community:
AAA 1-B is not reducing funding to any organization in its six-county region providing nutrition programs including home delivered and congregate meals.

AAA 1-B did not end the contract with Oakland Meals on Wheels, as the latter decided not to renew the contract.
If you would like additional information on the status of the home delivered meal program, please reach out to Jenny Jarvis at JJarvis@aaa1b.org or (248) 752-0630, or contact Kristin Wilson at kwilson@aaa1b.org or by phone at (248) 469-7910.
Michigan Child Care Planning Grants
Applications are now available for Regional Child Care Planning Grants. Regional coalitions can apply for funding to develop a regional child care plan that meets the needs and preferences of working families, while it addresses Michigan's urgent need for more access to high-quality, affordable child care.
Regional coalitions will receive grants, averaging $150,000, and expert technical assistance to develop innovative regional child care plans. The Regional Child Care Planning Grant will help bring economic development, employers, municipalities, parents and early childhood leaders together in regional coalitions to understand child care facilities and workforce needs and develop a plan to accelerate child care solutions. 
Applicants must be entities or agencies that can demonstrate previous experience working in collaboration with others related to regional planning and economic development. Coalitions interested in applying for the Regional Child Care Planning Grant should plan to attend a free Technical Assistance Webinar on Sept. 30 at 10 a.m. to learn more about eligibility, how to be successful when applying and about the required work if the coalition is chosen to receive an award.
Applications are due Monday, Oct. 31, at 5 p.m. To apply for funding, register for the webinar, or watch a recording, go to ecic4kids.org/caringformifuture.
Unemployment Update
The UIA has also revamped its webpage with details on common mistakes claimants should avoid. Oftentimes, those filing for state jobless benefits will inadvertently make a mistake when they are applying for aid or certifying that they are out of work. The mistakes can delay or interrupt receiving benefits at a time when workers need help the most. Before claimants file or certify, they should carefully read the Unemployment Insurance Agency's updated Common Mistakes and Helpful Hints webpage.
Trained staff at local UIA offices can often address a claimant's issue more quickly and conveniently than a legislative office, as the latter does not have access to confidential unemployment account information. However, my office is always available to you as a liaison to any state department or agency!
Small Business Support
Michigan is deploying the first round of the State Small Business Credit Initiative 2.0 (SSBCI 2.0)  funding from the U.S. Department of Treasury. Through this initial round of funding, up to $72 million will be available to support loans to small businesses. SSBCI 2.0 is designed to increase the availability of capital to small businesses through loans and equity investments. The programs are designed to allow private sector lenders to provide loans to small businesses that would otherwise not be available under conventional terms. The program requires partnership with private sector lenders, which in turn provide the new lending including through SSBCI 2.0 support.
Funding also will be available for loans of $250,000 or less for small businesses, or businesses with fewer than 10 employees, to apply for through specified lenders. The Michigan Small Business Venture Capital Program (SBVCP) will utilize $75 million in SSBCI 2.0 funds to increase the availability of capital to early-stage, technology-based businesses aligned with the MEDC Strategic Plan. The program will invest as a limited partner in venture capital funds operating in the state who, in turn, fund qualified for-profit, early-stage, technology-based businesses helping to support those businesses and continue to grow Michigan's entrepreneurial ecosystem overall.
Venture funds seeking to apply for investment through SBVCP should visit michiganbusiness.org/sbvcp/ or may direct any questions to SBVCP@Michigan.org.
Community Recognitions and Resources
Small Business of the Month
Each month, I recognize two small businesses in the community, one in Troy and one in Clawson, as our small businesses of the month. To nominate a business for this recognition, please fill out this form on my website.
Tributes, Letters, and Certificates
Do you know someone in the district who is retiring and would like a legislative tribute to celebrate their years of service? Has a local team or group reached a milestone that they would like to be acknowledged with an official certificate for each member? Our office can provide legislative tributes, letters and certificates on a wide range of recognitions for constituents. If you would like to request any of these materials for yourself or others, please email my office at PadmaKuppa@house.mi.gov with as much information as possible on the requested recognition, and we will work with you to arrange delivery or presentation of the recognition!
E-News Archives and Constituent Downloads
My e-news archive is available on my website here. Constituent downloads are also available on my website here.