Hello Friends,
Session for 2019 came to an end on Dec. 11, and we voted on several bills before heading home to our districts. On Friday, I met with seniors at Hunter Senior Center in Clawson for exchanging cookies, recipes of my holiday favorites and news from Lansing, and gave my fourth quarter legislative update at Troy City Council on Monday evening. ICYMI, you can always watch it on Youtube!
Heading into 2020, it continues to be a privilege to represent Troy and Clawson. I am grateful for the opportunity to serve our community in Lansing. I encourage you to stay up to date with what's going on at the Capitol and continue to let me know about the issues that matter to you.
The office can be reached by phone at (517) 373-1783, by email at PadmaKuppa@house.mi.gov, or by attending one of our in-district events. Upcoming district hours and events are listed below – I would love to see you there!
Sincerely,
Padma Kuppa
State Representative
41st House District
Legislative Update 
Supplemental State Budget
While I greatly enjoyed spending time in our community during Nov., learning more about the issues that matter most to you, I am extremely pleased that the House reconvened session these past few weeks in Lansing so that we could continue to work together to get supplemental budgets passed. that ensure funding for vital programs many working families rely on across our state.
After months of a budget impasse, the House and Senate have passed two critical needs supplemental budget bills. Senate Bill 152, an omnibus supplemental budget, will restore over $459 million dollars in funding for vetoed items including PFAS and emerging contaminants monitoring and testing, Autism intervention programs, county jail reimbursement and rural hospitals. A School Aid supplemental budget, through Senate Bill 154 will restore funding for isolated school districts, the Michigan Tuition Grant Program, literacy coaches and other vital, school-related line items. These supplemental budgets restore funding for the priorities our residents care about most and is a step in the right direction. I am pleased that the men, women and children affected by the back and forth of these budget negotiations can finally breathe a little easier.
District Spotlight
Troy Athens' D-1 Soccer State Champions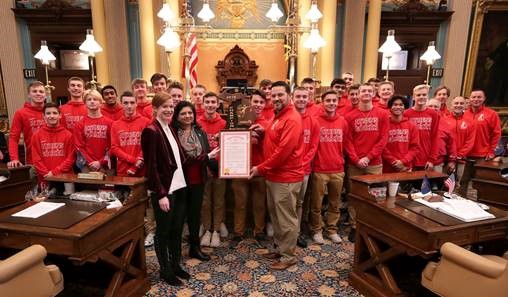 Early last week, I had the honor of joining my colleague, state Sen. Mallory McMorrow to welcome and congratulate the Troy Athens' High School Boys Soccer Team for winning the Division 1 Soccer State Championship at the Capitol in Lansing! In a 4-1 victory over Traverse City West, these young men displayed great discipline and exemplary teamwork, both on and off the field. Congratulations to the team, coaches and parents on this impressive achievement. Go Red Hawks!
Education Tele Town Hall
Last Thursday, I was joined by my special guest state Rep. Jon Hoadley for a telephone town hall on the "ABC's and 123's of school funding" in Michigan. Thank you to all of you that called in to discuss this important topic for our community and state!
To view the PowerPoint presentation from the Tele Town Hall, please visit my website at Kuppa.housedems.com and click on "Constituent Downloads."
Holiday Cookie & Recipe Exchange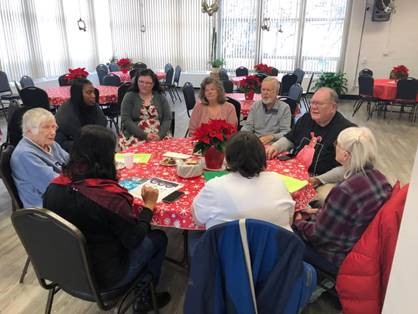 On Friday, I enjoyed hosting a holiday cookie and recipe exchange at Clawson's Senior Center. I loved celebrating the holidays with our community members, and the cookies and conversations were amazing!
What to Do in 41!
Family's New Year's Eve Family Night Out: Troy
If you are looking for something different to do as a family on New Year's Eve, look no further than the Troy Family's Night Out at the Troy Community Center! Fun for the whole family will include basketball, swimming, an inflatable castle and more.
When: Tuesday, Dec. 31, from 5-8:30 p.m.
Where: Troy Community Center
3179 Livernois Road in Troy
Resources
Protecting Your Personal Information
Identity theft is the fastest growing crime in the United States, so knowing how to guard your personal information is your first line of defense against it. Read on for 10 steps you can take to avoid falling victim to this crime, especially around the holidays! For more information on this and other resources, visit the Michigan Attorney General's website at michigan.gov/ag.
Don't disclose personal information unless you know who you're giving it to, or what purpose, and how it will be protected.
Secure your social security card: don't carry it with you.
Carefully—and promptly—review statements for unauthorized charges or fraudulent use.
Shred all mail and documents containing your personal information before discarding them.
Keep sensitive documents in a safe place at home.
Protect your mail: collect it promptly; place a hold on it while you are away; and don't use insecure mailboxes.
Keep your passwords in a safe location. Don't record them on anything you carry with you. Never keep passwords or PINs near cards or documents identifying the account to which they belong.
Create strong passwords. Experts recommend phrases or sentences with at least one randomly placed special character.
Use and maintain anti-virus software and a firewall.
Do business with reputable companies—local and online. Verify security websites and watch for phishing solicitations.