Hello Friends,
Happy New Year! As the second half of this Legislative Session began last week, it continues to be a privilege to represent Troy and Clawson in 2020. I encourage you to stay up to date with what's going on at the Capitol and to let me know about the issues that matter to you.
The office can be reached by phone at (517) 373-1783, by email at PadmaKuppa@house.mi.gov, or by attending one of our in-district events. Upcoming district hours and events are listed below – I would love to see you there!
Sincerely,
Padma Kuppa
State Representative
41st House District
Legislative Update 
2019: A Year in Review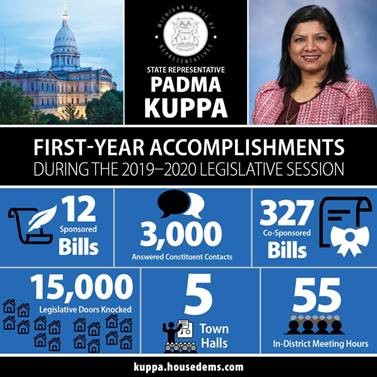 As Session for 2020 began last week, I'm reflecting on all we have accomplished during the past year at the Capitol and in our community:
Sponsored 12 bills
Co-Sponsored 327 bills
Answered 3,000 constituent contacts
Knocked 15,000 legislative doors
Hosted 55 in-district meeting hours
Hosted 5 town halls
I'm looking forward to continuing to work hard for the people of Troy and Clawson and making this the best year yet!
Older Americans Act
Last Wednesday, I was proud to have introduced House Resolution 208 to urge the President and Senate of the United States to reauthorize the bipartisan Older Americans Act (OAA) and restore funding to Fiscal Year 2010 levels adjusted for inflation. OAA provides meal programs, home assistance, support for family caregivers, transportation, protection from abuse and much more.
In Michigan, the Office of Services to the Aging operates under the authority of the OAA and serves nearly half a million older adults by providing leadership, resources and support for statewide programming.
The OAA and its partners are paramount to ensuring the elders in our community have the ability to live independently and age with dignity. After a lifetime of contributions to our state and nation, we cannot allow the needs of our aging citizens fall below the radar, which is why I'm proud to stand up and fight for the reauthorization of legislation that has such a positive impact on our state and nation.
District Spotlight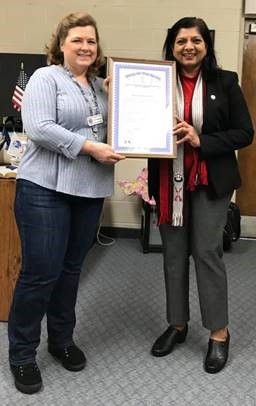 This past Saturday, I was honored to present the Blue Star Mothers Chapter 198 with a legislative tribute. Blue Star Mothers are moms with a son or daughter serving in our military. I'm truly grateful for these moms and the sacrifices their families make for all of us.
Upcoming Time with Padma
Clawson In-district Meeting Hours
When: Saturday, Jan. 11, from 3:30-5 p.m.
Where: Blair Memorial Library, 416 N. Main St. in Clawson
Troy In-district Meeting Hours
When: Monday, Jan. 27, from 4-5:30 p.m.
Where: Troy Public Library, 510 W. Big Beaver Road in Troy
February Lunch & Learn
Join me for a discussion with special guest and Outreach Specialist, Chiara Clayton, and other guest educators from the Area Agency on Aging 1-B. This event will take place at the Clawson Senior Center. At this presentation, you'll be able to learn about the services available to older adults and caregivers, including securing in-home care and more. A complimentary lunch will follow the lecture, and the event is free and open to seniors ages 55 and over.
When: Friday, Feb. 21, from 11:30 a.m.-1 p.m.
Where: Clawson Senior Center, 509 Fisher Court in Clawson
Resources
2020 Census
As the country gears up for the 2020 Census, each person counted is critical for securing funds and establishing government representation, among many other things. An accurate census count will determine how much federal funding Troy, Clawson and the state of Michigan receive for all sorts of programs, from Medicare and Medicaid to schools and Head Start, highway planning and construction to nutrition and housing assistance for low-income families. If you or someone you know is interested in getting involved as a valued member of the 2020 Census Team, visit the Census Bureau's website at 2020census.gov.
Human Trafficking Awareness Month
As a form of modern-day slavery, human trafficking is a serious and insidious crime happening even right here in Michigan. January serves as Human Trafficking Awareness Month, and it's important we all have the necessary information to spot and put and end to these heinous actions. Here are some red flags that human trafficking victims or survivors often exhibit, as shared by the Michigan Attorney General's Office:
Potential victims may work and live at the same place.
A potential victim often lacks the freedom to leave their working or living conditions; they are often escorted when they travel.
Victims are often kept under surveillance when they are taken somewhere.
Victims may not even know their address.
Victims may exhibit signs of abuse, such as bruises, cuts, burns, scars, prolonged lack of health care, or malnourishment.
Victims may exhibit fear, anxiety, depression, nervousness, hostility, flashbacks, or drug/alcohol addiction, and commonly avoid eye contact.
Victims are not in control of their own money.
Victims often have no, or few, personal possessions. They frequently have no identifying documents, such as a driver's license or passport.
Victims may have their communication restricted or controlled, or have a third-party translate for them.
Victims have inconsistencies in their story.
Victims may have brands, scars, clothing, jewelry or tattoos indicating someone else's ownership.
Victims may not admit that they are victims, and may not ask for help.