Hello Friends,
We kicked off Women's History Month "She-ro a Day" highlighting Cora Reynolds Anderson, the first woman and the first Native American to serve in the Legislature. Elected in 1925, she represented Baraga, Iron, Keweenaw and Ontonagon counties in the Upper Peninsula.
During her time in the House, Cora Anderson served on the Agriculture and Insurance Committees, while also heading the Industrial Home for Girls Committee, dedicated to ensuring shelter and education for young girls in our state in the 1920s. The Anderson House Office Building in Lansing was named in recognition of her role as a trailblazer for women entering public service in our state. I'm proud to follow her legacy as I fight for our community at the Capitol alongside the highest number of fellow women legislators in Michigan history!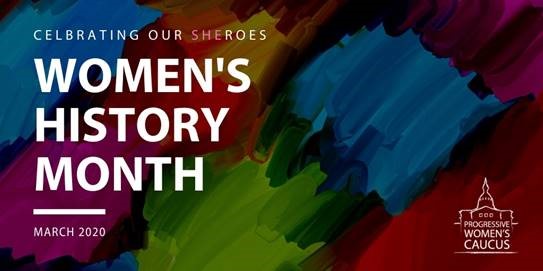 I encourage you to stay up to date with what's going on at the Capitol and continue to let me know about the issues that matter most to you. The office can be reached by phone at (517) 373-1783, by email at PadmaKuppa@house.mi.gov, or by attending one of our in-district events. Upcoming district hours and events are listed below – I would love to see you there!
Sincerely,
Padma Kuppa
State Representative
41st House District
Upcoming Events
Clawson Meeting Hours
When: Saturday, March 14, from 3:30-5 p.m.
Where: Blair Memorial Library
416 N. Main St. in Clawson
When: Monday, Apr. 13, from 6:30-8 p.m.
Where: Blair Memorial Library
416 N. Main St. in Clawson
Troy Meeting Hours
When: Monday, March 23, 4-5:30 p.m.
Where: Troy Public Library
510 W. Big Beaver Road in Troy
Note: At 5 p.m., we will welcome special guest, Caring Majority Director Laura DePalma to discuss and develop strategies on solutions for vulnerable adult care. It is an opportunity for those who are directly impacted by the issues surrounding caregiving (as a family member, friend, or paid staff) or receiving long-term care to learn how they can take action to address this challenging dilemma.
When: Saturday, Apr. 25, from 10-11:30 a.m.
Where: Troy Public Library
510 W. Big Beaver Road in Troy
April Senior Lunch & Learn
Join me for a discussion with special guest and Public Health Educator, Genessa Doolittle. At this presentation, we'll share information on how to recognize risk factors for falls and what modifications to your lifestyle and home may be necessary to help prevent fall injuries. Complimentary lunch will follow the lecture; the event is free and open to seniors ages 55 and over.
When: Friday, Apr. 17, from 11:30 a.m.-1 p.m.
Where: Clawson Senior Center
509 Fisher Court in Clawson
Elder Abuse Prevention Town Hall
On April 23, we will be holding an elder abuse prevention town hall at Troy Athens High School. Joining me and special guest Michigan Attorney General Dana Nessel at this important event!
When: Thursday, Apr. 23, from 6:30-8:30 p.m.
Where: Troy Athens High School
4333 John R Road in Troy
Legislative Update 
Appointment to Prescription Drug Task Force
I'm proud to have been appointed by Gov. Whitmer to serve on the Michigan Prescription Drug Task Force, which will bring together state leaders from the departments of Health and Human Services, Insurance and Financial Services, and Licensing and Regulatory Affairs, as well as the Legislature. Our goal will be to identify strategies and recommend legislative and administrative actions that can be taken to increase transparency in the pricing of prescription drugs and lower costs for Michigan families.
I strongly believe access to affordable health care is vital to our ability to get to work, care for our loved ones and build a future for ourselves and our families. As one of the most important challenges facing our community and those across Michigan, I look forward to working with this team to expand access to affordable prescription medications for our state.
Equal Rights Act Resolution
I introduced a resolution to encourage Congress to extend the ratification deadline of the Equal Rights Amendment (ERA) and affirm its adoption. After women fought tirelessly to secure the right to vote through the 19th Amendment, the ERA was first introduced in 1923 to establish equal rights for men and women in the United States. In 1972, the ERA was approved by Congress and proposed to each state for ratification with a 7-year deadline for ratification, which was later extended. Michigan ratified the ERA in 1972, with 34 additional state legislatures ratifying it between 1972 and 1982 — just 3 states away from the 38 ratifications required for adoption.
In 2017 and 2018, Nevada and Illinois became the 36th and 37th states to ratify the ERA, followed by the most recent ratification by Virginia this past January. With 38 states ratifying the Equal Rights Amendment, it's now up to Congress to recognize that it's long past time that we guarantee equality, security and prosperity for women and men across our nation.
Michigan Medicare/Medicaid Assistance Program
The Michigan Medicare/Medicaid Assistance Program (MMAP) is a free health-benefit counseling service that helps to educate and empower Michigan's older adults and individuals with disabilities to make informed health benefit decisions that are right for them. MMAP works throughout Michigan alongside regional Area Agencies on Aging, County Departments on Aging, Senior Services Agencies, Commissions on Aging and other similar organizations.
Here are a few examples of how MMAP can help you or a loved one:
Identify resources for prescription drug assistance
Explain Medicare Health Plan Options
Understand doctor bills, hospital bills and Medicare Summary Notices
Understand Medicare/Medicaid eligibility, enrollment, coverage, claims and appeals
Enroll in Medicare Savings Programs
Review your Medicare supplemental ("Medigap") insurance needs, compare policies, and pursue claims and refunds
Explore long term care financing options, including long term care insurance
Identify and report Medicare/Medicaid fraud and abuse
For more information, visit their website or call (800) 803-7174.