Dear Neighbor,
This e-newsletter aims to keep you updated on the previous month's activities in the Michigan House of Representatives. It's an honor to begin serving as your new state representative for the 15th State House District, which includes the west end of Dearborn to Dearborn Heights. If you should ever need to contact me, don't hesitate to call my office at (517) 373-0847 or email me at erinbyrnes@house.mi.gov.
Erin Byrnes
State Representative
Michigan's 15th District
Legislative Update
Byrnes on State Investments to BorgWarner
April 4, 2023
State Rep. Erin Byrnes (D-Dearborn) issued the following statement after the Michigan Strategic Fund announced it approved incentives to support several Michigan projects, including investments that will infuse new funds into BorgWarner, which is planning an expansion project that will accelerate its electric vehicle product development and testing:
"BorgWarner offers an exciting investment in Dearborn's electric and sustainable future. With this project, we will attract even more talent to live and work in Dearborn, allowing employees to enjoy all the great things we have to offer. Additionally, this investment will help keep Michigan at the heart of the global automotive industry as we move toward a greener future."
Gov. Whitmer Signs Commonsense Gun Violence Prevention Legislation to Keep Michigan Communities Safe
April 13, 2023
Governor Gretchen Whitmer signed commonsense gun violence prevention bills that will establish universal background checks for all firearm purchases and safe storage requirements. In January, Governor Whitmer proposed this legislation during her State of the State address and has worked with the Michigan Legislature, community groups, law enforcement, students and parents following February's shooting at Michigan State University and the shooting at Oxford High School in November 2021 to get these commonsense measures that will reduce gun violence signed into law.
"Today, we are turning our pain into purpose and honoring those we have lost with commonsense gun violence prevention legislation supported by a majority of Michiganders," said Governor Whitmer. "Universal background checks and safe storage are long-overdue steps we are proud to take today that will save lives by keeping guns out of the hands of criminals and domestic abusers and children in the home. I want to thank my partners in the legislature for getting this done, the advocates who fought so hard to make this happen, and every Michigander impacted by gun violence who shared their stories. We will keep working together to prevent mass shootings, reduce gun violence, and save lives."
Governor Whitmer signed Senate Bills 79, 80, 81, and 82 and House Bills 4138 and 4142.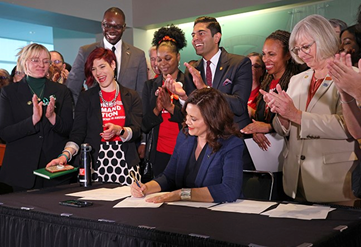 News and Publications
Helping Medicaid members keep their coverage
Take action to avoid a gap in coverage
At the beginning of the COVID-19 pandemic, the federal government declared a Public Health Emergency (PHE), allowing Medicaid members to keep their health care coverage. Per recent federal legislation, eligibility renewals will start again in June. Monthly renewal notifications will be sent by mail beginning in May.
Following these steps will help determine if you still qualify:
Make sure your contact information is up to date.
Check mail or text messages for a letter.
Complete your renewal form (if you get one).
If you're a Medicaid member, learn more about how these changes may affect your health care coverage at Michigan.gov/2023benefitchanges.
Community Conversations and Town Halls
Coffee hours and town halls are a chance to discuss the issues facing our state with your legislator. Here are Representative Byrnes' upcoming constituent events:
Community Conversation with Representative Erin Byrnes
WHEN: Friday, May 19th from 11:00 to 12:00 PM
WHERE: Caroline Kennedy Library of Dearborn Heights 24590 George Ave, Dearborn Heights, MI 48127
Follow my Facebook page for updates on upcoming community conversations near you!