Hello Friends,
In the first 6 weeks of 2020, I've hit the ground running to continue fighting for you and your family! I encourage you to stay up to date with what's going on at the Capitol and continue to let me know about the issues that matter most to you. The office can be reached by phone at (517) 373-1783, by email at PadmaKuppa@house.mi.gov, or by attending one of our in-district events. Upcoming district hours and events are listed below – I would love to see you there!
Happy Valentine's Day!
Padma Kuppa
State Representative
41st House District
Upcoming Events
February Senior Lunch & Learn
Join me for a discussion with special guest and Outreach Specialist Chiara Clayton, and other educators from the Area Agency on Aging 1-B. At this presentation, we'll share information about the services available to older adults and caregivers, including securing in-home care and more. Complimentary lunch will follow the lecture; the event is free and open to seniors ages 55 and over.
When: Friday, Feb. 21, from 11:30 a.m. – 1 p.m.
Where: Clawson Senior Center
509 Fisher Court in Clawson
Coffee and Donuts with Rep. Kuppa
When: Monday, March 2, 9:30 a.m.
Where: Troy Community Center
3179 Livernois Road in Troy
Troy Meeting Hours
When: Saturday, Feb. 22, from 10-11:30 a.m.
Where: Troy Public Library
510 W. Big Beaver Road in Troy
When: Monday, March 23, 4-5:30 p.m.
Where: Troy Public Library
510 W. Big Beaver Road in Troy
Clawson Meeting Hours
When: Saturday, March 14, from 3:30-5 p.m.
Where: Blair Memorial Library
416 N. Main St. in Clawson
Legislative Update 
State of the State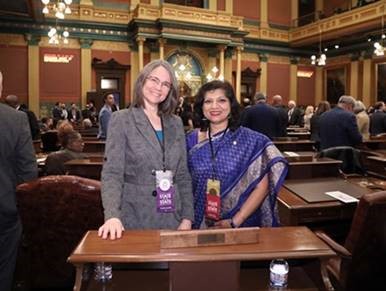 Last month, Gov. Whitmer delivered her second State of the State address, which included many of her initiatives for the upcoming year. Michiganders deserve a government that works for them and tackles the tough issues they face each and every day. I was encouraged by the many plans laid out by the governor, especially when it came to providing adequate health care for all and ensuring our students have access to the top-notch education they deserve. I was proud to be joined by Clawson Mayor Reese Scripture as my special guest for this event – we discussed the importance of increased municipal revenue sharing with a number of stakeholders!
Protecting Coverage for Preexisting Conditions
During Gov. Whitmer's State of the State address on Jan. 29, I was proud to be recognized along with a few of my colleagues for legislation we introduced to strengthen the protections the Affordable Care Act (ACA) affords Michiganders. My bill in the package, House Bill 5432, will protect health care coverage for those with preexisting conditions in our state. The health and wellness of Michiganders is much too important to play around with, which is why this package of legislation is so important.
Gov. Whitmer's Executive Budget Proposal
Last week, Gov. Whitmer shared her executive budget recommendations for the 2020-2021 Fiscal Year. Her plan ensures all Michiganders have access to quality education opportunities, affordable health care and safe, reliable roads – and addressing environmental challenges. I'm looking forward to working with Gov. Whitmer and my colleagues in the Legislature to ensure our state is on track for success.
Holding Polluters Accountable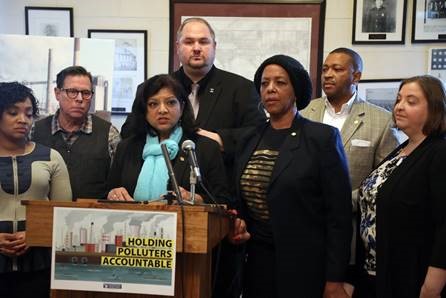 The last few decades have been characterized by a pattern of major corporations knowingly exposing communities to poisonous chemicals, leaving thousands of sites across our state contaminated with everything from PFAS and dioxane to sulfur dioxide and hexavalent chromium due to negligent business practices.
The 'green ooze' discovered leaking on the side of I-696 in December exposed yet another instance of negligent corporate pollution in Michigan, so my colleagues and I stepped up to introduce legislation to provide real, tangible ways to hold bad actors accountable for the destruction they cause. Our comprehensive package will increase financial and criminal penalties for companies that poison our air, water and land while also incentivizing corporate leaders to behave more responsibly. My bill in the package, House Bill 5452, would repeal current laws that allow members of corporate polluter companies to sit on the very panels determining environmental regulations and permit decisions.
These bills will ensure accountability for bad actors, so that they clean up after themselves and taxpayers don't foot the bill for cleanup. We must provide adequate protections for the people and communities so that we aren't poisoned. Children are taught to clean up after themselves, wipe up their spills and tidy their messes: Michiganders should be able to expect the same level of responsibility from corporate polluters and the leaders who run those companies.
REAL ID
REAL ID is the post-9/11 federal requirement that sets higher security standards for identification. Beginning Oct. 1, 2020, you must have a REAL ID to board any domestic flight. A REAL ID can be a valid U.S. passport, a DHS Trusted Traveler Card and/or Enhanced Driver's License. You can also turn your standard Michigan driver's license or state ID into a REAL ID at any Secretary of State office.
Learn more about the law and what documents you need to bring to get a REAL ID at Michigan.gov/REALID.
2020 Census
The country is gearing up for the 2020 Census and making sure every person is counted is critical for local funding, government representation and many other things. An accurate census count will determine how much federal funding the city and the state of Michigan receive for all sorts of programs, including Medicare and Medicaid, schools and Head Start, highway planning and construction, and nutrition and housing assistance for low-income families.
This year, Michigan is focusing their efforts on the Three C's: Convenient, Confidential, and Critical.
Responding to the census must be convenient – people can respond by mail, phone or online.
The census is 100% confidential and secure and your information will not be shared with anyone.
Ensuring everyone is counted is critical to the future success of Michigan.
The U.S. Census Bureau still has a number of employment opportunities for the upcoming census! If you're interested, you can apply online through the Census Bureau's website by clicking here.
Census Day is April 1, 2020 and invitations to respond will begin hitting mailboxes on March 12. For more information about the 2020 census in Michigan, click here.
Reminder of Changes to Voting Process
Last year, voters approved Proposition 3, which made numerous changes to the voting process when Michiganders go to the polls. Proposition 3 amended the state Constitution to include the rights to the following:
A secret ballot
Timely distribution of absentee ballots to military personnel and those living overseas
Straight-party voting
Automatic registration
Registration by mail up to 15 days before an election
In-person registration extended to Election Day with proof of residency
No-reason absentee voting
Statewide audit of election results
If you have any questions about the changes that were made by Proposition 3, don't hesitate to contact my office, your local Secretary of State or municipal clerk office.