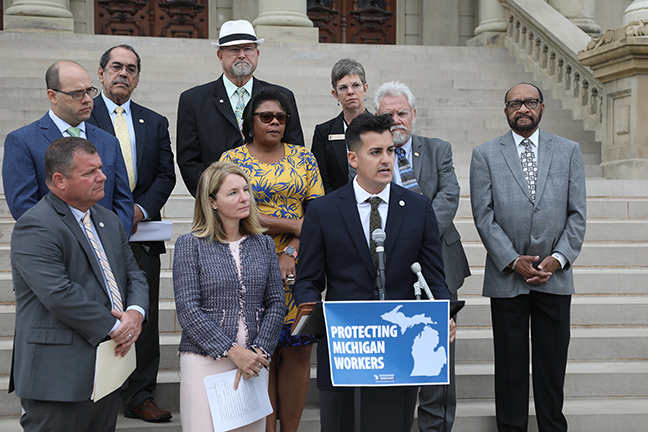 Committees
Education (Democratic Vice Chair)
Financial Services
Families, Children & Seniors
State Rep. Darrin Quiroz Camilleri is serving his third term representing the 23rd District, which includes the Downriver communities of Gibraltar, Grosse Ile, Huron, Trenton, Woodhaven, and Brownstown. He currently serves as Minority Whip for the House Democrats and the Minority Vice Chair on the House Education Committee. In his first few years, he has quickly emerged as a statewide voice on education and a champion for workers' rights.
Over the past three years, Camilleri has consistently introduced legislation to keep Michigan's promises to working people and help everyday Michiganders get ahead. Notably, he has been a leader in the fight to protect pensions for police officers, firefighters, teachers and school employees. He has also worked extensively to protect our environment and highlight the state's literacy crisis and teacher shortage. Camilleri was awarded Progress Michigan's Legislator of the Year in 2017, was recognized as one of Crain's Detroit's 20 in their 20s, and given the Michigan Association for Media in Education's 2018's Outstanding Legislator Award for his work on expanding access to school libraries.
Camilleri is very proud of his family's new American story. As the son of an immigrant from Malta and a latina, he became Michigan's youngest latino and first-ever Maltese-American elected to the Legislature in 2016. Coming from a long line of union auto workers, he has been steadfast in his pursuit of opportunity for all communities in Michigan.
Camilleri is a first-generation college graduate, earning his degree from Kalamazoo College. During his time there, he served as student body president, led the Michigan Federation of College Democrats, and worked for Congressman John Dingell. Camilleri's passion for service was inspired by working with students at a juvenile home in Kalamazoo and later while tutoring underserved kids in Quito, Ecuador. Those experiences led him to become an educator, and he was proud to serve as a high school social studies teacher in Southwest Detroit prior to his election to the State House.
Rep. Camilleri currently lives in Trenton and enjoys playing pick-up basketball, bowling, reading, traveling and spending time with his family and friends.