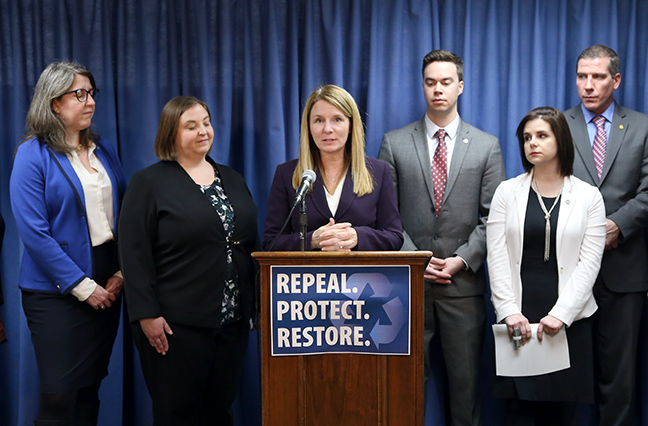 State Rep. Donna Lasinski is serving her third term in the House of Representatives. She represents Michigan's 52nd House District, which encompasses northern and western Washtenaw County, including Chelsea, Dexter, Manchester, Saline and Whitmore Lake. Rep. Lasinski previously served as a member of the Communications and Technology and Insurance Committees, and as minority vice chair of the Energy Policy Committee.
A resident of Scio Township for 20 years, Rep. Lasinski has always believed in taking action to solve community problems. During her first term she took action to address water quality issues in her district, winning stricter clean-up standards for 1,4-dioxane and co-sponsoring legislation to set safe PFAS standards for drinking water. She honored her commitment to accountability by passing a government transparency bill unanimously out of the House, and by hosting regular coffee hours and town halls to hear input from her constituents.
Knowing that a strong community stems from strong schools, Rep. Lasinski's Education leadership includes having served as the treasurer for the Ann Arbor School Board, director of the Washtenaw County Association of School Boards, leader of the Education Millage Team, parent liaison for the Great Start Collaborative for Early childhood in Washtenaw County, and as an interim director for Success by Six in Washtenaw County.
Rep. Lasinski graduated from Eisenhower High School in Shelby Township. She went on to earn her bachelor's degree in business administration from the University of Michigan and her master of business administration degree from Northwestern University. She is the President of ThinkStretch, LLC, a successful K-12 education company she founded to emphasize summer learning and retention that currently operates in 38 states.
Rep. Lasinski is the oldest of four siblings. Her husband, Mike, is also a small-business owner, and together they are the proud parents of three sons: Alec, Nate and Jack.