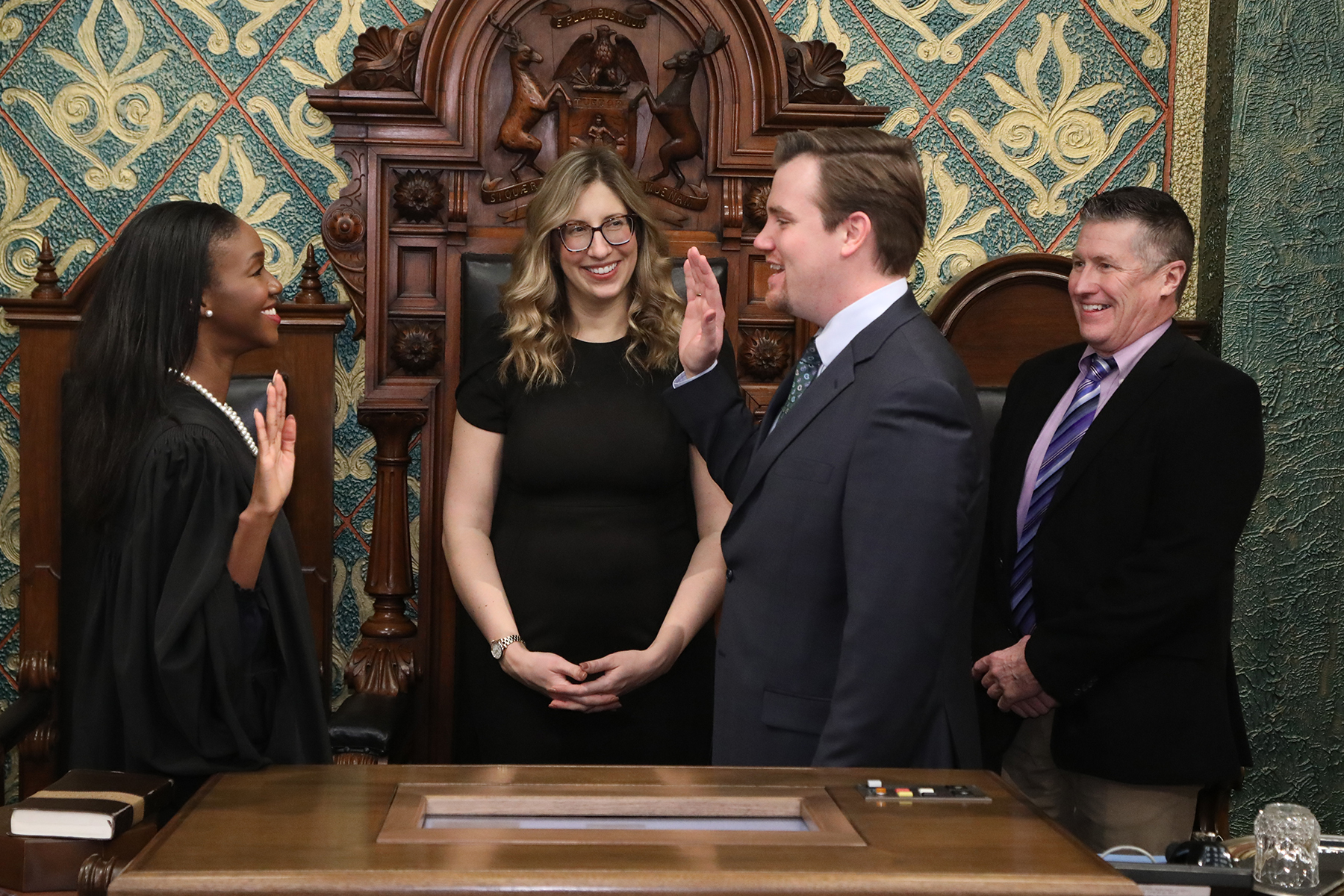 Michigan Supreme Court Justice Kyra Bolden (second left) swears in state Rep. Fitzgerald, who was joined by his wife and father-in-law during a swearing-in ceremony at the Michigan Capitol on Wednesday, Jan. 11, 2023.
LANSING, Mich., Jan. 11, 2023 — State Rep. John Fitzgerald (D-Wyoming) was sworn in today as state representative for the 2023-24 legislative term. The swearing-in ceremony marked the formal opening of Michigan's 102nd Legislature and the first day of House Democrats having the majority in over a decade.
"As the legislative term kicked off today, and oaths were taken, I kept thinking about how grateful I am for this opportunity to make real, meaningful change for our state and constituents," Fitzgerald said. "This day marks an especially exciting moment for the Democratic party in Michigan, but what is even more thrilling is that the entire state of Michigan is at a turning point. Positive change is on the horizon. I am excited to work diligently to affect that change, by prioritizing economic and job growth and other real-life issues that impact Michiganders."
Fitzgerald is serving his first term representing the 83rd House District, including the city of Wyoming, parts of Grand Rapids, Cutlerville and other Kent County communities. Guided by a "listen first" mentality, Fitzgerald is dedicated to learning from the experiences of his constituents in order to build policies that solve the real issues West Michiganders face.
Now that the legislative term is underway, Fitzgerald's office is open to constituents. The representative and his team can be reached at (517) 373-0835 or by email at JohnFitzgerald@house.mi.gov. His Lansing office is located at the House Office Building, S-1187. Go to his website for more information and updates throughout the term.