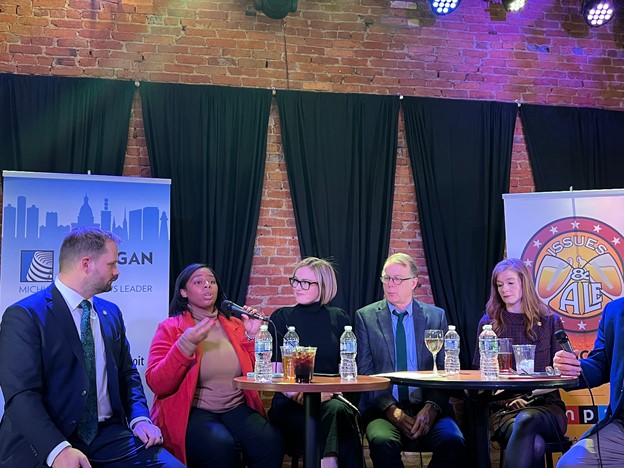 Rep. Kristian Grant speaks at a political roundtable event in Lansing with fellow lawmakers and Michigan Public Radio hosts on Wednesday, Jan. 19, 2023.  
LANSING, Mich., Jan. 19, 2023 — State Rep. Kristian Grant (D-Grand Rapids) was a panelist yesterday on Michigan Public Radio's Issues & Ale: It's Just Politics series. During the event, panelists from both chambers and parties discussed their legislative priorities for the 2023-24 term and responded to questions from residents. Grant also spoke about what it means to her to be a freshman representative and her experience being part of the Democratic caucus in Michigan, which now holds control of the governor's office, the Senate and the House for the first time in 40 years. 
"I very much appreciated the chance to sit down with colleagues to discuss our individual and collective goals as lawmakers," Grant said. "As a first-term representative, one of my primary aims is to listen closely to what Michiganders have to say, to hear what they really need — I think that's how trust is built between lawmakers and constituents. This event was an awesome opportunity to do just that. It was also a chance to hear from the people of Michigan. What I heard was support for issues like focusing on infrastructure, improving how we do education, repealing right-to-work and looking at more robust transportation across the state. I'll take all I heard with me as I work at the Capitol to deliver on the things that really matter to the folks in West Michigan and across the state. I also want to express my sincere thanks to the hosts of Issues & Ale and to everyone who attended the event. There is nothing better than connecting with fellow Michiganders — especially when we get to share what we talk about when we sit down for family dinner."
A recording of the event can be found here.