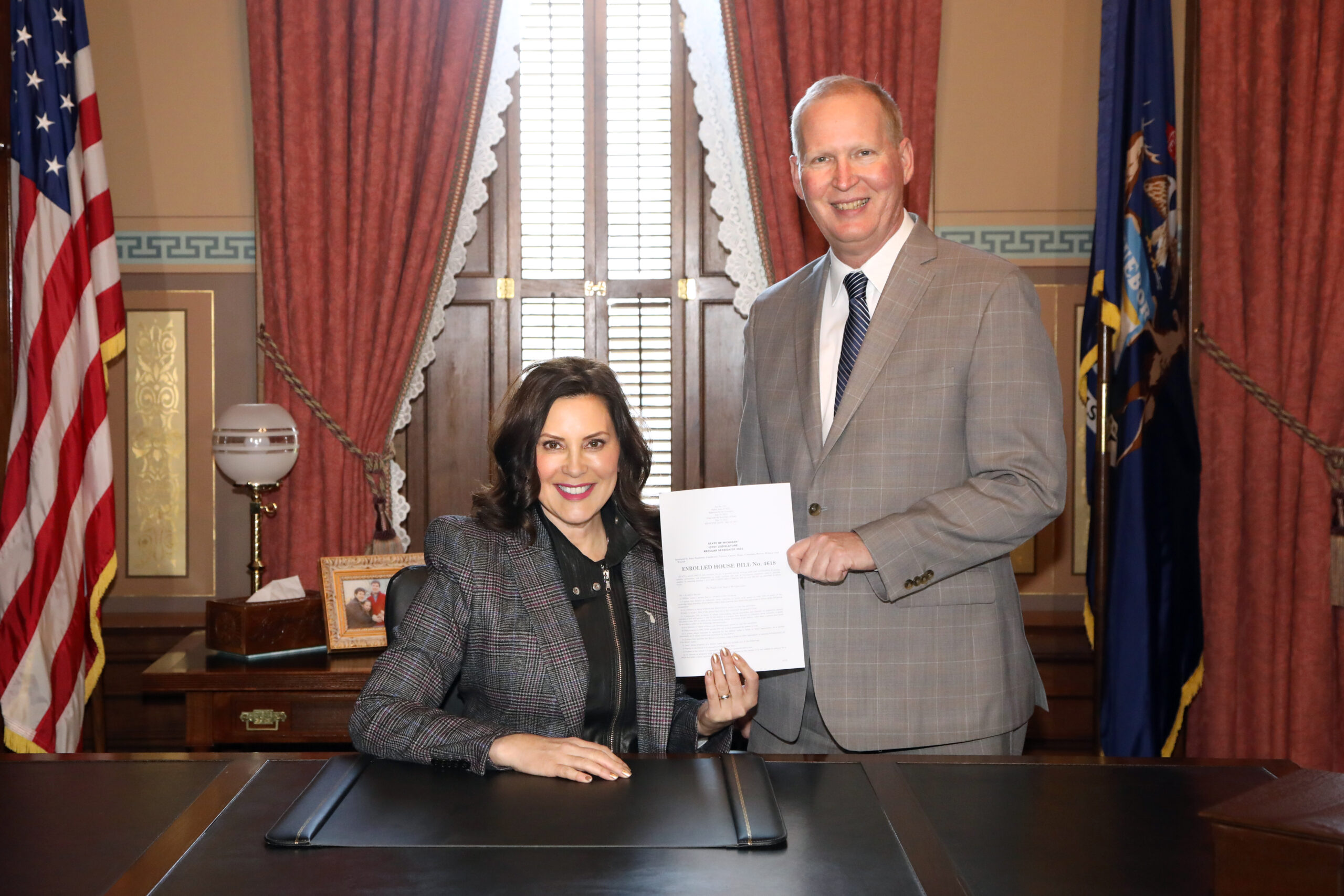 Rep. Haadsma with Gov. Whitmer at Ceremonial Bill Signing
LANSING, Mich., Dec. 13, 2022 — Gov. Gretchen Whitmer signed House Bills 4618-4619, now Public Acts 145 and 154, today during a ceremonial bill signing. The legislation was signed into law earlier this year, giving Michiganders more options when planning their estates and ensuring Michigan's laws are competitive when it comes to banking and estate planning. State Rep. Jim Haadsma (D-Battle Creek) introduced the bills, which received overwhelming bipartisan support and updated Michigan law so residents can continue to use local bankers and trust advisors to ensure their assets are protected from excess federal taxation.
"The ceremonial bill signing was a wonderful occasion to recognize the role of collaboration and dedication in the democratic process," Haadsma said. "During the ceremony, Gov. Whitmer re-signed two of my bills — legislation that updates tax law to ensure Michigan residents have the same options as people in other states when making major financial decisions for themselves and their families. Plus, now they have more local options and more power over their property, which makes federal tax laws work for them."
Haadsma worked collaboratively with local Battle Creek attorney David Lucas on putting together the legislation. When the bills were originally signed, Lucas explained, "The legislation sponsored by Rep. Haadsma, and signed by the governor, brings important and innovative changes to Michigan's laws regarding trusts and estate planning for the citizens of Michigan. Rep. Haadsma's legislation will give Michigan residents greater flexibility in tax planning, and in addressing the estate planning goals and the needs of Michigan families."
The public acts modernize Michigan law, so residents won't need to go to out-of-state advisors and banks to have access to all options when it comes to financial planning.