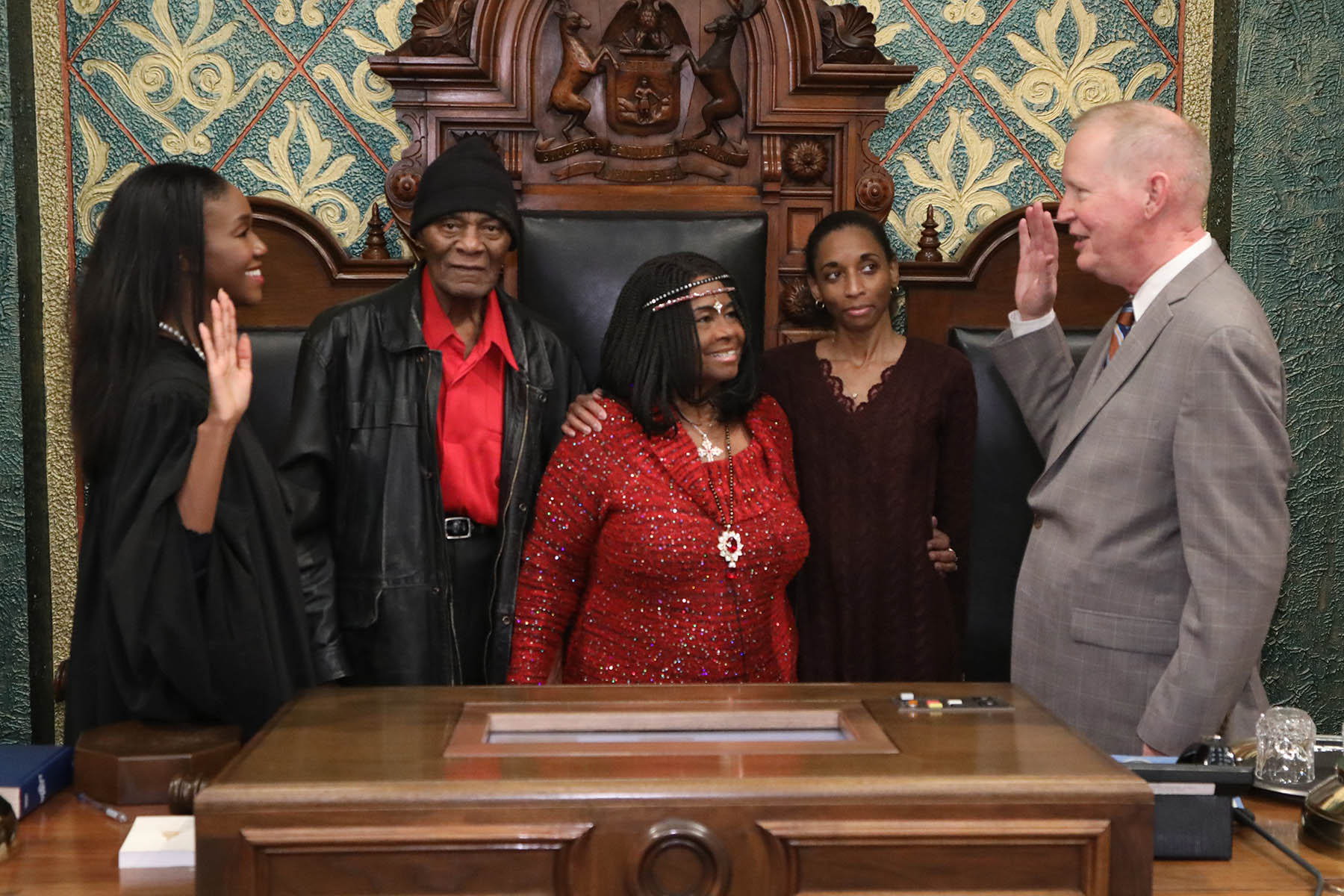 Michigan Supreme Court Justice Kyra Bolden (second left) swears in state Rep. Jim Haadsma, who was joined by guests Victor Sallee, Deborah Sallee and Jen Perry during a swearing-in ceremony at the Michigan Capitol on Wednesday, Jan. 11, 2023.
LANSING, Mich., Jan. 11, 2023 — State Rep. Jim Haadsma (D-Battle Creek) was sworn in today as state representative for the 2023-24 legislative term. The swearing-in ceremony marked the formal opening of Michigan's 102nd Legislature and the first day of House Democrats having the majority in over a decade. 
"It was absolutely fantastic to be back at the Capitol, especially for such a wonderful occasion," Haadsma said. "It is my deepest honor to be sworn in and have another opportunity to serve the people of Battle Creek. It took years of hard work by a great many legislators and staff to win the majority in the House — I think what really made it happen, though, was our dedication to listening to the folks in our districts and passing legislation to meet their needs. I am eager to keep listening, to keep prioritizing and to keep working for Michiganders." 
Haadsma is serving his third term and currently represents Michigan's 44th House District, which is located in Calhoun County and comprises the cities of Battle Creek, Springfield and Albion; and the townships of Bedford, Clarence, Convis, Lee, Pennfield and Sheridan. He continues to be committed to serving his constituents by bringing Michigan's industries into the 21st century, making sure Michigan's schools are properly funded and supported, fixing the roads, preserving the Great Lakes, and ensuring equal rights and opportunities for all citizens of the state.
Go to Rep. Haadsma's website to learn more about him and House District 44.