Dear Neighbor,
Hi, I'm Jason. I have the privilege to serve as your state representative for Washtenaw, Wayne and Oakland counties. Here is some information I hope you will find helpful, including updates and news from your state government.
House Recommends Military and Veterans Affairs and Michigan State Police Budgets
Military and Veterans Affairs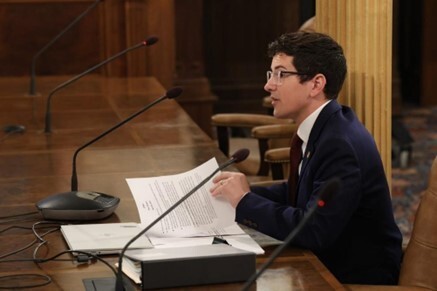 As chair of the Appropriations subcommittee, I reported out my recommended Military and Veterans Affairs budget last week. This budget makes significant strides toward providing Michigan veterans with the support they need and deserve. Homelessness and suicide are two of the direst issues our veterans confront, and this budget makes significant investments in addressing both. My budget includes:
$5 million to establish a new program that will provide $150,000 grants to nonprofit organizations to provide, or assist in providing, housing for homeless veterans and their families.
Over $1 million to continue an outreach campaign to current and former service members and their families to reduce suicide.
Michigan State Police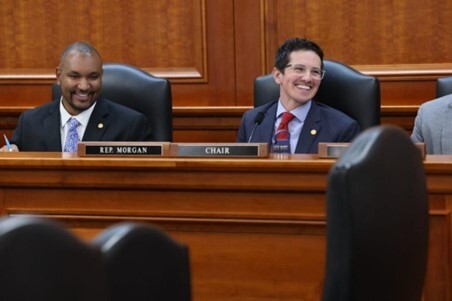 My recommended Michigan State Police budget provides police with the funding they need to remain fully staffed and prepared to address public safety emergencies while supporting new programs to prevent violence before it happens by providing support for innovative approaches to public safety. My budget includes:
Nearly $5 million for grant distributions to Oakland County, Washtenaw County and Wayne County for programs that provide for response by trained unarmed personnel to situations where an armed police response is not necessary.
$1.9 million to place two full-time victim advocates in each of MSP's seven districts. Victim advocates would address victim needs in early interactions with criminal justice agencies; specifically, advocates would inform crime victims of their rights, provide social service agency referrals and assist with the victim compensation process.
$378,700 for expansions to the Okay2Say program, which provides students with a confidential mechanism for reporting criminal activities and potential harm that could be directed at students, school employees or physical infrastructure.
$9 million for a trooper recruit school. This program is projected to graduate 50 highly trained troopers.
House Recommended Transportation and Higher Education Budgets
Investing In Local Roads and Public Transportation
As vice chair of the Appropriations Subcommittee on Transportation, I have been fighting hard for increased infrastructure investments. Our communities have been struggling with crumbling neighborhood roads, and we are finally doing something about it. Yesterday, we passed the house recommended transportation budget, which includes an additional $400 million in funding for local roads around our state. I am also pleased that our budget included an additional $60 million to support local buses.
Quality Education for All
Finally, as vice chair of the Higher Education Appropriations Subcommittee, we passed the largest recommended ongoing investment in higher education in the history of the state. The budgets for higher education would increase state university operations' budget by nearly $100 million and increase funding for community college operations by $15 million, signaling Democrats' commitment to making college more affordable and help keep talent in Michigan.
Michigan House Passes Gun Violence Prevention Bills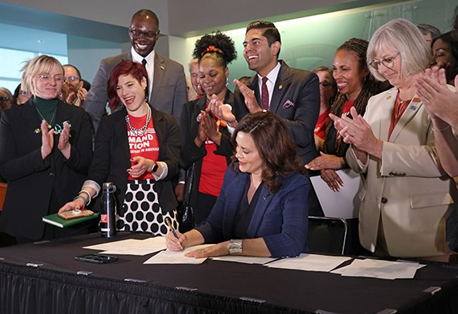 The Michigan House of Representatives passed legislation in support of instituting extreme risk protection orders (ERPOs), which would temporarily prohibit the possession and purchase of firearms by those who pose significant danger to themselves or others. House Bills 4145–48 would allow courts to ERPOs if, after a full hearing, the court determines that the accused "can reasonably be expected within the near future to intentionally or unintentionally seriously physically injure themselves or others by possessing a firearm."
As of 2021, 19 states and the District of Columbia have enacted some form of ERPO laws, which are supported by most Americans. HBs 4145-48 have the support of the Michigan State Police, the Fraternal Order of Police, the Michigan Sheriffs' Association, the Michigan Chiefs of Police and a majority of gun owners.
I am proud to support this package and end the era of only "thoughts and prayers." This is real action, and it will make a real difference in keeping our families and communities safe.
Yours in service,
State Representative Jason Morgan
Michigan's 23rd House District