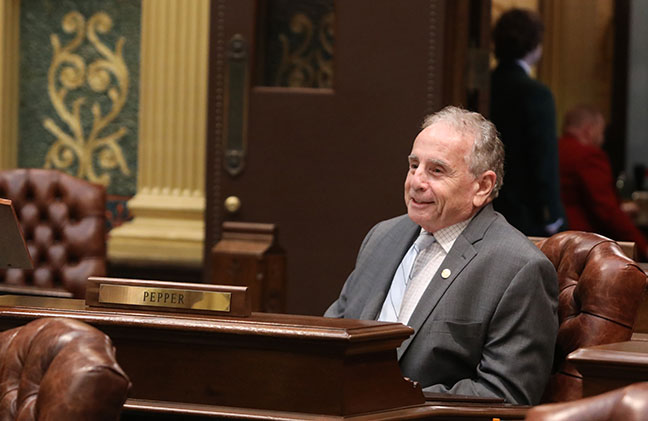 Committees
Families, Children, and Veterans
Agriculture
Joint Committee on Administrative Rules
Representative Pepper has deep, lifelong roots in Dearborn. He is a lawyer and mediator with over 40 years of experience serving residents of the city, settling difficult conflicts and tackling the tough conversations.
Rep. Pepper and his children attended Dearborn Public Schools. After earning his Bachelor of Arts in Communications at Michigan State University, he was awarded his Juris Doctorate from Wayne State University and went on to establish the largest mediation practice in the area.
Rep. Pepper has been a passionate activist in the city of Dearborn throughout his entire life, tirelessly advocating for the underserved and underrepresented in his community. He has put this passion to work through his service on a number of volunteer boards, including the Dearborn Rotary Club, Dearborn City Beautiful Commission, Dearborn Civil Service Commission, Dearborn Police and Fire Pension System Board, and many others. His legal experience has earned him the role of President of the Wayne County Family Bar Association and the Dearborn Bar Association. He has also served in leadership positions as an Executive Board Member of the Dearborn Democratic Club and committees dedicated to mental health, drug addiction, and suicide prevention in the community.
Rep. Pepper is a Dearborn business owner, an employer, a job creator, a property owner, and a taxpayer. As a husband, a father, and a grandfather, his deep roots in the 15th District impassion him to continue the fight for the critical needs of the city of Dearborn.