State Rep. Isaac Robinson represented his district and constituents with passion, dedication and single-minded determination his entire time in office. Even before his time in the Legislature he organized community members and helped his neighbors and fellow Detroiters make their voices heard.  Always a fierce advocate, Robinson consistently put the needs of his community ahead of politics. His passion will forever be missed, but we will never forget the lessons he taught us.
LANSING, Mich., Sept. 24, 2020, — Today, the Michigan House of Representatives took up House Resolution 316, a bipartisan memorial resolution honoring the late Rep. Isaac Robinson (D-Detroit) with his father, Roger Robinson and long-time staff member, Dawn Tucker-Davis in attendance. Rep. Robinson faithfully served as the representative of Michigan's 4th House District from January 2019 until his tragic death on March 29, 2020 at the age of 44 from the Coronavirus.
"Rep. Robinson was as hard-working as he was passionate for his community," said House Democratic Leader Christine Greig (D-Farmington Hills). "His accomplishments serving the city of Detroit are notable, but he will also be remembered for his contagious enthusiasm, infusing everyone around him with determined energy. He was a compassionate man, a devoted public servant and a fierce friend to so many of us. He is greatly missed."
Prior to serving in the House, Rep. Robinson spent 10 years working on behalf of organized labor in a variety of roles. During that time, he built a reputation as an advocate for everyone in his community, an attitude he brought with him when he was elected to the House of Representatives in 2018.
Rep. Robinson served on several House committees including Commerce and Tourism, Regulatory Reform and Tax Policy. He championed issues important to the district, especially environmental protections and community safety, health care and licensed professional counselors, Michigan workers, auto insurance reform, education, criminal justice and expungement, and civil rights.
"Rep. Robinson was without question one of the most passionate and dedicated legislators I have had the honor to serve the people of Michigan with," said state Rep. Sherry Gay-Dagnogo (D-Detroit), chair of the Detroit Caucus. "He not only for what he believed, he fought to remove barriers for the people of his district and our community as he saw the challenges his constituents faced and understood their perspectives. He never let his position or politics come before his community and we were so very honored to know and work alongside him."
# # #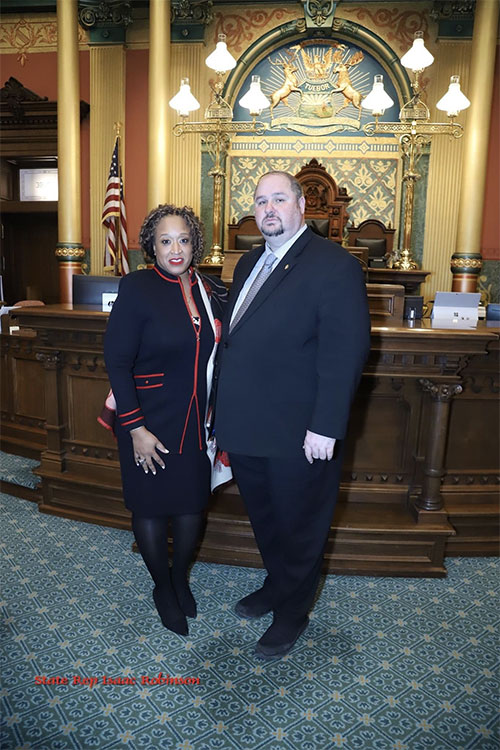 "COVID-19 has impacted the lives of so many citizens throughout the state of Michigan, and even more pronounced in the city of Detroit, as we are the fastest growing city nationally with casualties related to this deadly disease.
"This public health crisis has ripped through families causing grave illness and taken too many lives. My heart grieves the loss of my friend and colleague Rep. Isaac Robinson who I had the pleasure of working within the Michigan Legislature, the 13th Congressional District and with our late Congressman John Conyers, Jr.
"Isaac epitomized 'community' and was a vibrant, strong grassroots champion for the people. He was selfless, dedicated to improving people's lives and always fought for what he believed in.
He will be sorely missed by our Detroit and Democratic Caucus, and members of the Republican Caucus. His mother Rosemary, father Roger, sister, staff and constituents are in our prayers."
-Detroit House Caucus Chair, Rep. Sherry Gay-Dagnogo