Dear friend,
Welcome to my latest e-newsletter! As always, I am honored by the opportunity to represent you in Lansing, and encourage you to stay up to date and continue to let me know of the issues you care about most.
In this Edition
Upcoming Coffee and Happy Hours
Legislative Update
Happy Hour Recap
Constituent Contact
Upcoming Coffee and Happy Hours
These coffee and happy hours provide us the opportunity to meet in person and have informal conversations regarding issues concerning our community and state. This is a great way to help me understand the issues you care about and allows me to more effectively work on your behalf in the Legislature. I hope to see you there!
Below is an updated list of dates and times:
March
March 7 from 6-7 p.m. at the Maple Leaf Inn in Vermontville (HAPPY HOUR)
March 11 from 7:30-8:30 a.m. at the Willowtree Coffee & Bakery in Olivet
March 22 from 7:30-8:30 a.m. at Fay's Evelyn Bay Coffee Shop in Charlotte
April
April 10 from 5:30-6:30 p.m. at the Riverside Cafe in Bellevue (HAPPY HOUR)
April 12 from 8-9 a.m. at Cops & Donuts-Capital Precinct in Delta Township
 April 25 from 5:30-6:30pm. at Cugino's in Grand Ledge (HAPPY  HOUR)
 April 29 from 8-9 a.m. at the Willowtree Coffee & Bakery in Olivet
May
May 17 from 8-9 a.m. at Fay's Evelyn Bay Coffee Shop in Charlotte
May 23 from 5:30-6:30 p.m. at Charlie's Bar & Grill in Dimondale (HAPPY HOUR)
Legislative Update
February got off to an exciting start, as I was able to have my first House Resolution adopted to commemorate the 100th anniversary of Michigan Farm Bureau's presence in our state. Headquartered in Delta Township, Michigan Farm Bureau has remained a major employer in Eaton County through the years, while continuing to be an advocate for the interests of the agriculture community here at the Capitol.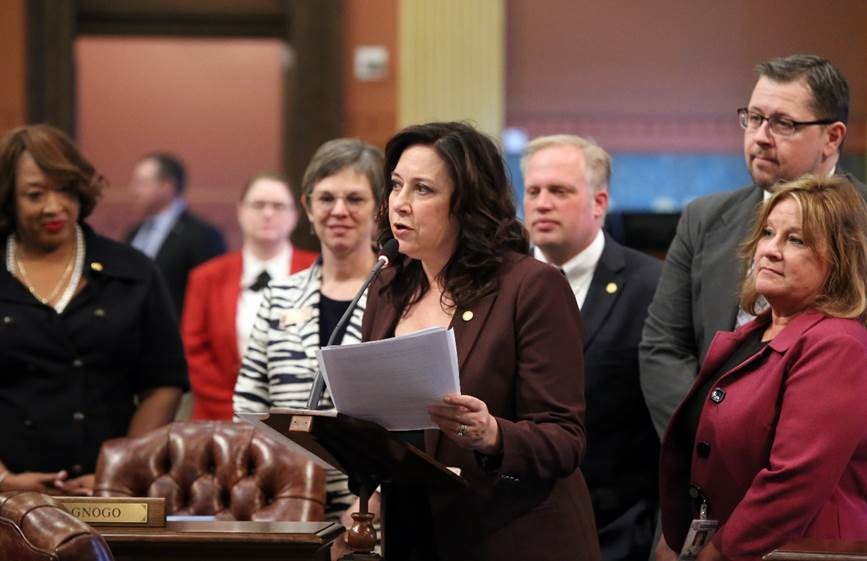 Rep. Witwer introduces her Resolution commemorating the Michigan Farm Bureau's 100th anniversary
Last week, General Motors announced new plans to invest an additional $36 million in the Lansing Delta Township Assembly plant to fund production of two of its most popular crossover vehicles. This investment reaffirms a commitment to Mid-Michigan and using labor that's second to none. I was fortunate enough to attend the press conference for this announcement at LDT alongside other Lansing and Delta Township officials.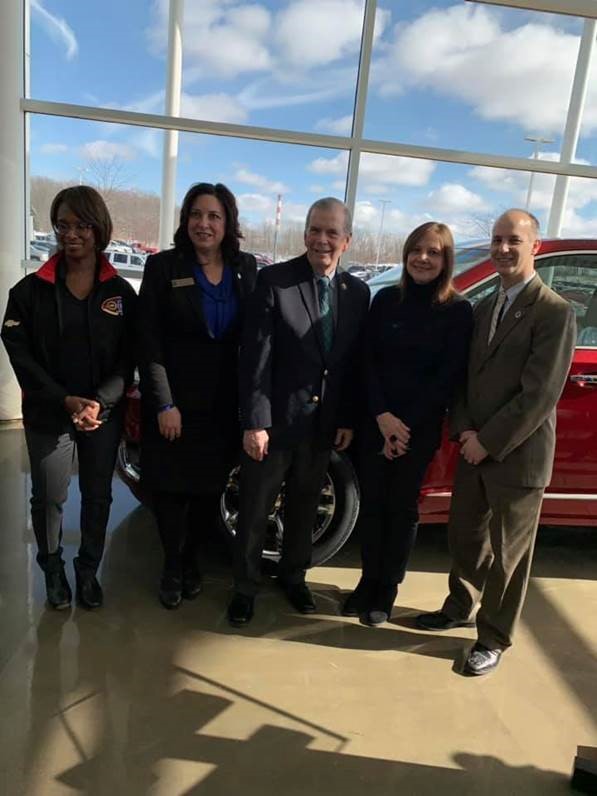 From left: Alicia Boler Davis, Executive VP of Global Manufacturing at GM; State Rep. Angela Witwer; Congressman Tim Walberg; GM CEO Mary Barra; Lansing Mayor Andy Schor
I also introduced my first bill this term, alongside my colleague Rep. John Chirkun, which would better regulate charitable gaming in Michigan by rescinding some of the Snyder Administration rules that limit nonprofits' and charities' ability to supplement their revenue using these fundraising events. A number of charities in our district heavily depend on charitable gaming to help fund the important activities they do in our communities. I strongly believe these bills will address the overregulation of these games while still preventing bad actors from running illegal games that offer little to no help to charities.
Happy Hour Recap
In addition to four constituent coffee hours held throughout the month of February, I recently held my first constituent happy hour last week at Joe's Gizzard City in Potterville. I was joined by a few Potterville, Olivet and Bellevue residents to discuss oral chemotherapy legislation, water quality issues, and identifying existing problems within MDHHS. My team and I will be planning on hosting more Happy Hours throughout the district, so keep an eye out for future dates and locations in this newsletter and on my Facebook page.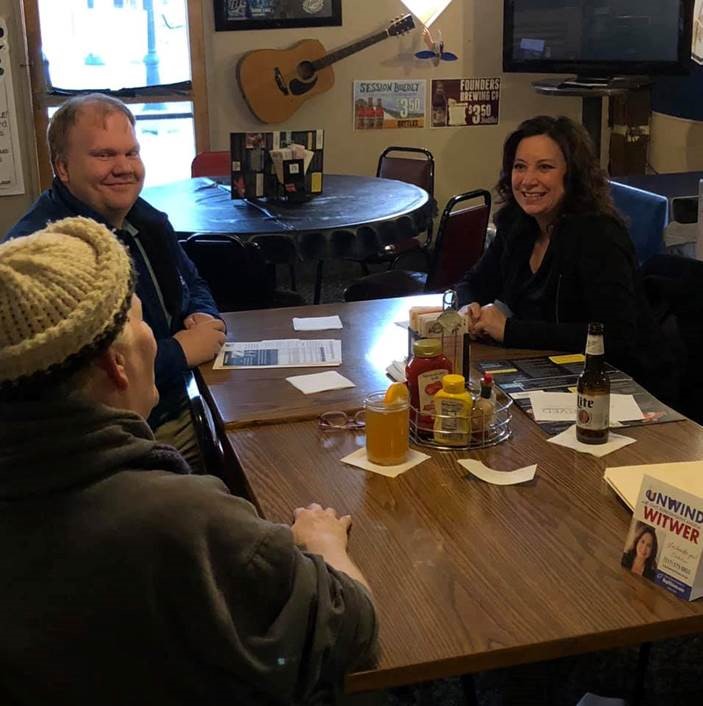 Rep. Witwer speaking with community members at a happy hour event in Potterville
Constituent Contact

Sincerely,
State Representative Angela Witwer
71st House District