Dear Friends and Neighbors,
Welcome to my latest e-newsletter! As always, I am honored by the opportunity to represent you in Lansing, and encourage you to stay up to date on what's going on in Lansing, and continue to let me know of the issues you care about most.
In this Edition
Governor's Budget Presentation
Legislative Update
Upcoming Tele-Town Hall
March is Reading Month
MiAble Announcement
City of Charlotte Receives MSF Grant for Development
Announcing Teacher & Business of the Month Program
Upcoming Tele-Town Hall
I will be taking part in a tele-town hall with state Rep. Sarah Anthony (Lansing) and state Sen. Curtis Hertel Jr. (East Lansing) on Thursday, March 21, from 5:30-6:30 p.m. I expect this to be an engaging, informative conversation, as we will be discussing ways to make education more affordable and skills training more accessible.
Mid-Michigan is home to world-class universities and community colleges, some of the greatest skilled trades programs anywhere, and thousands of students and families looking to secure a good-paying job and rewarding career. But what do we need to do to make sure financial barriers don't hold them back?
By joining the call, you will be able to connect directly with us to learn about how we're fighting for families in Mid-Michigan, ask questions and discuss what we can do to ensure a strong economy and better future for everyone.
Stay tuned to my Facebook and Twitter for more information.
Announcing Teacher & Business of the Month Program
I'm excited to unveil a new program my office will administer each month that spotlights both an outstanding educator and a thriving small business in our community. Beginning in April, we'll be accepting nominations for both the "Teacher of the Month" and "Business of the Month" in Eaton County. This is a great opportunity to highlight the unsung work educators do for our children each day and express gratitude for the support provided by small businesses to our local economy. Keep an eye out for future e-newsletters that will include nomination forms for both of these programs!
Governor's Budget Presentation
Last Tuesday, Gov. Gretchen Whitmer presented her first budget, outlining her vision and priorities for the 2019-20 fiscal year. The major items included in her budget include:
–          An increase of $507 million for operational spending for K-12 schools.
–          Doubling the Earned Income Tax Credit (EITC) from 6 percent to 12 percent of the federal tax credit.
–          Repeal of the 'Pension Tax' installed in 2011.
–          A funding increase of 3 percent to public universities and community colleges.
–          An investment of $120 million for drinking water infrastructure around the state.
–          A proposed 45 cent increase to the gas tax that would raise more than $2 billion to get the majority of our roads in good condition.
The governor's presentation was just the first step in a long process to ensure the things that matter most to families in our community receive the funding they need. Rarely does the budget–which will be developed through months of bipartisan conversation and compromise–look exactly like what the governor proposes. I look forward to discussing these proposals — and many more — with my colleagues as the budget process heats up throughout the spring.
Legislative Update
I recently introduced several bills based on the issues I know are most important to the people of our community.
First, I introduced a repeal of the widely unpopular retirement tax'. Seniors affected by this tax have gone their whole careers planning for retirement by having a financial goal in mind. Unfortunately, many of them did not plan for the significant damage caused by this misguided tax, which was passed in 2011 by the legislative majority as a way to unfairly balance the budget on the backs of fixed-income retirees. This bill is our chance to make things right.
I also introduced a bill to restore the Earned Income Tax Credit (EITC) to its pre-2011 levels. This is one of the most effective ways we can help working families keep more of their hard-earned money at the end of the year. The EITC is a proven and effective anti-poverty tool, and research has shown that states with high EITCs provide additional incentives for families to continue working. According to the Michigan League for Public Policy, restoring the EITC to 20 percent of the federal credit would lift approximately 15,000 additional Michigan families out of poverty, boosting small businesses and local economies in the process.
Lastly, I partnered with one of my Republican colleagues, Rep. Jeff Yaroch of Richmond, to introduce a school safety bill package that would help provide automated external defibrillators (AEDs) to high schools in Michigan that do not have them. The package would also require the placement of trauma and first aid kits in public schools and training of staff members on their use.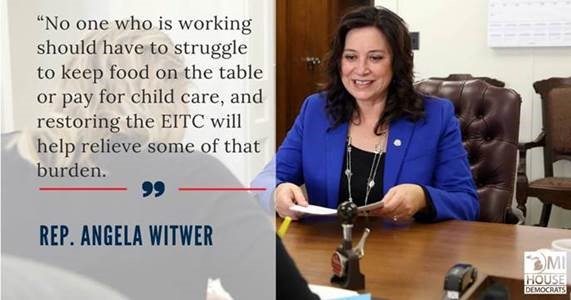 How I Voted this Week:
I voted yes on the following bills this week on the floor:
HB 4112 (Vaupel) – Requires postings to warn of the potential problems of drinking alcohol during pregnancy on premises of retail liquor licensees.
HB 4129 (LaFave) – Revises procedures for parole of prisoners who are determined to be medically frail.
HB 4130 (Carter, T.) – Amends parole corrections code to implement medically frail parole.
HB 4131 (Griffin) – Provides for penalties related to a parolee in a medical facility.
HB 4132 (Bolden) – Amends corrections code of 1953 to implement medically frail parole.
HB 4286 (Johnson, S.) – Provides for reporting requirements related to candidates eligible for compensation for wrongful imprisonment and makes an appropriation.
March is Reading Month
We know how valuable reading skills are for elementary education and how important it is to develop consistent reading habits at a young age. That's why I've joined other legislators across the state in celebrating 'March is Reading Month' by reading to a number of classrooms throughout Eaton County.
So far, I've enjoyed reading to classrooms at St. Gerard, Winans Elementary, Bellevue Elementary, and Delta Center Elementary. I'm still looking forward to reading at Dimondale Elementary, Colt Elementary, Washington Elementary, Beagle Elementary, Parkview Elementary, and to young children at Grand Ledge Public Library over the next couple weeks.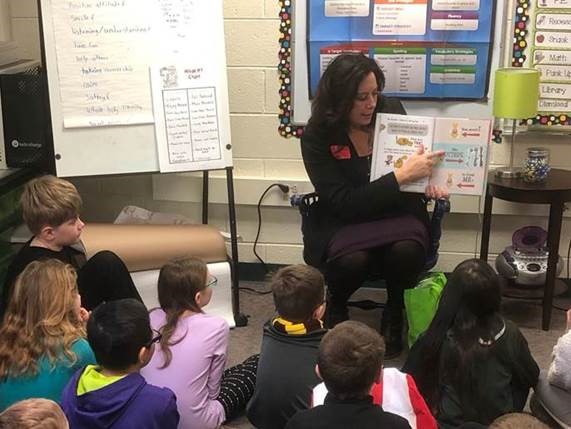 MiAble Announcement – Save Without Losing Your Benefits!
On Monday, I enjoyed learning about Michigan's new state-operated savings program, called MiABLE, to help people with disabilities and their families save money and prepare for the future without fear of losing vital government benefits like Medicaid and Social Security Income. Michigan residents with disabilities are no longer limited to just $2,000 in assets. Now, by creating a disability savings account with the Michigan Department of Treasury's MiABLE program, individuals and their loved ones are free to save and invest up to $15,000 annually. For more details, visit miable.org.
City of Charlotte Receives MSF Grant for Development
The Michigan Strategic Fund recently announced they have approved a grant incentive to support an exciting new project in Charlotte!
The city of Charlotte received $200,000 in Community Development Block Grant funds for the historic Beach Market Renovations Project in their downtown. The city, in cooperation with the Friends of Beach Market nonprofit organization, plans to renovate and restore the market as a registered historic structure.
When completed, the building will serve as a space for community events and concerts and a venue for an open-air farmers market twice a week. These funds will be used to eliminate blight at the site. The Friends of Beach Market will contribute $220,925 which will be used to create a pavilion-like structure over the open, central area of the market space and make historically-appropriate renovations to the building.
Sincerely,
State Representative Angela Witwer
71st House District