Dear Friends and Neighbors,
Welcome to my latest e-newsletter! As always, I am honored by the opportunity to represent you in Lansing. I encourage you to stay up to date on what's going on in Lansing and continue to let me know which issues you care about most.
In this Edition
Legislative Update
Hunger Solutions Day at the Capitol
Tele-Town Hall Recap
Budget Survey Now Available
Accepting Nominations for Teacher of the Month & Business of the Month
Upcoming Coffee and Happy Hours
Legislative Update
Last week, the House adopted a resolution of mine, HR 53, to declare April 2019 as Michigan Student Athlete Cardiac Awareness Month in the state of Michigan. Tragically, our state has lost at least 72 students to sudden cardiac arrest and related causes in the last 20 years. By having this resolution adopted, my hope is to both encourage families to become more aware of the importance of improved pre-participation screening of student athletes and also increase the preparedness of our citizenry and public employees to respond to the sudden cardiac arrest of a student-athlete. The good news is as a result of increased awareness and generous donations from various foundations, the vast majority of all Michigan high schools now have at least one life-saving Automated External Defibrillator (AED) on site. In the past five years, there have been at least 22 lives saved – including 10 students at Michigan K-12 schools – as a result of the use of school AEDs.
Hunger Solutions Day at the Capitol
Also last week, I was given the opportunity to speak at the Hunger Solutions Day event in Lansing, hosted by The Food Bank Council of Michigan. Hunger Solutions Day is a day for dedicated legislators and community leaders to come together and brainstorm ideas for increasing food security in the state. Hunger and food security, especially when it comes to our children, is a solvable issue in our society. We can all agree that no child should ever have to worry about where his or her next meal is coming from, and when those worries are present we have a responsibility as legislators to address what is standing in the way of their families being able to put food on the table. I believe if we work together with that shared goal in mind, we can really begin to make a difference and change many lives for the better.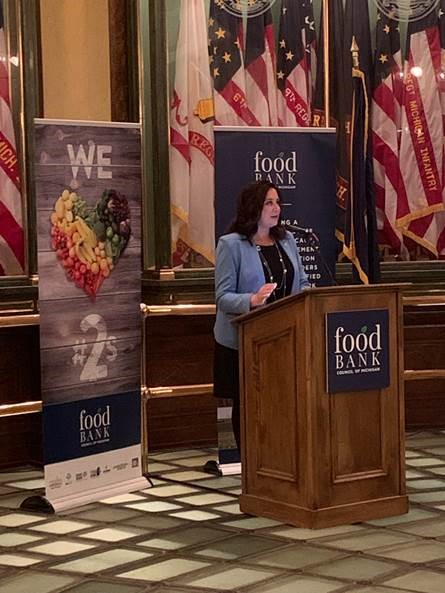 Tele-Town Hall Recap
I recently participated in my first tele-town hall of the year alongside Rep. Sarah Anthony and Sen. Curtis Hertel Jr. to discuss making higher education more affordable and skills training more accessible. I was more than pleased with the turnout and the insightful questions asked by the audience. At the call's peak, we had roughly 700 people from around the Capital Area listening in. We were also able to answer nine questions from audience members during the hour. Thank you to all of you who joined us during this conversation. For those of you who weren't able to make it, stay tuned for future town halls and other ways to participate in an ongoing dialogue with my office.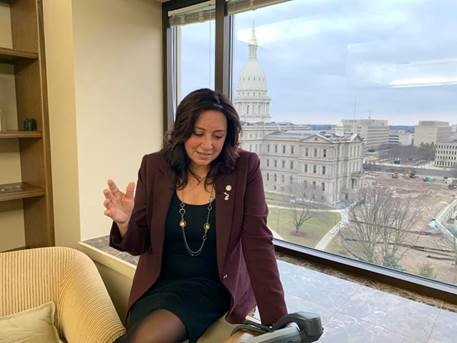 Budget Survey Now Available
I want to hear from you! I've already been contacted by a number of constituents with their thoughts, concerns and priorities for the governor's proposed state budget, so we've created a short budget survey for you to easily send your thoughts along to my office. Your opinion matters and I hope to take the results of these surveys into account when it comes time to vote on the entire state budget. The survey is available here: https://housedems.com/witwer/budget-survey. Of course, you are always welcome to share your thoughts the old-fashioned way with a phone call, e-mail, or letter!
Accepting Nominations for Teacher of the Month & Business of the Month
In an ongoing effort to shine a spotlight on outstanding educators and flourishing small business in Eaton County, we have begun accepting nominations for both "Teacher of the Month" and "Business of the Month" for the month of April. If you have an exceptional teacher or business you'd like to nominate, complete the online forms found here (Teachers, Businesses), or visit the links in my Facebook profile. To ensure nominees fall within district lines, please click here to review business or school addresses.
Upcoming Coffee & Happy Hours
April
April 10 from 5:30-6:30 p.m. at the Riverside Cafe in Bellevue
April 12 from 8-9 a.m. at Cops & Donuts-Capital Precinct in Delta Township
April 25 from 5:30-6:30pm. at Cugino's in Grand Ledge
April 29 from 8-9 a.m. at the Willowtree Coffee & Bakery in Olivet
May
May 17 from 8-9 a.m. at Fay's Evelyn Bay Coffee Shop in Charlotte
May 23 from 5:30-6:30 p.m. at Charlie's Bar & Grill in Dimondale
Sincerely,