Dear Friends and Neighbors,
Welcome to my latest e-newsletter! As always, I am honored to have the opportunity to represent you in Lansing. I encourage you to stay up to date on what's going on in the Legislature and continue to let me know of the issues you care about most.
In this Edition:
First 100 Days in Office
Whitmer at Waverly
Guests at the Capitol
How I Voted this Week
Upcoming Coffee and Happy Hours
First 100 Days in Office
Today officially marks the end of my first 100 days in office as your state representative. Most of my time has been spent meeting with residents, community leaders, local elected officials, and key stakeholders throughout the 71st House District, and I have enjoyed every second of it. The dialogue I've shared with our communities has given me a sense for residents' concerns so I am able to provide the best representation possible. We've accomplished so much over our first few months, but I know this is just the beginning. Here's an overview of some of the things I've done during the first 100 days: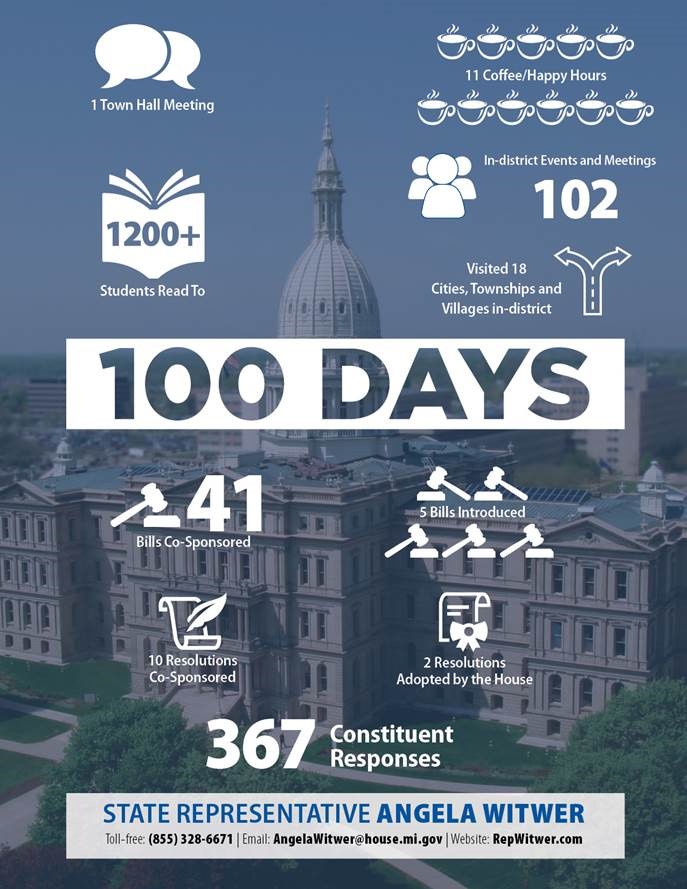 Whitmer at Waverly
It's always a treat when statewide elected officials choose Eaton County to hold their events. On Wednesday, we were happy to host Gov. Gretchen Whitmer at Waverly High School as she presented her budget priorities and vision for our state over the next few years.
I share the governor's belief that our state is currently at a crossroads. We're facing a number of serious problems that are a result of years of neglect, procrastination and divestment. For too long, legislative priorities have been backward. Per-pupil funding has lagged, support for the working class was eliminated and our cratered roads result in hundreds in vehicle damages for families across the state every year. Instead, our priorities should be based on values that are inherent to our identity as Michiganders: a strong education system, a healthy middle-class and infrastructure we can be proud of.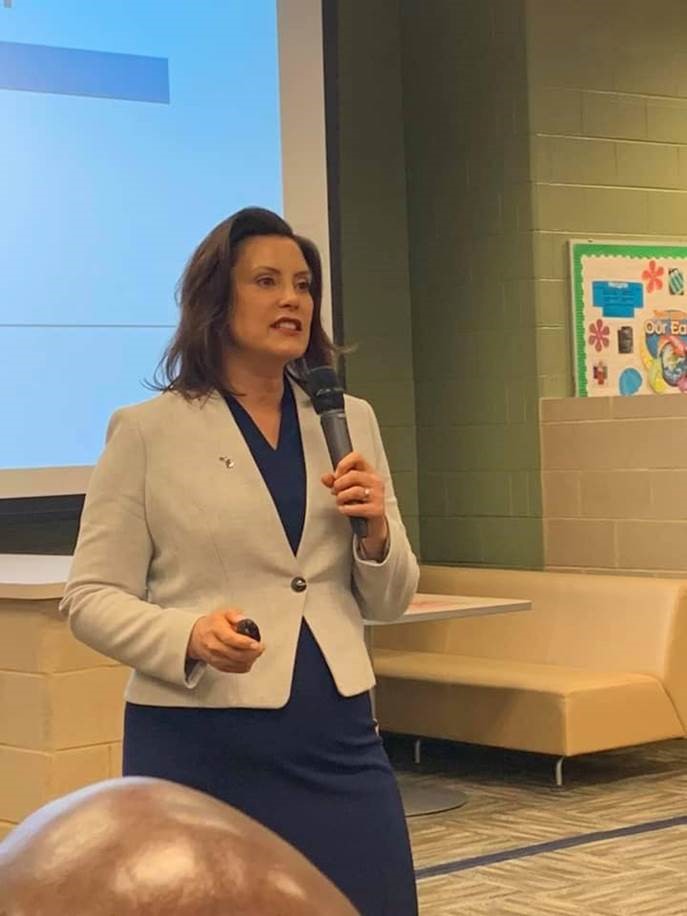 Guests at the Capitol
Because April is Michigan Student Athlete Cardiac Awareness Month, I was able to welcome some special guests from my district to the Capitol on Thursday during session: Laura & Chris Guild from Grand Ledge. Laura and Chris tragically lost a child to sudden cardiac arrest when their son, Everson, lost consciousness in the weight room during a summer football workout in July 2017.
Through it all, Laura and Chris have remained advocates for this cause and have worked to spread awareness of sudden cardiac arrest in remembrance of their son.
I was also able to welcome Randy Gillary and his daughter, Emily Kucinich, from Troy, Michigan. Randy and Emily have also been advocates for this important cause for almost 20 years after their beautiful daughter and sister, Kimberly Anne Gillary, lost her life after suffering a sudden cardiac arrest in a high school water polo game in April 2000.
Since then, Randy and Emily started the Kimberly Anne Gillary Foundation to help supply Michigan high schools with at least one automated external defibrillator (AED) on site in case of a sudden cardiac arrest. Their foundation, like many others started by families who have experienced similar tragedy, has helped donate 1,100 AEDs  to high schools and intermediate schools across the state, as well as providing training to teachers and staff on both the use of an AED and in CPR.
Student-Athlete Cardiac Awareness Month is a good time to talk with your children, family members, coworkers and friends about the signs of sudden cardiac arrest and what to do in the case of an emergency. It's also a good time to make sure your child's school has an easily accessible defibrillator and staff members trained in CPR and the use of an AED.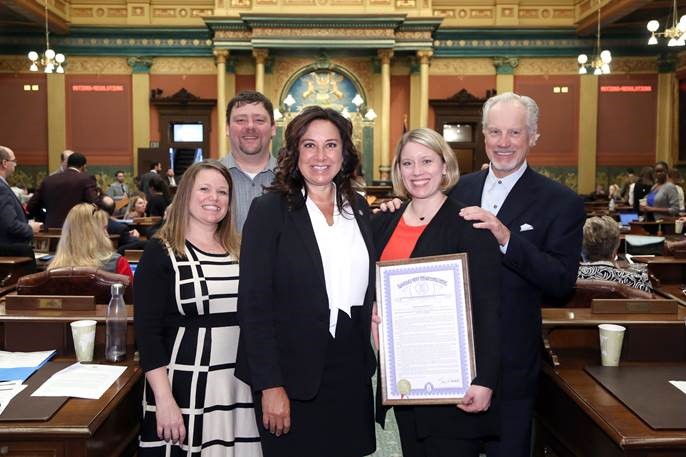 How I Voted this Week
I voted 'yes' on the following bills this week on the House floor:
HB 4014 – Part of the legislative package to subject the offices of the governor and lieutenant governor to FOIA.
HB 4102-4107 – Adds direct and indirect references to cryptocurrency to the Michigan Penal Code and provides a uniform definition of cryptocurrency.
HB 4185 – Adds "real property" to the felony of willfully and maliciously destroying or damaging property of police or fire departments.
HB 4226 – Limits fees charged by a designee of a purchaser of foreclosed property for assisting in computing the amount required to redeem the property.
Upcoming Coffee & Happy Hours
April
Thursday, April 25 from 5:30-6:30 p.m. at Cugino's in Grand Ledge with special guest House Democratic Leader Christine Greig
Monday, April 29 from 8-9 a.m. at the Willowtree Coffee & Bakery in Olivet
May
Friday, May 17 from 8-9 a.m. at Fay's Evelyn Bay Coffee Shop in Charlotte
Thursday, May 23 from 5:30-6:30 p.m. at Charlie's Bar & Grill in Dimondale
Sincerely,
State Representative Angela Witwer
71st House District