Dear friend,
Welcome to my latest e-newsletter! As always, I am honored by the opportunity to represent you in Lansing, and encourage you to stay up to date and let me know of the issues you care about most.
In this Edition
Where I've Been in District 71
Outstanding Waverly High School Educators
Bring Your Child to Work Day
Snow Day Bill Passes the House
How I Voted This Week
Happy Hour with Democratic Leader Christine Greig
Upcoming Coffee and Happy Hours
Where I've been in District 71
I was recently invited to tour Lansing Community College's West Campus along with state Reps. Anthony, Brixie, Hope, and Sen. Hertel. LCC's West Campus is home to both the Technical Careers and Community Education and Workforce Development divisions of LCC, as well as the Michigan Technical Education Center (M-TEC) and Technical Training Center. Their impressive facility features the Center for Manufacturing Excellence, Mid-Michigan Police Academy, Regional Fire Training Center and more. It was inspiring to see how these programs produce successful students at the world-class facilities right here in Delta Township.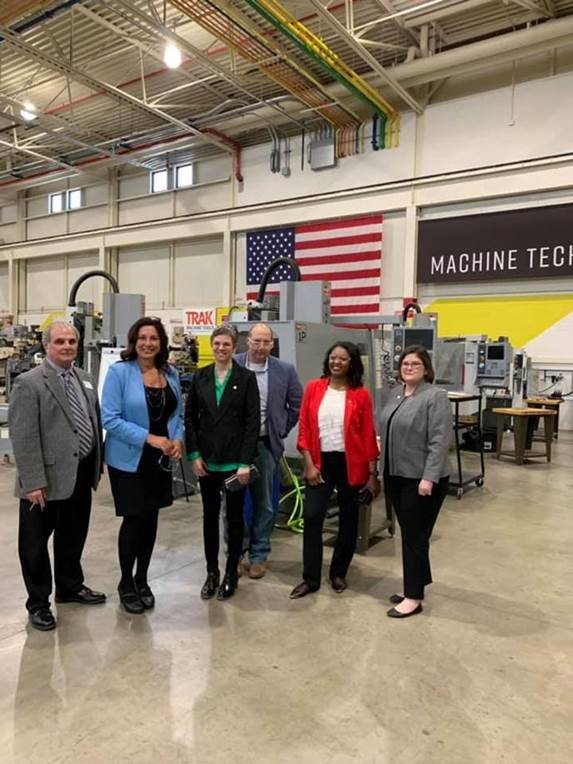 Next, I had the chance to tour the Waverly Robotics Program with teacher Jeff Parks. It's exciting that Waverly finally has a Robotics program of their own and was able to compete well throughout their rookie season. I am proud to support these students and their deep passion for technology, engineering and competition!
I also joined the Grand Ledge Chamber of Commerce as they celebrated their 50th Anniversary last week with a dinner at the Grand Ledge Opera House. I was proud to stand alongside them for this milestone and recognize the important role they have played in contributing to the economic well-being of the Grand Ledge community.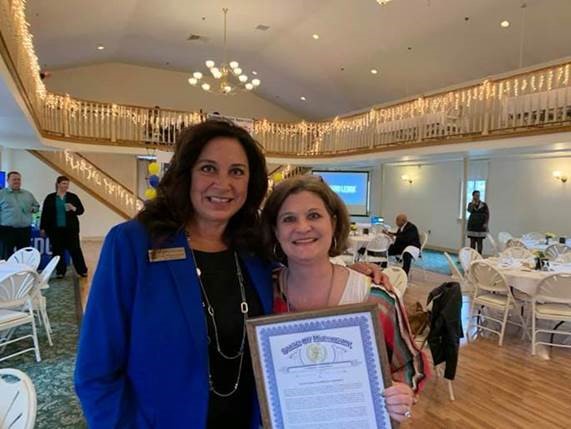 Finally, I had the opportunity to drop off care packages to the SIREN/Eaton Shelter in Charlotte last week. SIREN/Eaton Shelter has done some great work in Eaton County, fighting to eliminate domestic violence and homelessness by providing temporary housing, support, advocacy, education and information to the community.
Outstanding Waverly High School Educators
We have a couple of amazing educators at Waverly High School that deserve recognition this week: Chris Huff and Robert Lurie.
Waverly High School Principal Chris Huff was selected as one of only ten Fulbright Leaders for Global Schools recipients. Recipients of Fulbright grants are selected on the basis of academic and professional achievement, as well as a record of service and demonstrated leadership potential. This award speaks directly to the culture and climate that the staff, students and community of Waverly Community Schools have been working towards for many years.
Waverly High School teacher and coach Robert Lurie is being awarded the Spirit of Anne Frank Teacher of the Year award by the Anne Frank Center for Mutual Respect. This is awarded each year at the Spirit of Anne Frank Awards to educational leaders who have proven exceptional in their schools, institutions and communities. This leadership is demonstrated in their desire and drive to carry on Anne Frank's legacy by inspiring the next generation of humanitarians through their example of fostering awareness and combating intolerance.
Congratulations Chris and Robert!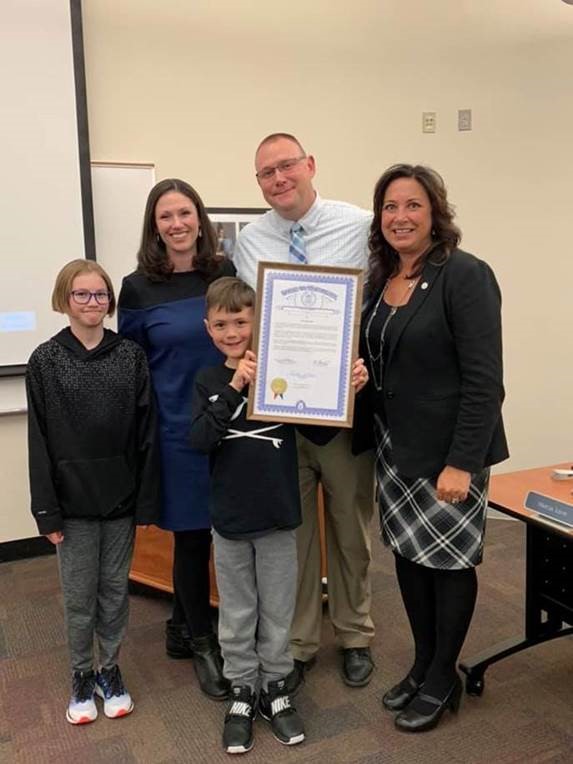 Bring Your Child to Work Day
Yesterday was 'Bring Your Child to Work Day' at the House, so I had the opportunity to bring my wonderful granddaughter, Alivia, on the House floor during session. She had a chance to see our state government in action and asked many good questions!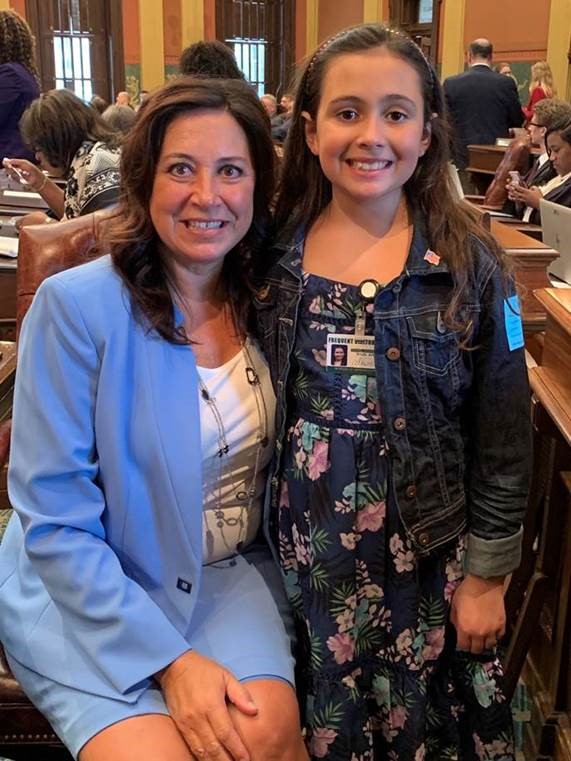 Snow Day Bill Passes the House
Last week, we passed an important bill that protects schools from being penalized for closing due to a state of emergency declaration. Mandatory closings for dangerous weather this winter caused school districts across the state to exceed their maximum number of 'snow days,' putting their state funding at risk. This bill provides schools the increased flexibility to remain closed when it's in the best interest of their students and employees, without risking vital state resources. There were initial concerns raised from some teacher and labor groups about lost wages for hourly school staff unable to work during mandatory 'snow days'; but thankfully, those concerns were addressed with a reasonable amendment.
The bill passed the House last week by a margin of 101-7, including my support. It will now go to the Senate Committee on Education and Career Readiness.
How I Voted This Week
HB 4118 – Allows a 25 mph speed limit under certain circumstances.
SB 2 – Requires a conviction or plea agreement before an individual's property can be forfeited.
HBs 4133-4146, 4443, 4452 – "Raises the age" of juvenile jurisdiction from 17 to 18 years of age for the purposes of the adjudication or prosecution of criminal offenses.
SBs 122 & 202 – Delays for one year the planned increase of importance assessments play in teacher and administrator evaluations from 25 percent to 40 percent.
Happy Hour with Democratic Leader Christine Greig
We had a great discussion at Cugino's Italian Restaurant in Grand Ledge with special guest Democratic Leader Christine Greig of Farmington Hills. A number of constituents showed up for good food, drinks and in-depth conversation about the state budget and other important issues being debated at the Capitol. I hope to see you at our next coffee or happy hour!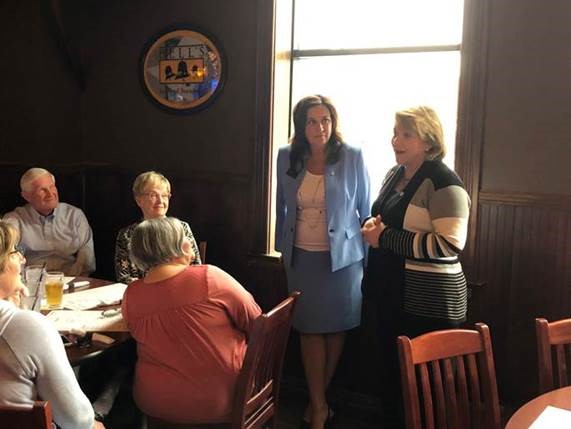 Upcoming Coffee & Happy Hours
April
Monday, April 29, from 8-9 a.m. at the Willowtree Coffee & Bakery in Olivet
May
Friday, May 17, from 8-9 a.m. at Fay's Evelyn Bay Coffee Shop in Charlotte
Thursday, May 23, from 5:30-6:30 p.m. at Charlie's Bar & Grill in Dimondale
Sincerely,
State Representative Angela Witwer
71st House District