Dear Friends and Neighbors,
Welcome to my latest e-newsletter! As always, I am honored by the opportunity to represent you in Lansing, and encourage you to stay up to date with news from the Capitol.
Where I've been in District 71
I began last week visiting the Village of Sunfield to meet with members of the community and Commissioner Rob Piercefield at Sunfield United Methodist Church. Rob was serving a community meal and I was honored to donate an American flag that has flown over the Capitol to the church. Thank you for the warm welcome. What a beautiful community Sunfield is!
My District Director, Chelsea, attended a dinner for the Grand Ledge Lions Club's 75th Anniversary where she presented a legislative tribute from our office. For years, the Grand Ledge Lions Club has been helping meet the needs of Grand Ledge because they share a core belief – to serve their community. The Grand Ledge Lions live by their motto, "We Serve," by being part of a global service network and doing whatever is necessary to help their local communities.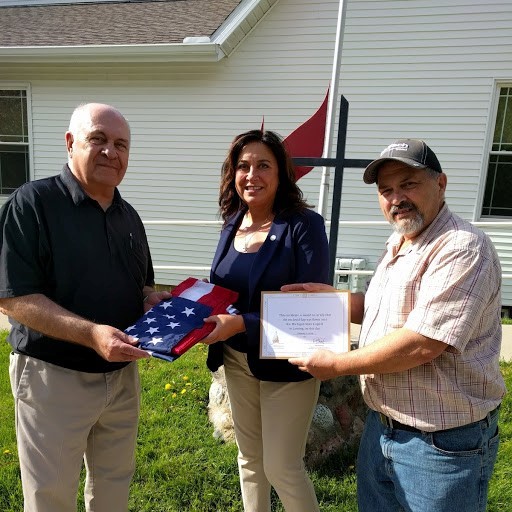 I was invited to participate in a ceremony recognizing autism advocate Xavier DeGroat for his continued fight to educate our state on the issues of autism. The City of Grand Ledge celebrated Xavier by presenting him with a proclamation from the city council designating April as Autism Awareness Month in Grand Ledge and encouraging its residents to become educated and informed about programs, services and opportunities to support individuals with autism. The Grand Ledge City Council also recognized and named the 2nd of April as "Grand Ledge for Autism Awareness Day." Thank you to City of Grand Ledge, Thom Sowle, Rick Lantz and Doug Lloyd for spearheading this resolution and for inviting me to this event.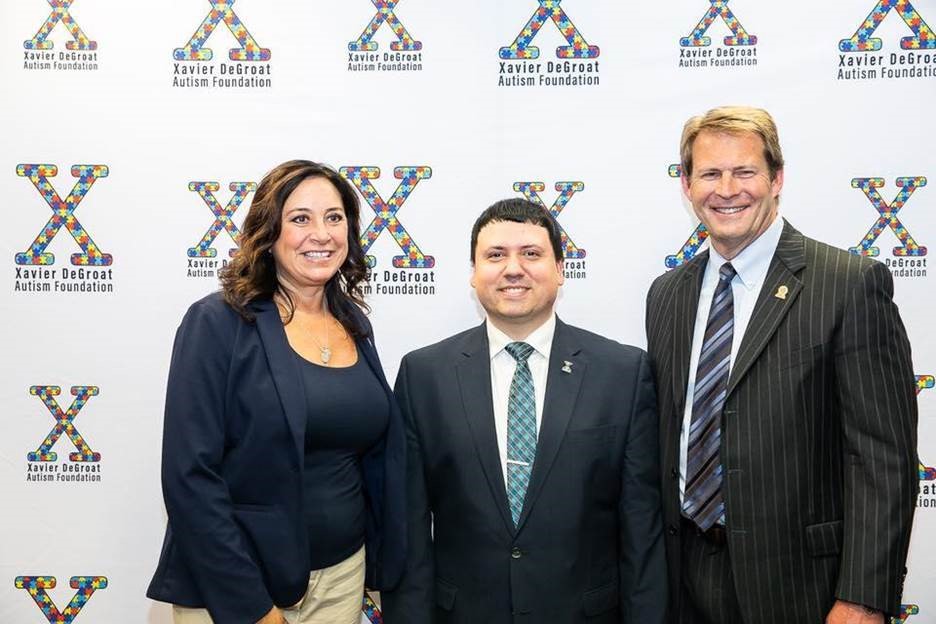 My next stop was in Charlotte, as I started the morning with a constituent coffee hour at Fay's Evelyn Coffee Shop filled with conversation about issues ranging from the cost of prescriptions to auto insurance. From there, I visited Charlotte High School and was given a tour by Principal Bill Barnes. I was so impressed with the administration, students and staff. After the tour of the high school, I stopped by Eye Care Associates of Charlotte before finishing the day walking some of the neighborhoods around the community to talk with residents. Thank you for your warm welcomes.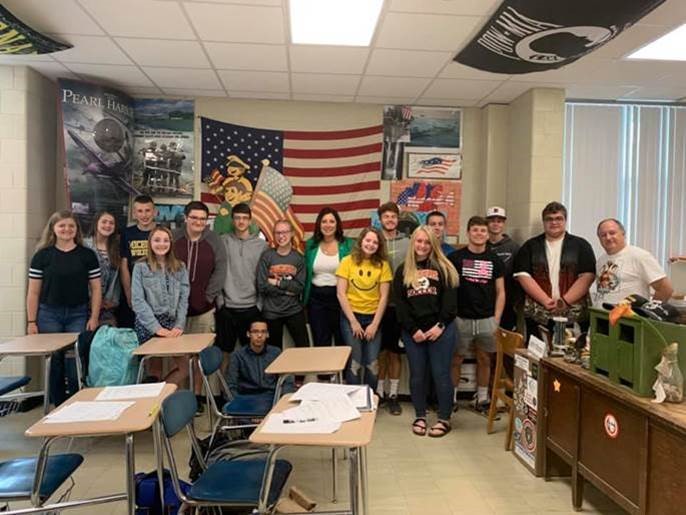 Last Saturday, I was invited to Olivet College's Commencement Ceremony where I was able to congratulate all of the graduates and present a legislative tribute honoring the college's 175th anniversary.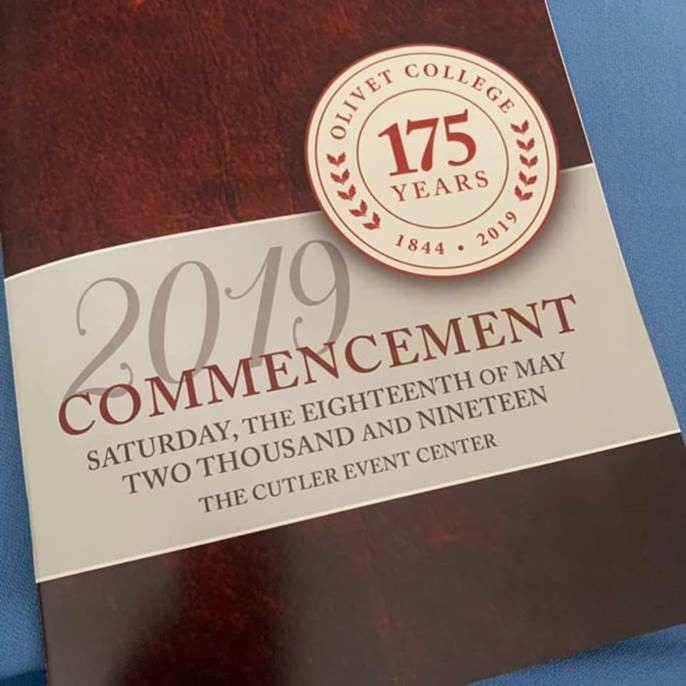 Finally, I'll never forget Monday's "Fire Ops 101" training at LCC West in Delta Township. That was some of the most strenuous activity I've been through as firefighters from Eaton County and across the state put us through simulated fire training. They also walked us through a day in the life of firefighters and paramedics, including some of the problems faced by the profession that need to be addressed by state legislators and local governments. I have great respect for my firefighter son and the brotherhood of firefighters who keep us safe while risking their own lives.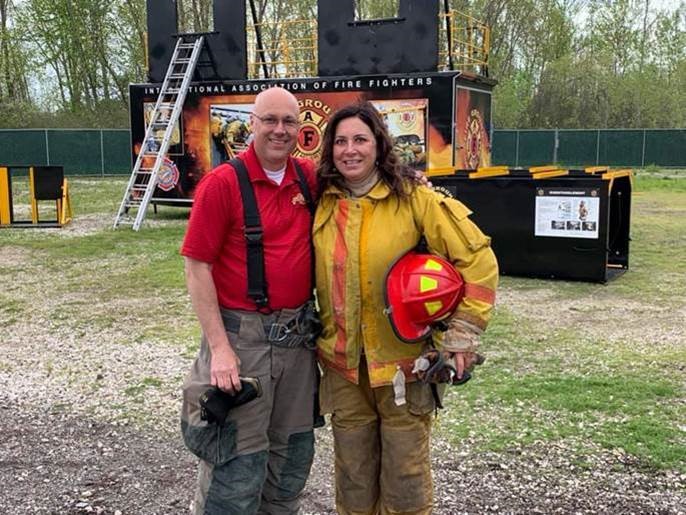 Legislative Doors in Your Neighborhood
With summer finally (almost) here, my team and I will be taking advantage of the warm weather by canvassing neighborhoods throughout Eaton County to get feedback from constituents, assist with any State of Michigan problems they may have and discuss pending legislation in the state House. This is a great way for us to remain engaged with the community and ensure our residents are appropriately represented. Our office already spent last Friday in various neighborhoods around Charlotte. Keep an eye out for us in your neck of the woods! If you're interested in volunteering to help assist in this outreach – and get some exercise in the process – feel free to call my office at (517)373-0853 to speak with either Joe or Chelsea.
Auto No-Fault Deal Struck
Earlier today, an agreement was reached between Governor Whitmer and legislative leaders to make significant changes to the auto no-fault system after decades of trying to find an amenable solution. I voted 'yes' on this bipartisan plan because it will lower premiums and put money back into the pockets of Michigan drivers. The plan will allow for several choices of personal injury protection (PIP) coverage, ranging from $50,000 in coverage for individuals on Medicaid to the unlimited coverage motorists have now. Depending on the PIP benefit level selected, the legislation sets corresponding rate reductions that insurance companies must abide by. It also prohibits insurers from using gender, marital status, home ownership, credit score, education, postal code and other non-driving factors when establishing rates on any type of auto insurance policy. Finally, the Department of Insurance and Financial Services will be conducting audits every three years on the Michigan Catastrophic Claims Association (MCCA) to make sure there are no excessive assets being held by the MCCA. I applaud Governor Whitmer and leadership on both sides for their hard work and cooperation on this.
How I Voted this Week
I voted 'yes' on the following bills this week on the House floor:
HB 4056 – Allows state and local corrections officers to carry and administer Narcan for the treatment of drug overdoses.
HB 4095 – Allows licensed residential foster child care facilities located on a parcel of land of 20 acres or more to care for up to 10 individuals.
HB 4189–4191 – Helps a Michigan business, Tenneco, file taxes under the Michigan Business Tax rather than the Corporate Income Tax in order to claim an incentive previously awarded to a company they recently acquired.
HB 4444-4445 – Would allow a state agency to make certain documents available electronically.
HB 4434 – Creates a new civil penalty for individuals carrying a concealed pistol without a valid license when certain factors apply.
HB 4331 – Would allow, on private property, an individual to transport or possess a loaded firearm in or upon any vehicle, including an ATV or UTV.
HB 4407 – Expands the scope of district court magistrates so that they can handle cases dealing with civil infractions under the Recreational Marihuana act and fines under the Medical Marihuana Act.
HB 4249 – Eliminates the ability of the Michigan Public Service Commission to promulgate rules establishing requirements for multiline telephone systems which can be expensive and burdensome.
HB 4412 – Prohibits the sale of products containing dextromethorphan (DXM) to minors. DXM is an active ingredient in over-the-counter cough medicines and is used as a recreational drug by minors.
SB 1 – Makes significant amendments to the auto no-fault system, including implementing new personal protection insurance (PIP) coverage levels, provides for car insurance rate rollbacks depending on the coverage level selected, sets a fee schedule for providers, prohibits the use of certain non-driving rating factors and requires triannual audits of the Michigan Catastrophic Claims Association (MCCA).
Upcoming Coffee & Happy Hours
June
·       Friday, June 7 from 8-9 a.m. at the BIGGBY on Elmwood in Delta Twp.
·       Friday, June 21 from 8-9 a.m. at the A&W in Grand Ledge
·       Thursday, June 27 from 5:30-6:30 p.m. at Frank's Press Box in Delta Twp.
July
·       Wednesday, July 10 from 5:30-6:30 p.m. at the Maple Leaf Inn in Vermontville
·       Wednesday, July 17 from 8-9 a.m. at Fay's Evelyn Bay Coffee in Charlotte
·       Wednesday, July 24 from 8-9 a.m. at Flower Child Bakery in Grand Ledge
August
·       Thursday, August 15 from 5-6 p.m. at Cugino's Italian Restaurant in Grand Ledge
State Representative Angela Witwer
71st House District