Dear friend,
Welcome to my latest e-newsletter! As always, I am honored to represent you in Lansing, and encourage you to stay up to date with my work at the Capitol.
Where I've been in District 71
Last week began with a rare joint meeting at Michigan State University with members of both the House and Senate Agriculture Committees. Several agencies and associations gave testimony on the issues farmers are facing because of the inclement spring weather, including the Michigan Department of Agriculture and Rural Development, United States Department of Agriculture and Michigan Farm Bureau. Thank you to Rep. Julie Calley for co-writing a letter with me requesting this important meeting.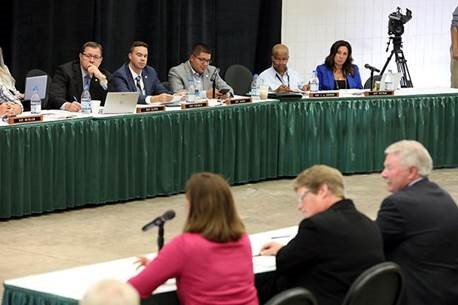 I had the opportunity to help pass out donated backpacks and school supplies to students at Bellevue Elementary School at their parent/student open house. Thank you to Yvette Collins and AT&T for donating backpacks to our great students. A big thanks as well to principal Jheri Wilson for coordinating our visit to Bellevue. It's a pleasure working with you both to make our students' learning experiences better.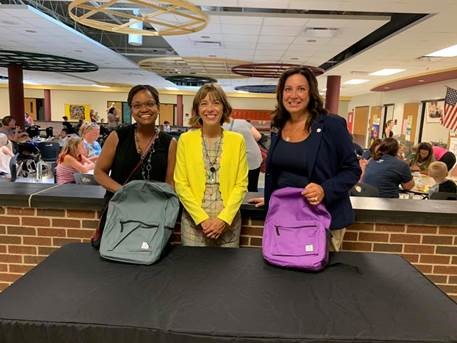 Following great conversation at a constituent Happy Hour at Cugino's in Grand Ledge last Thursday night, I attended the Sunfield Farmers Picnic to honor their Grand Marshalls Mark and Shari Woodman from Mark Woodman Plumbing & Heating. Being in Sunfield always reminds me of being home with family. This is a great village in our district that is very welcoming. It was an honor to present Mark and Shari with a state tribute – a first for this festival and a tradition I look forward to continuing each year.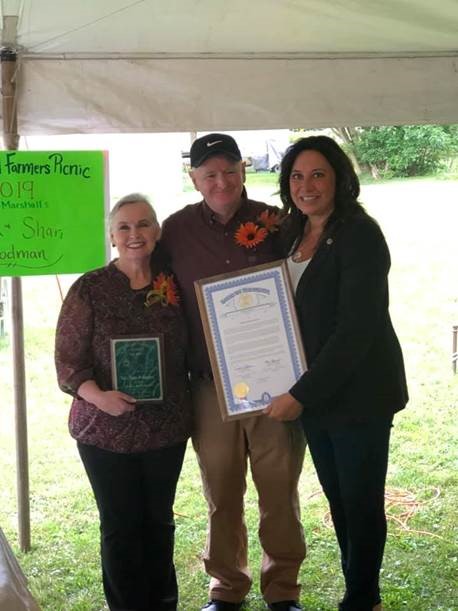 On Monday, I returned to Parr Farms in Charlotte to meet with Japanese soybean buyers that visited Parr Farms to learn about owner and farmer Gary Parr's specialty soybeans. Gary explained his family legacy of owning a multi-generational farm and the scientific process of planting based on accurately mapped fields. A translator was there to relay Gary's information along with my updates and explanation of the House Agriculture Committee. This was such an interesting and unique experience that I will never forget!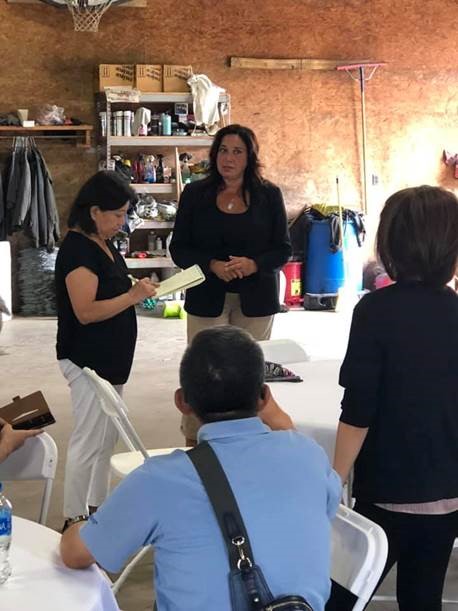 To finish out this week, I attended Info Education Day hosted by my House colleague, Rep. Sheryl Kennedy. This summit allowed us to examine the status of education in Michigan in a bipartisan manner, specifically focusing on these questions: What is the purpose of education in Michigan? What is the current reality of the education system in Michigan? And, how did we get here? In addition to a roundtable policy discussion, several education organizations presented their issues and priorities, including the MI Association of School Boards, MI Department of Education, and the Autism Alliance, among others.
Upcoming Coffee & Happy Hours
August
●     Monday, Aug. 26, from 8 – 9 a.m. at Swede's Restaurant in Mulliken
September
●     Friday, Sept. 6, from 8:30 – 9:30 a.m. at Cops & Donuts in Delta Twp.
●     Monday, Sept. 9, from 5:30 – 6:30 p.m. at Riverside Café in Bellevue
●     Thursday, Sept. 19, from 5:30 – 6:30 p.m. at Joe's Gizzard City in Potterville
●     Friday, Sept. 27, from 8:30 – 9:30 a.m. at Evelyn Bay Coffee Shop in Charlotte
Upcoming District Walks
Here are some dates you can expect to see us in your neighborhood:
●     Friday, Sept. 6, at noon in Charlotte
●     Monday, Sept. 9, at 11 a.m.in Lansing
●     Monday, Sept. 16, at 11 a.m. in Dimondale
●     Friday, Sept. 20, at 11 a.m. in Olivet & Bellevue
●     Friday, Sept. 27, at noon in Delta Twp.
●     Friday, Oct. 4, at 11 a.m. in Potterville
●     Friday, Oct. 11, at 11 a.m. in Grand Ledge
We are always looking for volunteers to help us connect with constituents in these areas. Contact Joe Fedewa at (517) 373-0853 or jfedewa@house.mi.gov if interested in participating in a district walk.
REAL ID Deadline: October 1, 2020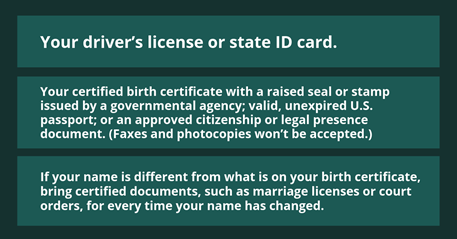 The federal government is setting a new required standard for identification and anyone looking to fly in the U.S. or enter certain federal facilities will need a REAL ID-compliant document beginning Oct. 1, 2020. A REAL ID can be a valid U.S. passport, a DHS Trusted Traveler Card, or an Enhanced Driver's License. You can also turn your standard driver's license or state ID into a REAL ID. If you need to renew your license soon and wish to get a REAL ID, make sure you bring the following documents listed below to a Secretary of State office so you don't have to make multiple trips. Find out more at Michigan.gov/REALID.
Elder Abuse Town Hall with Attorney General Dana Nessel
Please save the date for our next public town hall scheduled for Monday, Nov. 4, at 3 p.m. (note the time change). This event will focus on preventing elder abuse, neglect and exploitation. Joining us for a panel discussion will be special guests Attorney General Dana Nessel and AARP State Director Paula Cunningham to share updates about AG Nessel's Elder Abuse Task Force and AARP's work designating Michigan as an Age Friendly State.
Other Upcoming Events in Eaton County
Be sure to make it out to the Grand Ledge "Market on the Grand" at Jaycee Park going on every Saturday through Oct. 26, from 9 a.m. – 1 p.m. Sponsored by the Grand Ledge Chamber of Commerce, the weekly market is a great place for farmers to sell their products directly to the Grand Ledge community. The market helps drive local economic development while bringing local produce and goods to the people of Grand Ledge.
It's that time of year again to celebrate Charlotte Frontier Days starting the night of Wednesday, Sept. 4 and running through Sunday, Sept. 8. The annual Frontier Days Grand Parade will begin at 10:30 a.m. on Saturday, Sept. 7. Check out www.charlottefrontierdays.org/ to buy tickets to the rodeo and to review the full calendar of events for each day.
Sincerely,
State Representative Angela Witwer
71st House District