Dear friend,
Welcome to my latest e-newsletter! As always, I am honored to represent you in Lansing, and encourage you to stay up to date with my work at the Capitol.
Where I've been in District 71 (and beyond!)
Last week, I joined Gov. Gretchen Whitmer, Democratic Leader Chris Greig, and the Progressive Women's Caucus to mark the 100th anniversary of our state ratifying the19th Amendment — which secured for women the right to vote. It was awe-inspiring to be surrounded by these prominent women as we celebrated this milestone for women in our state and across the nation while taking the time to remind ourselves to never stop fighting for equal rights.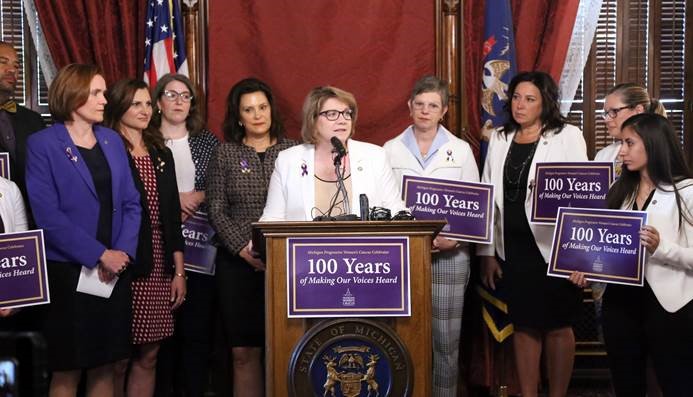 I had a great time as the guest speaker at Michigan State University's 2019 Glassen Scholars class at Rose Lake State Wildlife Research Area. These students impressed me by how much they already know about the legislative process and shared with me their environmental policy expertise. Thank you to Pat Stewart and her students for the warm welcome and great conversation.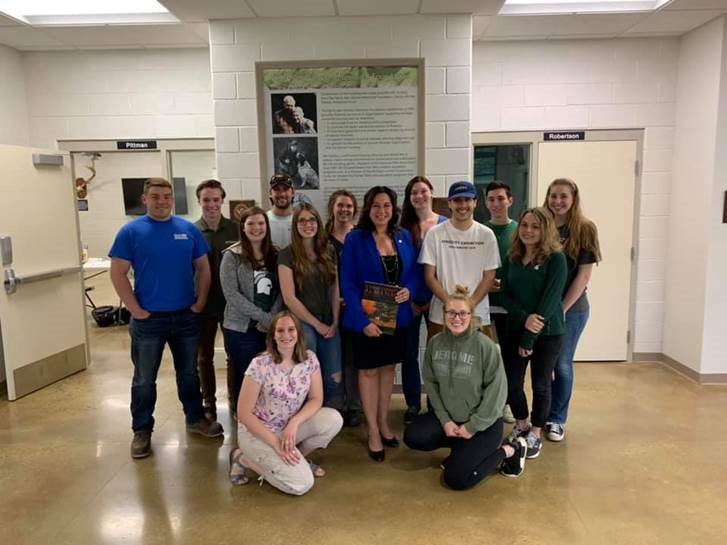 Last Friday featured two important district events. The morning started with the Michigan Credit Union League's (MCUL) Capitol Area Chapter Legislative Breakfast. This was an opportunity to visit with representatives from our community's local credit unions and have a productive conversation about state and federal issues they face. Later in the day, I stopped by the Michigan Farm Bureau Centennial Celebration to join thousands of Farm Bureau members, employees and agents to celebrate their 100th anniversary in Michigan.
On Monday, I had the privilege to present Cindy Bowen, General Manager of Crowne Plaza Lansing West a tribute for winning General Manager of the Year. Crowne Plaza Hotels & Resorts selected Cindy as part of InterContinental Hotels & Resorts "2018 Best of the Best", reserved for individuals who demonstrate outstanding and unique service. In her 37+ years at her property, she has been a mentor and inspiration to many on their journey in the hospitality industry. She has also lead her team to earn three consecutive IHG Torchbearer Awards for achieving the highest levels of excellence in all aspects of operation – from quality to guest satisfaction.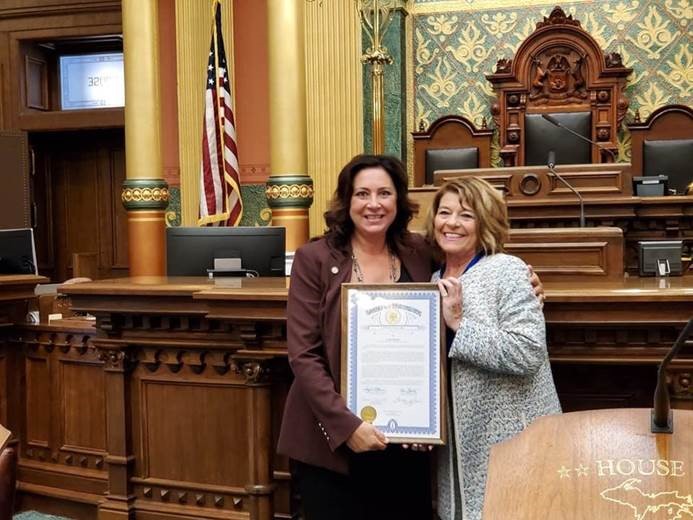 Tuesday featured the #RedForEd march on the Capitol, with hundreds of supporters of public education calling for the passage of Gov. Whitmer's education budget. As a former school board member, I believe it's necessary to prepare our students for the jobs of tomorrow while ensuring no one gets left behind. Her budget includes an additional half-billion dollars for K-12 schools, with a boost of $180 in per-pupil funding and additional funds for counseling and tutoring for at-risk students. It also includes a four percent increase to school districts for reimbursement for special education services, $487 more per eligible student for career & technical education opportunities (CTE), triples the number of literacy coaches in Michigan, and a three percent increase in funding for our public universities and community colleges. Thank you to everyone who turned out and marched!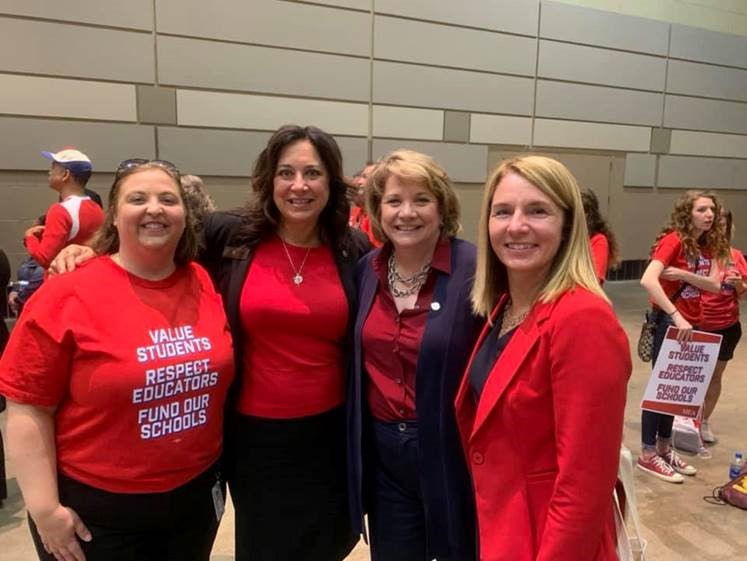 Finally, I was warmly welcomed for a tour of a local Care Free Medical facility in Lansing. For almost 15 years, Care Free Medical has provided primary care, dental care, and optometry services to underserved communities throughout Greater Lansing. Because the population they serve would otherwise not see a physician on a regular basis, the preventative care they provide reduces the overall cost of health care while improving the quality of life for patients.
How I Voted This Week
It was a relatively busy week in the House. I voted 'yes' on the following bills this week on the House floor:
HB 4374 – Expands the penal code to prohibit a person from using his or her position of authority over another person to prevent the person from reporting a crime involving criminal sexual conduct (or attempt thereof) and child abuse.
HB 4376 – Adds athletic trainers to the list of mandatory reporters for child abuse/neglect.
HB 4377 – Requires MDHHS to create a "training package" for mandatory reporters of suspected child abuse or neglect.
HB 4383 – Prohibits a person from intentionally using his or her position of authority over another person to prevent that person from reporting alleged child abuse/criminal sexual conduct violations to a Title IX coordinator at a postsecondary educational institution.
HB 4108 – Adds physical therapists and physical therapist assistants to the list of mandatory reporters for child abuse and neglect.
HB 4451 – Requires insurance companies providing coverage for prescription eye drops to cover early refills under certain circumstances.
HB 4408 – Changes the auditing requirements for recreational authorities to alleviate the burden on recreation authority boards from conducting annual audits when it isn't necessary.
HB 4223 – Requires dental screening of children entering school.
HB 4694 – Alters an eligibility date cap in place for exempting retirees from pension penalties if they are employed as a school renewal coach or high impact leadership facilitator as part of a school leadership support program funded by a federal grant.
HB 4069 & 4465 – Clarifies the property tax treatment of residential renewable energy systems, ensuring that these systems are either exempt from taxation or do not subject their owners to increased property taxes.
HB 4044 – Gives the Department of Insurance & Financial Services the discretion to grant a producer license to a convicted felon in certain circumstances.
HB 4446 – Allows connected organizations to provide certain financial benefits, items, and services to a separate segregated fund, as well as make other technical updates to the Act.
I voted 'no' on the following bills this week on the House floor:
HB 4509 – Allows a limited liability company (LLC) to represent itself in eviction summary proceedings under certain circumstances.
HB 4162 – Removes the requirement that the Michigan Merit Exam include one or more tests to assess a pupil's ability to apply reading and math skills in a manner that is intended to allow employers to use the results in making employment decisions.
Upcoming Town Hall
Our next community town hall has been scheduled for Monday, July 22 at 5:30 p.m. in the Elmwood Room of the Delta Township District Library. This town hall will be part of the Progressive Women's Caucus 2019 PWC Summer Listening Tour. This summer marks the 100th anniversary of Michigan ratifying the 19th Amendment and we are looking forward to helping celebrate this historic occasion.
The PWC Summer Listening Tour will be making 10 stops throughout the state during July and August to give Michigan women the opportunity to share their thoughts and perspectives on the important issues they are facing. We're excited Delta Township will be one of these stops! The format will be similar to that of a traditional town hall, but with an emphasis on audience engagement. We are also hoping to be joined by additional women legislators in the area. All are welcome to attend and no RSVP is necessary.
Upcoming Coffee & Happy Hours
June
·       Thursday, June 27 from 5:30-6:30 p.m. at Frank's Press Box in Delta Twp.
July
·       Wednesday, July 10 from 5:30-6:30 p.m. at the Maple Leaf Inn in Vermontville
·       Friday, July 12 from 8-9 a.m. at Cops & Doughnuts in Delta Twp.
·       Wednesday, July 17 from 8-9 a.m. at Fay's Evelyn Bay Coffee in Charlotte
·       Wednesday, July 24 from 8-9 a.m. at Flower Child Bakery in Grand Ledge
August
·       Friday, August 2 from 8:30-9:30 a.m. at Willow Tree Coffee & Bakery in Olivet
·       Friday, August 9 from 8-9 a.m. at MorningLory Café & Bakery in Dimondale
·       Thursday, August 15 from 5-6 p.m. at Cugino's Italian Restaurant in Grand Ledge
·       Monday, August 26 from 8-9 a.m. at Swede's Restaurant in Mulliken
Upcoming District Walks
·       Tuesday, July 2 at 11 a.m. in Charlotte
·       Friday, July 12 at 11 a.m. in Delta Twp.
·       Tuesday, July 16 at 11 a.m., Location TBD
·       Wednesday, July 17 at 11 a.m. in Charlotte
·       Wednesday, July 24 at 11 a.m. in Grand Ledge
·       Monday, July 29 at 11 a.m., Location TBD
**Contact Joe Fedewa at 517-373-0853 or jfedewa@house.mi.gov if interested in participating in a district walk**
Other upcoming events in Eaton County
"SENIORS IN THE KNOW EXPO"
The Tri-County Office on Aging is pleased to present the "Seniors in the Know Expo" on Thursday, June 27 from 1-4 p.m. at the Eaton Area Senior Center (804 S. Cochran in Charlotte). The event will feature remarks from Scott Teeter of the Michigan Elder Abuse Task Force, with a panel of local experts and a question and answer session on responding to and preventing exploitation and abuse of older adults. Additional agencies will be staffing resource tables and refreshments will be provided.
All are welcome! Check-in begins at 12:30 p.m. Registration preferred, but not required, by June 20. Please contact Sherry Davis at (517) 887-1467.
Sincerely,
State Representative Angela Witwer
71st House District