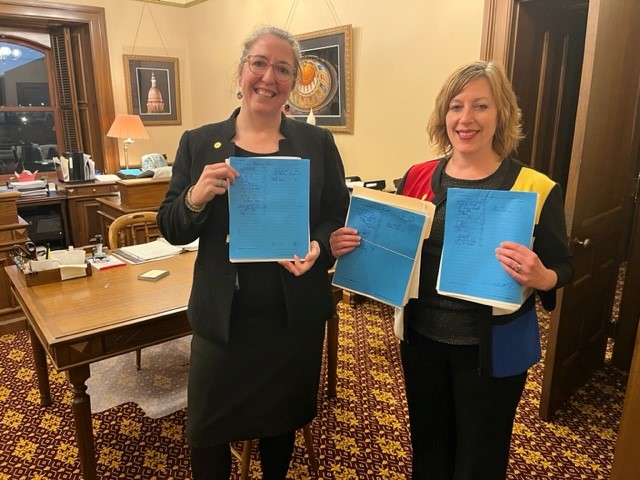 LANSING, Mich., Nov. 13, 2023 — Last week, state Rep. Julie Rogers (D-Kalamazoo) chair of the House Health Policy Committee, joined state Reps. Karen Whitsett (D-Detroit) and Rachel Hood (D-Grand Rapids) in introducing a package of bills to prevent lead exposure, align Michigan standards for detectable levels of lead in the blood with current science, ensure access to services to those affected by lead poisoning and provide funding for lead paint remediation.
The legislation — House Bill 5368, introduced by Rogers; HB 5369, introduced by Whitsett; and HB 5370, introduced by Hood — expand upon a bill previously introduced by Rep. Hood, HB 4532 which dealt with lead abatement during renovation and repairs of housing stock with lead contaminants.
"Lead is a dangerous neurotoxin with lifelong impacts, particularly for children who have been exposed. Current science has found no amount of lead is a safe level of exposure and that even small amounts found in the blood can require intervention to prevent and mitigate complications," Rogers said. "These bills ensure that our actionable levels of lead detected in blood are aligned with current Centers for Disease Control and Prevention (CDC) recommendations while allowing future science to decrease that level if medically indicated and guarantee that our children get the services they need to succeed after lead poisoning."
Specifically, HB 5368 sets the "Elevated Blood Lead Level" to 3.5 micrograms per deciliter, which is the current CDC recommendation. The legislation also states that if the Michigan Department of Health and Human Services or the CDC set a lower level, the lowest recommendation will be the level used in Michigan. House Bill 5369 ensures that children with an elevated blood lead level are referred to Early On services as a part of Michigan's Comprehensive Early Childhood System of services. Finally, HB 5370 provides for a 25 cent per gallon excise tax on architectural paint to be deposited in a restricted account to fund lead abatement in residential dwellings.
###