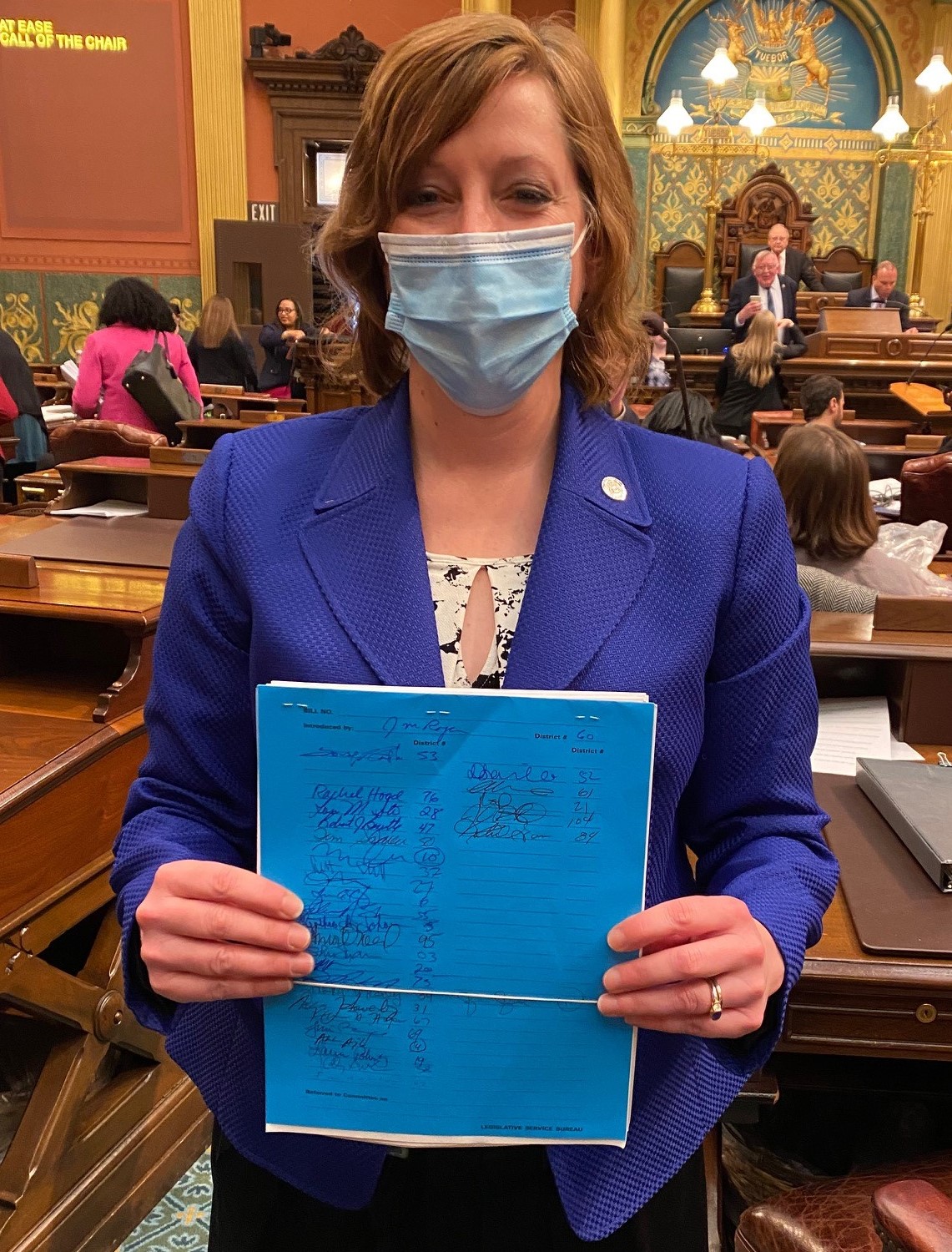 LANSING, Mich., March 25, 2022 — Yesterday, state Rep. Julie M. Rogers (D-Kalamazoo) along with fellow members of the Michigan House of Representatives' Democratic Caucus have introduced a new package of bills that has received bipartisan support to address concerns related to transparency and accountability in Michigan's auto no-fault law. 
"Last year, while the new auto no-fault law was being championed by some as a great cost-saving measure for consumers, my experience as a practicing physical therapist allowed me to see the harsh reality that was to come," Rogers said. "Since then, people have lost their health care and some have even died. A number of bills have already been introduced this term that could have saved lives and helped people continue getting the care they need. I am once again calling on my colleagues to help the growing number of catastrophic injury car accident survivors who have lost access to long-term health care because of this law." 
Since the law went into effect on July 1, 2021, auto accident survivors have entered a care crisis. More than 1,500 people have lost the care they were promised when they paid their insurance bills, more than 3,000 care workers have been laid off, and nearly 100 businesses that once provided care for auto crash survivors have had to close or stop serving those clients, according to a December report by MPHI. This has left some of the most vulnerable with no place to go and no way to afford essential care. 
"Our state law lets insurance companies cheat people and get away with it," said state Rep. Yousef Rabhi (D-Ann Arbor). "My bills will bring real accountability to companies that abuse consumers or refuse to pay claims in bad faith."
CPAN, a bipartisan consumer advocate group for auto insurance policyholders, people injured in a motor vehicle crash and their medical providers, found that the 45% cut in catastrophic care passed as part of auto insurance reform has proved to be devastating for auto insurance customers and hasn't brought any real financial benefit for the average Michigan resident. 
"For far too long, Michigan's auto insurance companies have been woefully underregulated—leading to shockingly high premiums for drivers and allowing insurers to delay or deny needed care for crash victims," said Devin Hutchings, president of CPAN. "This package of bills will help protect all Michigan consumers and give regulators the tools they need to rein in insurance company greed and hold this powerful industry accountable." 
The new system has seen Michigan drivers paying the second-highest rates in the country for much-reduced coverage. Analysts have projected double-digit rate increases this year alone, and Michigan has no mechanism to require regulatory approval of rate increases.
Descriptions of the bills in this package can be found below.
House Bill 5996 would address the issue of prohibiting insurers from denying payment if the treatment is "not usually associated" with accepted treatment. Sponsored by Rep. Rogers.
House Bill 5997 would place penalties on insurance companies that unreasonably deny claims. "Bad Faith Denial." Sponsored by Rabhi.
House Bill 5998 would fix the loophole where some court rulings have basically exempted all regulated and licensed businesses (like insurance companies) from Michigan's Consumer Protection Act. Sponsored by Rabhi
House Bill 5999 would require the Department of Insurance and Financial Services to post their reports on auto no-fault complaints, billing issues, and utilization review publicly on its website . The reports will include the number of cases per patient. Sponsored by state Rep. Kevin Coleman (D-Westland).
House Bill 6000 would require auto insurers to get their rates approved by DIFS, with an 8% profit margin cap. Sponsored by state Rep. Rachel Hood (D-Grand Rapids).
House Bill 6001 would require that when the Michigan Catastrophic Claims Association (MCCA) is statutorily mandated to issue refund payments to consumers, those payments must be issued within 30 days. Sponsored by state Rep. Kelly Breen (D-Novi)
House Bill 6002 would prohibit insurance companies or the third-party companies that are associated with the insurance company from reviewing administrative appeals. Sponsored by state Rep. Padma Kuppa (D-Troy).
House Bill 6003 would prohibit insurers from refusing to pay provider bills on the basis that the bill is not in the insurer's preferred format or on the insurer's preferred form. Sponsored by state Rep. Regina Weiss (D-Oak Park).
House Bill 6004 would require the MCCA to disclose actuarial computation used in rate setting. Sponsored by state Rep. Mary Cavanagh (D-Redford).
House Bill 6005 would prohibit rate discrimination on the basis of any category protected under the Elliott-Larsen Civil Rights Act (marital status, weight, sex, etc.), credit scores or other financial stress measures, and geographical location within Michigan AND require that insurance companies that have affiliate networks or the same parent company offer consumers a quote that is the lowest they would get within the company or network. Sponsored by state Rep. Jewell Jones (D-Inkster)
###