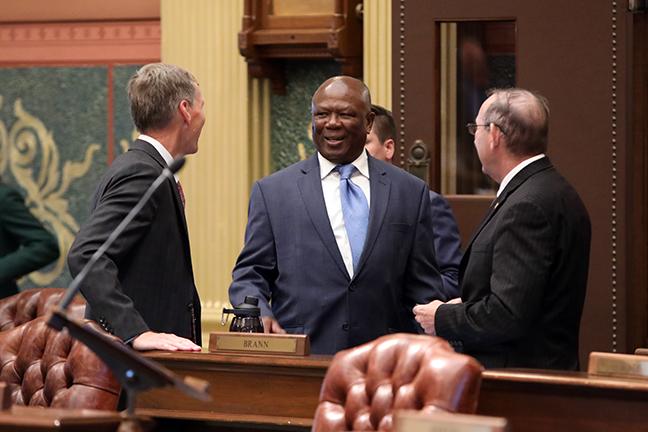 Committees
Joint Capital Outlay
Licensing & Regulatory Affairs/Insurance & Financial Services (Democratic Vice Chair)
Military & Veterans Affairs & State Police
Appropriations
State Representative Ronnie Peterson is serving his third term in the House of Representatives representing the 54th House District, encompassing the city of Ypsilanti, Ypsilanti Township and Superior Township. Rep. Peterson sits on the Committee on Appropriations; Appropriation Subcommittee of Military, Veterans and State Police; and is the Democratic Vice Chair of the Appropriations Subcommittees on LARA and DIFS, and Transportation.
As a civic and community leader, Rep. Peterson is deeply committed and has been engaged in public service for nearly 40 years. He served his community as an elected member of the Washtenaw County Board of Commissioners. As a county commissioner, Rep. Peterson served as chair of the Ways and Means Committee and sat on the Retirement Pension and Money Purchase Boards. Before countywide service, he was a member of the Ypsilanti City Council for two terms.
Rep. Peterson has played a leading role in stimulating job creation, economic development and delivery of public services in Washtenaw County. He was instrumental in founding the Eastern Washtenaw County Leaders forum and establishing the Spark East Business Incubator. He also served on the boards of the Washtenaw Development Council, Vantage Point Detroit Regional Aerotropolis, Wayne County Airport Joint Airport Zoning Board, Washtenaw Private Industry Council and the Workforce Development Board. In addition, Rep. Peterson initiated civic improvement projects like renovating the 14th District Court, establishing the Washtenaw Human Services office in his community and establishing neighborhood improvement projects around Eastern Michigan University's campus, as well as façade improvement projects for downtown Ypsilanti businesses.
Beyond his official duties, Rep. Peterson also served on the boards of numerous associations and charitable organizations. Previously, he was President of the Ypsilanti Breakfast Optimist Club, and Vice President and Treasurer of the Ypsilanti Area Jaycees. As a volunteer, he supported and served on the boards of the Washtenaw County United Way, Advisory Council for Foster Grandparents Program, the Policy Council for Washtenaw Head Start, the Corner Health Center, the Full Circle Community Center and the Washtenaw County Council for Children.
Whether a Washtenaw County commissioner, Ypsilanti City Council member or citizen, Rep. Peterson has played a leading role with others in establishing the following initiatives and resources in Ypsilanti:
Sponsored the New Full Circle Community Center to enhance mental health services
Established the Washtenaw County Dental Clinic to expand service delivery
Founded the Harriet Street Commerce Center to provide employment and job training
Promoted the Downtown Ypsilanti and Cross Street Façade Improvement program
Advocated for establishment of the new Humane Society of Huron Valley
As a Michigan State Representative, Ronnie Peterson has assisted in the development of several future economic opportunities for the Ypsilanti region:
$10 million expansion of The American Center for Mobility campus
$8 million major safety redesign of US-12 in the West Willow Region
Secured state funding for the Thompson Block Building Redevelopment
Spearheaded the movement to establish a train station in Depot Town
Secured funding for façade renovation and business expansion of the Back Office Studio CoWorking Space
Advocated for and helped secure funding to double the capacity of the Huron Valley PACE Facility for senior care
Founded the Collaboration for Change partnership between Ypsilanti community schools and Eastern Michigan University to provide tutoring and mentoring for area students
Secured MDOT funding for traffic safety improvements near the Riverside Arts Center and other locations across the city of Ypsilanti
Finalized funding plan and design of Huron St. pedestrian/bicycle path over I-94 in Coordination with MDOT, City of Ypsilanti, Township of Ypsilanti, and Washtenaw County Parks and Recreation
Finalized funding plan and design for safety improvements for the Grove Rd. bridge over I-94 as part of the Border2Border Trail Project with MDOT and the Washtenaw County Parks and Recreation Department