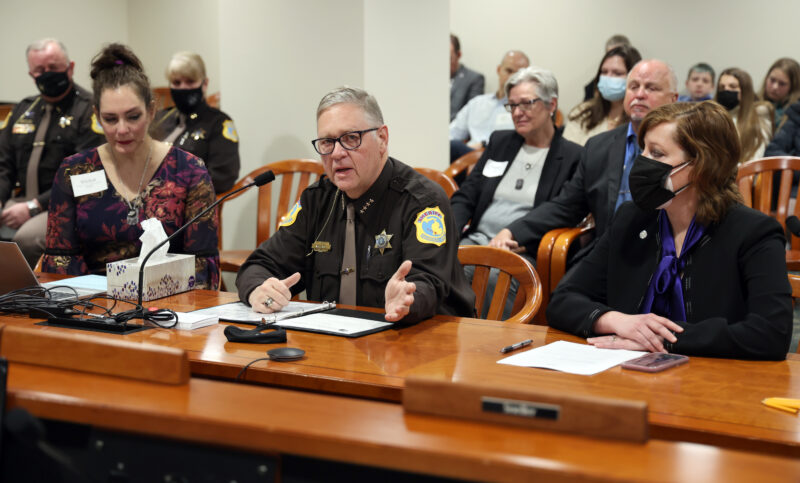 Rogers thanks Proxmire family and Kalamazoo County Sheriff's Office for their support of the Bill
LANSING, Mich., March 8, 2022 — Today, House Bill 5720, sponsored by state Rep. Julie M. Rogers (D-Kalamazoo), was passed with overwhelming bipartisan support by the Michigan House of Representatives. The bill would designate a portion of highway U.S. 131 in memory of Sgt. Ryan J. Proxmire, who made the ultimate sacrifice in the line of duty when he succumbed to a gunshot wound that he sustained while involved in a vehicle pursuit in August 2021. In February, Rogers was honored to have Proxmire's family and members of the Kalamazoo County Sheriff's Office in Lansing to offer testimony on HB 5720 during the committee process. 
"I was extremely humbled and appreciative to be joined by Roanna Proxmire, Sgt. Proxmire's wife, and Sheriff Richard Fuller from the Kalamazoo County Sheriff's Office in Lansing last month," Rep. Rogers said. "Their testimony in support of House Bill 5720 was incredibly moving and heartfelt. Spouses and families of law enforcement share their loved ones with our communities, and they often sacrifice so much. We are entirely indebted for their service."
Rogers also extends her appreciation to Mark and Dawn Proxmire, Sgt. Proxmire's parents, Capt. Amy Price from the Kalamazoo County Jail Division, and Lt. Troy Faulk from the Kalamazoo County Sheriff's Office, who were also in attendance during the House Transportation Committee's hearing in February. 
"The women and men of the Kalamazoo County Sheriff's Office are grateful House Bill 5720 was introduced by Rep. Rogers," Sheriff Fuller said. "We lost a hero, Sgt. Ryan Proxmire, last August and, in his own words, 'it is important for people to know who has made sacrifices for their communities.' His wife, Roanna, shared how Ryan would look up the names associated with memorial highway signs to learn what sacrifice someone made. We want to honor our friend and give people the opportunity to know him."  
House Bill 5720 will next be sent to the Michigan Senate for consideration.
###