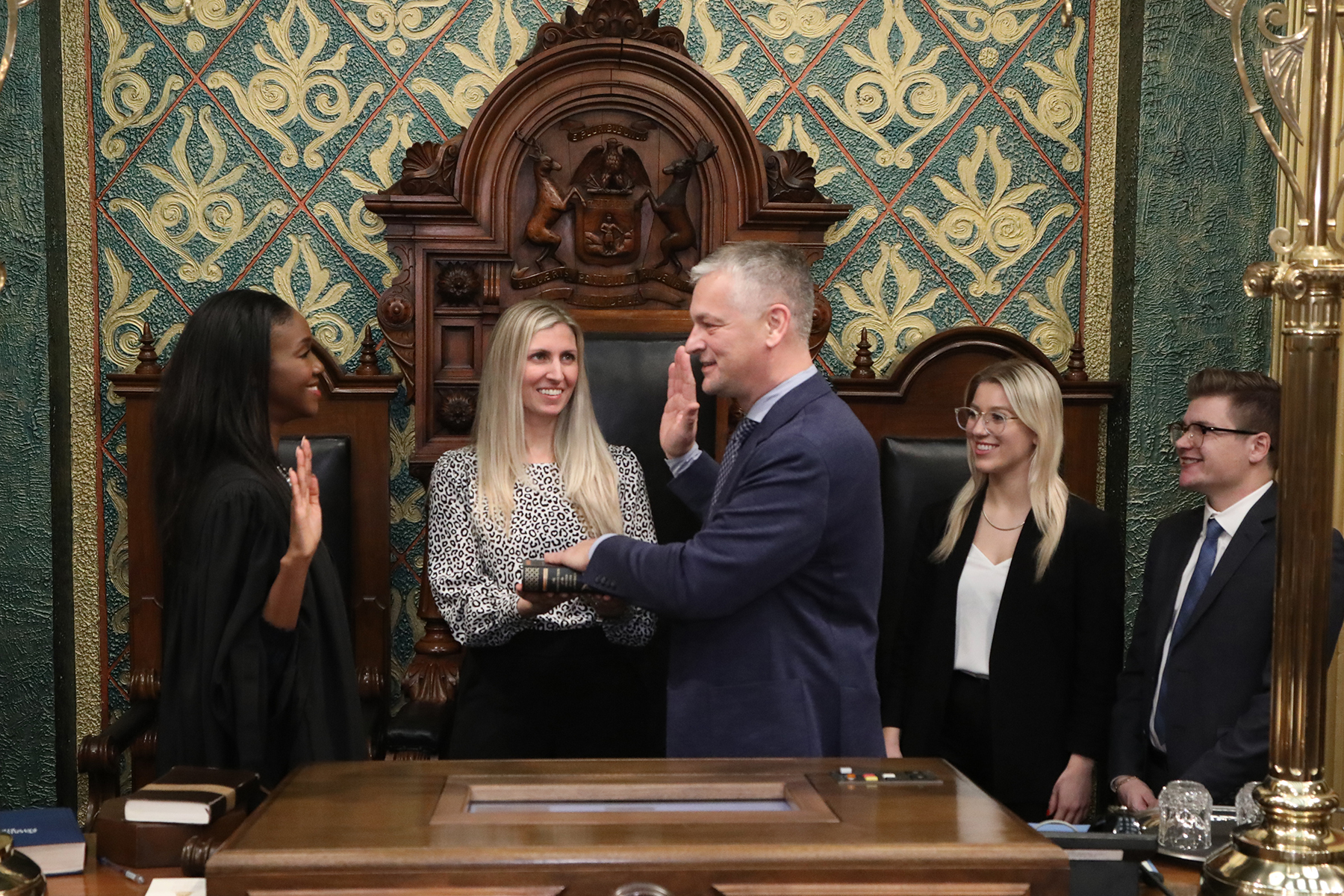 Michigan Supreme Court Justice Kyra Bolden (second left) swears in state Rep. Skaggs, who was joined by his wife, Kate Skaggs, and legislative aides Tom Stephenson Alyson Zdunzcyk during a swearing-in ceremony at the Michigan Capitol on Wednesday, Jan. 11, 2023.
LANSING, Mich., Jan. 11, 2023 — State Rep. Phil Skaggs (D-East Grand Rapids) was sworn in today as state representative for the 2023-24 legislative term. The swearing-in ceremony marked the formal opening of Michigan's 102nd Legislature and the first day of House Democrats having the majority in over a decade.
"I am proud to be a member of the greater Grand Rapids community, and I am deeply honored the people of District 80 elected me to represent them in the Capitol," Skaggs said. "Democrats are ready to lead in order to grow jobs, invest in education, protect our natural splendor, and defend our rights and freedoms. I'm here to work for all Michiganders, alongside Speaker Joe Tate and all my colleagues in the legislature."
Skaggs is serving his first term representing the 80th House District, comprising the cities of Kentwood, East Grand Rapids, Cascade Township, and parts of the city of Grand Rapids and Grand Rapids Township. Prior to coming to the House, Skaggs worked in public service on the Kent County Commission and the East Grand Rapids City Commission.
Go to Rep. Skaggs' website to learn more about him and House District 80.